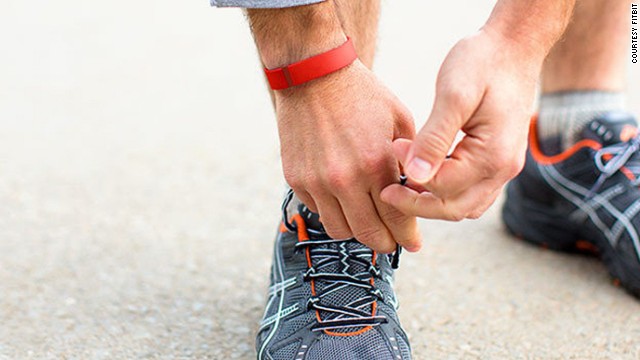 Who's not trying to get, or stay, in shape? If dad's looking to get off of the couch more, a growing bevy of high-tech exercise monitors are on the market to help. This
Fitbit Flex band
monitors your steps, distance and calories burned during the day, then tracks your sleep cycle during the night and can even silently wake you up the next morning.
Price: Starting at $99
Slingbox
is worth considering. The set-top box allows the user to control and watch their home television from anywhere on a computer, smartphone or tablet.
Price: Starting at $179
Dad loves to park it in front of the tube, right? Hey ... we're not here to judge. (Not until the season finale of "Game of Thrones" is over, anyway.) If your father travels a lot,
Jawbone Jambox
. Smartphone and tablet speakers don't tend to be very good. But with these, you get a cool design in fun colors and great sound quality.
Price: $199.
Dad never did get that newfangled music you're into. But there's nothing stopping him from listening to the classics on a newfangled set of speakers like the
The Chillsner,
from the makers of the similarly brilliant Corkcicle, might not fly with beer snobs. But it would be a hit at the tailgate, assuming its "proprietary cooling gel" doesn't leak.
Price: $29.95 (2 pack)
Does Pop enjoy the occasional frosty oat soda? Then what better way to reward him than a stainless steel, freezable "in-bottle, drink-through beer chiller?"
Pebble Watch
, what many consider the first commercial smartwatch, first gained attention by pulling in more than $10 million on Kickstarter. Pebble connects to an iPhone or Android phone via Bluetooth and has a growing slate of apps of its own. Lots of other folks are jumping into the smartwatch fray (Apple and Samsung are believed to be on the way) so there are other options, too.
Price: $150 to pre-order (watches shipping this summer)
The
ThinkGeek
is offering up the Nyan Cat tie -- combining the most predictable Father's Day gift ever with one of
the Web's most beloved icons
. Of course, this will only work with a dad who thinks animated, 8-bit cats with Pop Tart bodies are funny. But, really, who doesn't?
Price: $9.99
Was Dad an early Internet adopter? Are you fond of cliches? If you answered "yes" to both, this is the gift for you.
Kensington Proximo
lets users tag up to five items. They can set an alarm that pings them if the item gets a certain distance away or, alternately, use GPS tracking to track tagged items that have gone missing
. Price:
$60 for starter kit, $25 for up to four more tags.
The worst part of anyone's morning ritual may be those high-stress moments when you're heading out the door and can't find your keys. Or wallet. Or smartphone. If dad has an iPhone or Samsung phone, you can help. The
Nest thermostat
learns your usage patterns and automates setting the temperature of your home to save money and energy. Compatible with almost all heating and cooling systems, Nest means never again being asked if you were born in a barn.
Price: $249
Saving pennies on your heating and air-conditioning bills has never been so high-tech. The
Out of Print
has the rest covered. Using real book board and cloth, they make covers that include classics from "The Great Gatsby" to "On the Road" to "The Very Hungry Caterpillar." Sadly, they're not available for dedicated Kindle e-readers. But they make versions for the 7-inch Kindle Fire, iPad, Nexus 7 and Kobo Glo.
Price: $45
So dad has finally made the leap to an e-reader or tablet, but still longs for the look, feel and smell of a printed book. We can't help with the smell, but
Beats by Dr. Dre headphones
offer crisp, bass-thumping sound without a cord to get tangled up in. Dad will dig being able to stream audio from his phone, laptop, TV, or any other Bluetooth-enabled device -- and field phone calls -- with 10 hours of battery life.
Price: About $280 from various retailers.
These wireless
K760 wireless, solar-powered keyboard
syncs via Bluetooth with your Mac, iPad or iPhone. Its built-in solar cells charge with sunlight or even lamp light, so you never need to buy batteries.
Price: $79, although some sites sell it for less.
Is Dad an eco-friendly guy? This
iPad Mini
(left) starts at
$329
, while Google's more affordable Android-based
Nexus 7
(right) starts at
$199
for a Wi-Fi-only, 16GB model. Or consider 7-inch
Amazon's Kindle Fire HD tablet
, also starting at
$199
.
When in doubt, it's hard to disappoint Dad with an ultra-portable 7-inch tablet. The
Fitbit Flex
Slingbox
Jawbone Jambox
The Chillsner
Pebble Watch
Nyan Cat Tie
Proximo
Nest thermostat
Out of Print e-book covers
Beats wireless headphones
Logitech solar-powered keyboard
Mini tablets