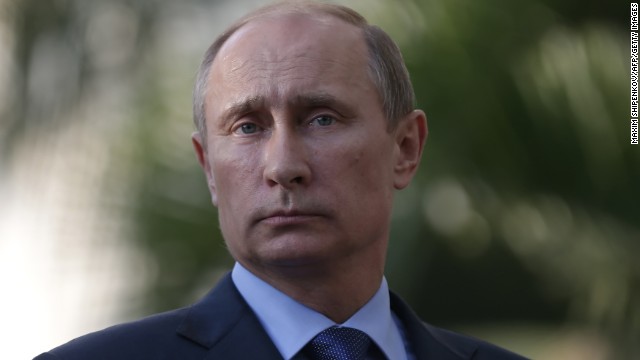 Russia's President Vladimir Putin is a popular but polarizing figure who has dominated Russian politics for more than a decade. Click through to see some highlights of his career.
Putin serves as the chairman of the Foreign Relations Committee of the City Council in St. Petersburg from 1991 to 1994. Before becoming involved in politics, he served in the KGB, a Soviet-era spy agency, as an intelligence officer.
Russian President Boris Yeltsin, right, shakes hands with Putin during a farewell ceremony at the Kremlin in Moscow on December 31, 1999. Putin rose quickly through the political ranks, becoming the second democratically elected president of the Russian Federation in 2000.
President-elect Putin watches the tactical exercises of Russia's Northern Fleet in the Barentsevo Sea on April 6, 2000. He has been at the helm during a decade of Russian economic growth fueled by natural resources of gas and oil.
A Russian cadet snaps a picture with Putin in Moscow's Red Square on May 9, 2007, during an annual celebration of the end of World War II. Putin has pushed to modernize Russia's military.
Putin attends an inauguration ceremony for president-elect Dmitry Medvedev at Moscow's Kremlin on May 7, 2008. Putin was constitutionally obliged to stand down as president but stayed close to power, becoming prime minister.
a reputation as a "strongman,"
declaring a crackdown on Chechen militants a priority in his first presidential term.
Putin vacations outside the town of Kyzyl in Southern Siberia in 2009. Over the years he has earned
President Barack Obama meets Prime Minister Putin at his home in Novo Ogaryovo, near Moscow, on July 7, 2009. Putin said Russia was pinning its hopes on Obama to revive ties with the United States.
A worker takes down a giant elections poster bearing a portrait of Putin on October 13, 2009, in Moscow. Putin's party tightened its grip on Russian politics with a sweeping victory in local elections, officials said, as the opposition alleged widespread fraud.
Russian President Medvedev and Prime Minister Putin ski together in Krasnaya Polyana, near the Black Sea resort of Sochi in southern Russia, on January 3, 2010.
Putin takes part in a judo training session at a sports complex in St. Petersburg, on December 22, 2010. The Russian leader holds a black belt in judo.
Putin receives a medical consultation during his visit to the Smolensk Regional Hospital on August 25, 2011. Putin said he hurt his shoulder during morning judo practice.
Putin speaks to supporters at a Moscow rally on February 23, 2012. He won the presidential election in March, with just under 65% of the vote. Former President Medvedev became his prime minister.
A topless protester shouts at Putin and German Chancellor Angela Merkel, center, during their visit to the Hanover Industrial Fair in central Germany on April 8. Human rights groups say civil liberties and democratic freedoms have suffered during Putin's rule.
Putin addresses the media during his visit to Hanover on April 8.
Putin and his wife, Lyudmila, ended their nearly 30-year marriage, the state-run news agency reported on June 6.
Putin, center, poses for a photo with Russian Olympic athletes in Sochi, Russia, on February 24. Russia hosted the Olympic Games and won the most medals.
Putin, center, and Defense Minister Sergei Shoigu, left, arrive to watch a military exercise at the Kirillovsky firing ground in Russia's Leningrad region on March 3.
Putin in power
Putin in power
Putin in power
Putin in power
Putin in power
Putin in power
Putin in power
Putin in power
Putin in power
Putin in power
Putin in power
Putin in power
Putin in power
Putin in power
Putin in power
Putin in power
Putin in power
Putin in power