STORY HIGHLIGHTS
Parents speak exclusively to CNN about their son who grew up to be a wanted terrorist
U.S.-born Omar Hammami became public face of Al Shabaab, but now appears in deadly danger
Father in Alabama says: "We only have one son. And now, we have none"
Both parents says their religions have helped them survive the turmoil
Daphne, Alabama (CNN) -- While others enjoy the approaching summer, barbeques and baseball, one American family scours the Internet looking for clues to whether their son is alive.
U.S. authorities also want to find him, but not to secure a happy family reunion.
Their son, Omar Hammami, is a wanted Islamist terrorist fighting -- or barely surviving -- in Somalia with a $5 million bounty on his head.
Now after an apparent assassination attempt on their son, the family opens up in an exclusive CNN interview about how their son grew up to be a terrorist, how their lives are changed forever and how their joint faith has seen them survive burdens that could have destroyed other families.
Shafik Hammami opens the door to his Daphne home wearing a University of Alabama football t-shirt. He was born in Syria, but after more than 40 years in the United States, he's as much a homegrown Alabama football fan as any other local resident. I ask him if he thinks 'Bama' will win the National Title again this year. He holds up his hands and proudly smiles: "Roll Tide."
He's not what I had expected him to be. He's an older man with a mild-mannered nature -- a stark contrast from what I knew of his son, whose personality had won him recognition from a young age. But somehow the boy living the American dream grew up to be a propagandist for al Qaeda-backed militants looking to wage global jihad.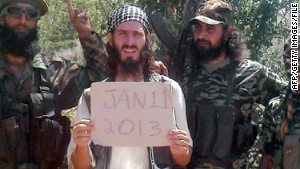 Omar Hammami, a U.S.-born Islamist operating in Somalia, holds a sign showing the date in a propaganda video.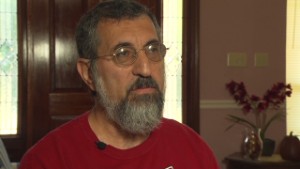 Dad fears for his American jihadist son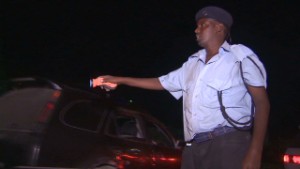 Security crucial to Somalia's success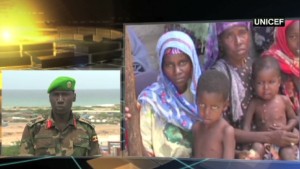 What's the current situation in Somalia?
Born and raised in Daphne, a quintessential Southern town nestled along Mobile Bay, lined with strip malls, subdivisions, and churches, Omar now goes by the name of Abu Monsour Al-Amriki, or The American. Western and Somali authorities have named him as a leading member of Al Shabaab, a group known for its ruthlessness in the fight for an Islamic Caliphate in Somalia.
His mother Debra, a retired school teacher, had explained earlier by phone how hard it was for her husband to talk about their son. He has quit talking to the media, she says, because it hurts too much.
"Darlin', we have been through hills and valleys," she said in a genteel southern accent. "All I know is that I ask everyone I meet, 'Do you go to church?' and if they say yes, I ask them, 'Please put us on your prayer list."
In Daphne, a community of roughly 22,000, everyone we meet seems to know Omar Hammami. Or if they don't know him, they know of him as, "that terrorist from here."
Debra Hammami, who comes across as bubbly and friendly, says she knows that some people judge the family because of the son's choices.
"But, darlin', I'm lucky to live in a community with such wonderful friends," she says.
Just the other day, she says, a friend of hers met someone who said, "Just what kind of parents could raise a child like that? They must have been terrible parents for him to turn out that way."
"You hush your mouth," her friend said in response, Debra Hammami recounts. "I know that family. And his mother is a good Christian woman, so you be quiet about something you know nothing about."
She says that even though she is a Christian and her husband is a Muslim, that throughout this seemingly never-ending ordeal, it is that individualized faith, and a shared belief in God that has seen them through the toughest of moments.
After what seems like hours of pained silence, but is probably merely a matter of several uncomfortable minutes, Shafik Hammami agrees ever so tentatively to talk about his son.
"Omar was a very sweet, intelligent child, very bright and inquisitive about everything," he says. "He excelled at education, sports, just about everything he attempted. I always had high hopes for him. I would have loved for him to be engineer or a doctor but that wasn't in the cards.
"As a parent I would like for him to follow my instructions. But in life that doesn't always happen, especially with a strong-willed child. And of course I tried my best, and so did my wife, to raise him the best we could. He chose the path he did, and I do not approve of it. But there is nothing I can do to change it."
"But surely there were clues?" I ask him.
"No, not at all. There were no alarms or anything that I could see," he recalls. "As a matter of fact, when he was in college, he was the President of the Muslim Student Association, and he had several media interviews, and he condemned the attacks of 9/11 and saw that those actions were un-Islamic, so there was nothing for me to worry about."
But that would change and soon there would be a lot to worry about.
Despite his gifted intellect, Omar dropped out of college at the University of South Alabama and moved to Toronto, Canada, where he met and married a Somali woman. Soon after, the couple moved to Egypt, where Omar hoped to deepen his study of Islam.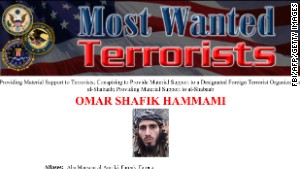 Omar Hammami, raised in Alabama, is on the FBI's most wanted list and faces multiple terrorism charges.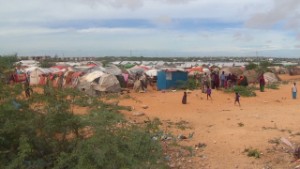 Somalia's women struggle with rape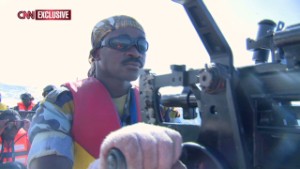 In the boat patrolling for pirates
Shafik Hammami remembers the last time he saw his son. He and Debra had traveled to Alexandria, Egypt, to visit with Omar, his wife, and their new grandchild.
"We went to spend a couple of weeks with him," Hammami says. "And there was no inkling of anything that we could see, feel, anything that had changed.
"But shortly after we left we got a call from his wife, and she told us she thinks he is in Somalia, and that's when I realized that things are not normal."
"I was furious," he adds. "And I tried to contact him to find out what was going on."
Omar's wife said he had gone to Somalia to visit her relatives. But when Hammami finally reached his son, Omar told him someone had stolen his passport, and that he couldn't leave the country.
At the time, 2006, Somalia was in the grips of an Islamic insurgency.
Frantic and shocked by his son's news, Hammami says he urged his son to go to the police, an embassy, anyone who could help him. Thinking that Omar was stranded in a dangerous place, and desperate to help their son, the Hammamis contacted the FBI, their local congressman, and the U.S. State Department, hoping to get Omar a new passport, and a way out of the war-ravaged country.
But Hammami says he was told there was absolutely nothing they could do.
Soon after, Ethiopian troops entered Somalia and the country fell deeper into chaos. The Hammamis say they lost all contact with their son and were living a parent's nightmare.
The next time Hammami saw his son was almost a year later -- on television as an Islamist propagandist.
His message partly blamed the U.S. for Somalia's desperate situation and he said America should pay attention to Somalia.
The terror threat facing the U.S.
He no longer called himself Omar Hammami, but Abu Monsour Al-Amriki, or "the American."
The effect was complete and utter heartbreak.
"When I first saw the interview on TV, I knew that was the end of life as we knew it. I knew we would never be the same again. It's devastating for both of us. He is our only son. We only have one son. And now, we have none," Shafik Hammami says.
"It hurts me very much. It hurts to hear your son called a terrorist," he adds, his voice breaking with emotion.
Hammami, a retired civil engineer, says he now spends his days scouring the internet for news of his son. These days what he finds is more troubling than ever.
Omar is on the FBI's most wanted list facing multiple counts of supporting terrorism, and the possibility of multiple life sentences if he ever returns home.
FBI puts Omar Hammami one of its most wanted list
Hammami says there also appears to be internal fighting among Al Shabaab and the split has put Omar in the firing line of other jihadists.
Hammami, who calls Al Shabaab "a bunch of thugs," says the hostilities have put his son at odds with Al Shabaab's top leadership.
Hammami says he learns this from Omar's Twitter posts. Some of the most recent are ominous. Omar has posted pictures of himself, blood oozing from his neck, after what he says was a failed assassination attempt.
While he does not agree with his son's choices, Hammami, like any parent, still tries to see the best in his son, despite the worst of circumstances.
He says the thugs are after his son because his son objects to their decision to take money from the poor to support a lavish lifestyle, target innocent civilians in their fight, and conduct suicide bombings as part of their mission.
Hammami, his voice with the slightest hint of hope, says: "Omar is against these things. He told the Shabaab leader that these actions are against the Islamic ideals and he told him to correct his ways. And that is why the leader is trying to kill him."
Others are not so optimistic in their assessment of Omar's split with the leadership. In jihadist online forums, some say his need for attention and self-seeking actions are the reasons for the infighting.
Read how Somalia's president defied Al Shabaab
A 127-page autobiography, reportedly penned by Omar and circulating online in jihadi forums, could be pointed to as evidence supporting that claim. In the document, Omar meticulously describes his path from a child who dreamed of becoming a doctor to an American jihadi and alludes to his desire to stand out:
"I just came to the conclusion that helping the Ummah (Muslim World) is not simply a matter of adding another doctor to the list. I figured we had enough doctors," the autobiography reads. "One charismatic leader could theoretically 'make' more money for the Ummah in a few charity drives than one doctor could ever make in a lifetime."
The U.S. government offers a more damning assessment that goes beyond mere narcissism, saying it has classified evidence that Omar himself is responsible for masterminding at least one suicide attack in Somalia that killed innocent civilians.
And in that same autobiography, Omar offers his own opinion about why Americans are afraid of him:
"The real fear that the Americans feel when they see an American in Somalia talking about Jihad, is not how skillful he is at sneaking back across the borders with nuclear weapons. The Americans fear that their cultural barrier has been broken and now Jihad has become a normal career choice for any youthful American Muslim. Trying to show them how serious I am about slaughtering Disbelievers is the side of me they would like to capitalize on to estrange the Muslims from our cause," it reads.
It's these kinds of inflammatory statements from their son, that leave the Hammami's struggling to find reason for events unfolding halfway around the globe.
"When you see those pictures, and read those reports, how do you cope?" I ask.
For Hammami, like his wife, the answer is simple. Faith.
"I accept God's ordain for him and for me," Hammami explains. "If I don't accept it as a matter of faith, I cannot endure it. It is the only thing that keeps me from going crazy."
He pauses for a moment and continues: "If God chose for him to die anywhere on earth, that's God's decision, and I accept it."
He adds: "I wish he could [turn his life around] but he has no good options left. He has no way of tracking back, even if he wants to."
It has been more than six years since the Hammamis first learned that Omar had fled to Somalia to wage jihad.
The Hammamis are now resigned to the fact that they may never see their son again.
But I ask Hammami what he would say to him, if he had a chance to talk to his son once more.
"Even if I can't see him, I just wish he stays safe. And I wish ... " Hammami's voice begins to break, tears welling up in his eyes. "I wish he will know ... that I will love him until I die."
Nima Elbagir contributed to this story