Party leader: Protest over Syria turns deadly in Lebanon
June 11, 2013 -- Updated 0020 GMT (0820 HKT)
STORY HIGHLIGHTS
Option party head says member was killed outside Iranian embassy
State media says local men confronted the demonstrators
Hezbollah is supported by Iran, Syria
Lebanese government has quietly backed government in Syrian civil war
Beirut, Lebanon (CNN) -- A protest outside the Iranian embassy in Beirut turned deadly Sunday, the leader of a Lebanese political party said.
Ahmed Assad, who heads the Option party -- which opposes Hezbollah and the Syrian government -- told reporters one man from his group was shot in the stomach and died.
"They killed him to silence his freedom of speech," he said.
Members of the group were protesting what they called Iranian intervention in Syria when some of its members were attacked, a spokesman said. He said two other people were hurt.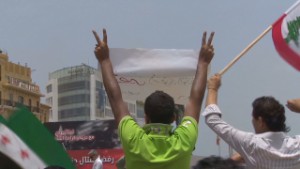 Tension over Syria grows inside Lebanon
The National News Agency reported demonstrators were confronted by "some young men in the area."
U.N.: Nearly half of Syria's populace will need aid
The neighborhood is a primarily pro-Hezbollah area.
CNN staffers saw a heavy presence of Lebanese security forces outside the embassy. Soldiers had cleared the area and media members were being kept away from the scene.
Syrian dissidents have said Hezbollah, the powerful Lebanese Shiite militia backed by Iran and the Syrian government, has sent fighters to the conflict. Hezbollah recently teamed with government forces during a pitched battle for the Syrian town of the border city of Qusayr, members of the Syrian opposition said.
The Lebanese government has remained officially neutral in the conflict -- even as it has firmly, but quietly, supported Syrian President Bashar al-Assad.
Syria's embattled Qusayr off-limits to aid workers

Part of complete coverage on
Syrian crisis
March 4, 2014 -- Updated 1328 GMT (2128 HKT)

Syria has submitted a revised proposal "that aims to complete the removal of all chemicals" from the country before the end of April.
February 18, 2014 -- Updated 1032 GMT (1832 HKT)

CNN's Arwa Damon reports on ISIS defector who says destroying ISIS as critical as defeating regime.
February 18, 2014 -- Updated 0353 GMT (1153 HKT)

The U.S. wants a United Nations resolution that will, among other things, bring humanitarian aid for refugees in Syria.
February 17, 2014 -- Updated 1259 GMT (2059 HKT)

When the radical Islamist militia ISIS arrived in the Syrian town of Addana a year ago, many welcomed them. What followed changed their minds.
February 17, 2014 -- Updated 1449 GMT (2249 HKT)

CNN obtained video clips from Syrian activists documenting the atrocities committed by members of the Islamic State in Iraq and Syria, known as ISIS.
February 18, 2014 -- Updated 2017 GMT (0417 HKT)

On Crossfire, Danielle Pletka discusses what the U.S. needs to do to resolve the Syria crisis.
February 6, 2014 -- Updated 0101 GMT (0901 HKT)

Her almond-shaped brown eyes shine through her sunken face as a doctor lifts her sweater to reveal a tiny rib cage pushing against her skin.
February 4, 2014 -- Updated 1746 GMT (0146 HKT)

The Zaatari refugee camp in Jordan is home to around 100,000 Syrian refugees. CNN spent several days meeting the residents of the camp.
January 22, 2014 -- Updated 1959 GMT (0359 HKT)

Renowned war crimes prosecutors and forensic experts have found "direct evidence" of "torture and killing" by the Assad regime.

Traumatized children who have witnessed the horrors of war are being helped to read -- and rebuild a normal life. CNN's Becky Anderson reports.
January 23, 2014 -- Updated 1207 GMT (2007 HKT)

A battle zone tour organized by the Syrian government for CNN and several other media outlets Wednesday was more than bizarre.
January 22, 2014 -- Updated 1735 GMT (0135 HKT)

CNN's Atika Shubert meets with the family of a little girl who was wounded in Syria, now living in a refugee camp.
January 27, 2014 -- Updated 1456 GMT (2256 HKT)

110 year old, Jabari Alawali walked for over 10 hours to reach Jordan from Syria.
Today's five most popular stories