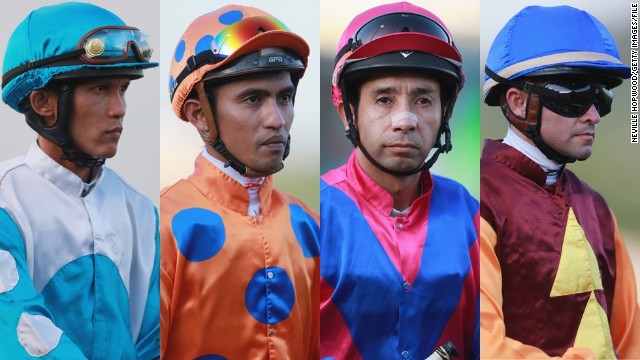 Colorful, shiny, and flamboyant. Welcome to the world of jockey silks. They might look like circus costumes, but these uniforms have a rich tradition and important function.
Dating back to the 18th century, jockey silks -- named after their original material -- are crucial to identifying horses galloping around a race track.
Each design is unique, with owners choosing from just 18 different colors, 25 shapes and 12 sleeves. Unless of course you inherit your silk from a family member. The British royal family's silks (pictured) have been handed down through generations.
While jackets were originally made from silk, today they are more likely to be made from a lycra and polyester mix, in specialized factories such as Allertons (pictured) in Britain.
"Beforehand, they were very much like a dress shirt," said Michael Rawson, Allertons managing director. "We've changed a few of the features such as adding elasticated cuffs and poppers down the front as opposed to buttons, which were always coming off."
"An owner could have three or four different horses running in the same race, but they would have to have different designs. The body and the sleeves may well be the same, but the caps would be different," said Rawson.
Jockey silks are more than simply uniforms, they can often sway punters placing a bet. "Those people who place a bet once or twice a year would certainly admit to choosing horses based on the colors and patterns," said Great British Racing spokesman Nick Attenborough.
Some horse's colors however, are so famous that they can never be used by another thoroughbred again. Australian champion Black Caviar -- who recently retired after an unbeaten 25-win career -- is now the only horse allowed its distinctive salmon pink and black-spotted silks.
Rainbow riders
Unique design
Royal racing
Clothes horse
Rolling with the times
Hat's off
Star studded
Tickled pink
STORY HIGHLIGHTS
Jockey uniforms are gaudy, silky and a little bit silly
Despite carnivalesque appearance, jockey silks have rich tradition
Dating back to 18th century, colorful jackets used to distinguish horses
Could some colors be luckier than others?
Winning Post is CNN's monthly horse racing show. Click here for program times and latest features.
(CNN) -- The rainbow-colored jackets shimmer in the sun. From a distance the silken costumes could be the attire of circus performers, ready to throw custard pies at each other for the whooping crowd above.
But despite their carnivalesque appearance, there's no joking about their very serious line of business.
The flamboyantly-dressed men are jockeys, and their lurid jackets are more than simply uniforms: they're crucial ID tags, drenched in centuries of tradition -- and superstition.
But could what a jockey wears really help determine whether they win or lose?
A remarkable 40% of riders who have won the UK's biggest horse race, the Grand National, have been wearing either blue or green.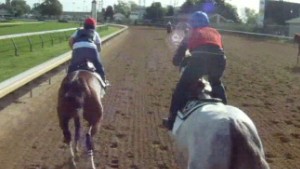 Jockey cam: Horse racing on dirt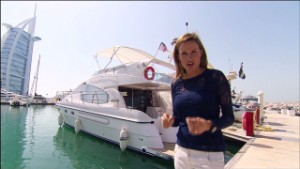 The richest day of horse racing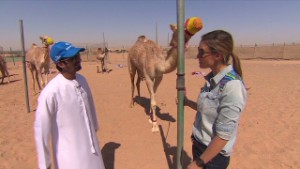 From camel racing to prized jockey
"It's really weird. But there's no science behind it," says Nick Attenborough, spokesman at Great British Racing, which looked at the race's winners over the last 100 years.
Read: The secret of gambling legends
"People who race horses are incredibly superstitious. At Hong Kong racecourses you always see a lot of red because it's a very lucky color in Chinese culture.
"Then again, they say horses are color blind -- so it probably doesn't make much difference to them."
Such is the entrenched superstition within the industry, that when a jockey receives a new uniform, it is tradition to throw it on the floor and stamp on it. "It's a way of saying, 'Now it's hit the ground, I won't,' " Attenborough told CNN.
Number plates for horses
But there's more to jockey jackets than their supposed mystical powers. Dating back to the 18th century, jockey silks -- named after their original material -- are an important method for determining a field of lookalike horses.
Despite being called jockey silks, the jackets actually have very little to do with the rider, instead representing the owner.
"As more and more owners became registered in the 1700s and 1800s, jockey silks became like car number plates -- every single set had to be personalized," says Michael Rawson, managing director at jockey uniform company Allertons.
"No one person could have the same set of colors and patterns riding in the same race."
The rule means that owners must dream up a unique color and pattern combination, never used before.
Catwalk or horsewalk?
More than 15,000 jacket designs are now registered in Britain -- costing around $60 each -- with owners having to choose from just 18 different colors, 25 shapes and 12 sleeves.
They say horses are color blind -- so it probably doesn't make much difference to them
Nick Attenborough, Great British Racing
But if your dream design is already taken, you can always wait for it to be auctioned, once the owner is finished with them.
"The plainer the set, the dearer they'll be to buy at auction, with prices varying between $1,500 and $10,000," Rawson told CNN.
"I think the most expensive have been plain black, or even plain pink, plain red, plain navy blue. Or even designs which have been based around Premier League football teams, say black and white stripes for Newcastle."
Read: The secret of silly horse names
However, the color palette in the U.S. is virtually infinite, with more interesting shapes such as four-leaf clovers and horse shoes also available.
The designs must still receive the seal of approval from the national Jockey Club though, as one owner found out when his application for a naked woman's silhouette was turned down.
Fit for a queen
It's a fashion dilemma that famous horse owner, Britain's Queen Elizabeth II, has never had to face, with her distinctive purple and red jacket with gold embroidery handed down through generations.
"You can inherit designs," explained Attenborough. "For example, tartan is very rare, but you can hand it down to someone in your family."
While the vibrant jackets are traditionally called silks, today they are usually made from a mixture of drag-resistant lycra and polyester.
In an industry where jockeys must meet minuscule weight requirements, lightweight clothing is crucial, and jackets usually weigh just 150 grams.
"We have a few different styles but our aerodynamic fabric is actually made from lycra -- much like something you would see on a cyclist," said Rawson.
"It's a performance-enhancing fabric, so it needs to be figure-hugging -- you're not going to get any wind resistance with it flapping around."
Undergarments
With so much focus on their eye-catching jackets, not many people are aware of the careful preparation going on underneath.
Riders wear padded vests to protect them in case of an accident. In winter, many will also wear ladies' stockings to keep warm.
Read: The art of equine massage
Uniforms may be more high-tech today than 200 years ago, but seeing these elite athletes in their gaudy finery has lost none of its impact.
As Attenborough says: "When you see them in the center of the paddock on a bright and sunny day, the colors really are a sight to behold."