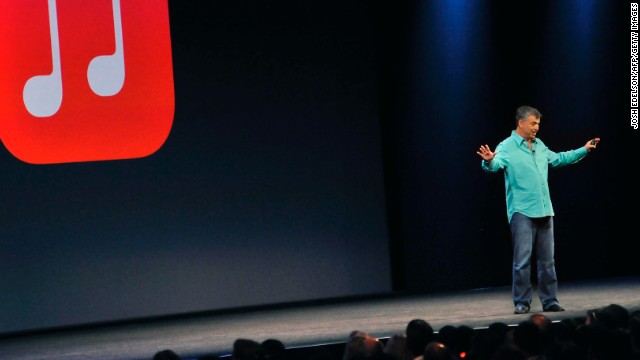 Apple on Monday launched iTunes Radio, a free streaming-music service for desktop and mobile devices. As more people grow comfortable with playing songs online instead of downloading them, the streaming-music landscape has grown crowded. Here's a look at some of the players.
With more than 150 million listeners, Pandora is the Web's most popular music-streaming service. Launched in 2005, it acts like a personalized Internet radio station, serving up a steady mix of free tunes based on users' recommendations. Paying users get an ad-free version.
Launched in Sweden, Spotify came to the U.S. in 2011 and has built a sizeable audience through its partnership with Facebook. Spotify caters to the instant-gratification crowd by letting users stream anything for free from its library of 18 million songs.
Microsoft launched Xbox Music in the fall of 2012. Like Spotify, it lets users instantly stream music -- to the Xbox home-entertainment system or to Windows-powered PCs, tablets and phones.
Among teens, YouTube already is the most popular way to listen to music, according to a Nielsen survey. A Google music service would reportedly let YouTube users subscribe to streaming-music options as well.
In April, Twitter signaled a music site is coming soon, going live with a webpage (albeit one that didn't yet do anything). Unconfirmed reports suggest a Twitter music service would suggest songs for users based on several criteria, including who they follow on Twitter. Ryan Seacrest has already sung its praises -- on Twitter.
Google announced its own streaming service, Google Play Music All Access, in May. It combines the millions of songs in the Google library with users' own music collections, which can be uploaded to Google Play. The service works on the Web and on mobile devices.
The crowded Web music scene
Pandora
Spotify
Xbox Music
Google
Twitter Music
Google Play Music All Access
STORY HIGHLIGHTS
Apple's iTunes Radio joins crowded music-streaming field
Feature will be ad-supported, feature iTunes' 26 million songs
Some question whether there's a need for more streaming
Facebook, Google, Twitter and others already have services
(CNN) -- A pioneer in sales of digital music, Apple on Monday became a late entrant in the booming music-streaming wars.
When its iTunes Radio feature launches this fall along with a new version of Apple's mobile operating system, it will go head-to-head with established competitors such as Pandora and Rdio, as well as other tech heavyweights in Facebook-affiliated Spotify, Twitter Music and Google Play All Access.
All of which raises the question: In a crowded field, what's going to persuade people already using (and, in some cases, paying for) those other services to switch to Apple's?
Apple appears to be banking on the extensive music library it's piled up on iTunes and the customer base that's already used to shopping there. The iTunes store boasts a catalog of 26 million songs (Spotify, by way of comparison, claims more than 20 million) and more than 50 billion files have been downloaded from iTunes since it launched in 2001.
"As a large company, Apple has a few major advantages," said Karl Volkman, chief technical officer at Chicago's SRV Network. "They have a large and loyal customer base established and the capability to be competitive with advertising revenue rates, both providing great incentive for music publishers."
But after Monday's announcement, many folks in tech circles seemed less bullish on the idea. For a company that built its empire on bold leaps into the unknown -- few had heard of smartphones before the iPhone or tablets before the iPad -- Web radio feels like a copycat maneuver, they said.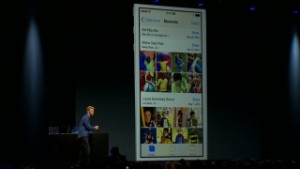 Apple's WWDC in Focus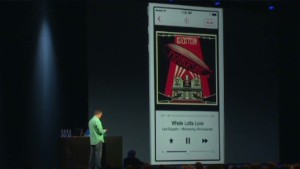 Critic: iTunes Radio a Pandora knockoff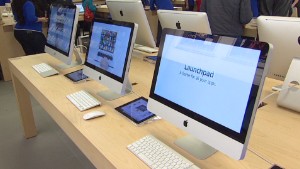 Has Apple lost its cool factor?
It remains to be seen whether Apple will go all-in with the product, seeing it as the logical extension of its iTunes brand, or float it as an afterthought, like its short-lived and seldom-used Ping social site.
"Apple's entry is a discovery tool that seems to exist just to help sell you tracks from the iTunes music store," wrote Roberto Baldwin at Wired. "But hey, at least it has streaming Led Zeppelin."
Apple Vice President Eddy Cue doesn't exactly stifle that line of thought.
"iTunes Radio is an incredible way to listen to personalized radio stations which have been created just for you," Cue said in the statement. "It's the music you love most and the music you're going to love, and you can easily buy it from the iTunes Store with just one click."
It's no mystery why Apple, like Facebook, Google and Twitter before them, wants in on music streaming.
Streaming, by which users listen to ad-supported music for free or pay a monthly fee, is the fastest growing form of music listening, according to industry reports.
The Recording Industry Association of America, in its annual report, said that while overall music sales were down in 2012, digital-music sales were up 14%, topping $4 billion.
"Digital growth was driven by large increases in revenues through what can broadly be referred to as 'access models,' where users can choose to listen from large libraries of music rather than purchasing individual songs or albums," the report read.
Apple's offering will be ad-supported, in addition to serving as another portal into the iTunes store. And unlike most of its competitors, which are available across platforms, it will only be accessible on Apple products.
Like Pandora, users will be able to "seed" stations with particular artists and hear selections from similar ones. Apple will track a user's selections, as well as their iTunes purchase history, to continually fine-tune their stations to their tastes.
On mobile devices, users will be able to ask voice-activated "assistant" Siri to play, skip or pause songs, or to search for groups, or styles of music to play.
But in the wake of the announcement, most analysis focused on an apparent lack of innovation on Apple's part. If it ain't broke, the thought went, why does Apple want to fix it?
"iTunes Radio is a Pandora knockoff," Rocco Pendola of finance site The Street told CNN. "It absolutely will not come close to Pandora in terms of functionality and user experience. It can't possibly do that. Pandora is a 13-year-old company ... . Apple is just doing what everyone else had done -- copying it."