STORY HIGHLIGHTS
British horse trainer Henry Cecil dies aged 70
Cecil trained unbeaten "wonder horse" Frankel
The 10-time champion trainer had fought a long battle with cancer
(CNN) -- It is a bittersweet irony that, after a four-decade career which saw Henry Cecil train thousands of racehorses, he will forever be remembered for just one -- Frankel.
It is now almost impossible to mention Cecil, who passed away Tuesday at the age of 70 after a long battle with cancer, without mentioning Frankel in the same breath.
Yet the master trainer had already done more than enough to stake his claim to being one of the greatest trainers ever to grace the turf before the bay colt with the four white feet arrived at his Newmarket yard in 2010.
Cecil was born in 1943 into an aristocratic family. He used to claim, with typical self-deprecation, that he was the first person from his prep school to ever fail the Eton entrance exam.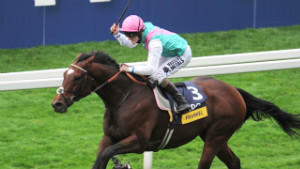 Frankel ends career in dramatic style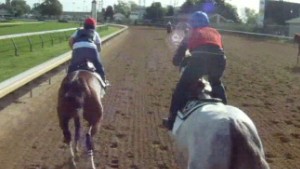 Jockey cam: Horse racing on dirt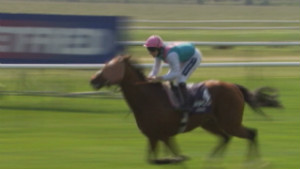 Is Frankel the greatest racehorse ever?
He obtained his training license in 1969 and rapidly began chalking up a string of notable successes. In 1973 he tasted his first Classic success, with Cloonagh in the Irish 1,000 Guineas.
Read: Secrets and suspicions of jockey fashions
Two years later he captured his first English Classic with Bolkonski in the 2,000 Guineas -- a race he later also won with Frankel. He won the first of his four Epsom Derbys with Slip Anchor in 1985, the year he also won the "Fillies' Triple Crown" with Oh So Sharp.
But the 10-time champion trainer experienced a dramatic fall from grace in the early years of the 21st century. His colorful personal life had taken him from stalwart of the racing pages to the front page of the British tabloid News of the World.
At the same time, his relationship with Sheikh Mohammed, one of his principle owners, broke down, resulting in the removal of 40 of the Dubai ruler's horses from Cecil's care.
The arrival of Frankel into his yard in the twilight of his career marked a return to prominence after a period in the wilderness in which Cecil later admitted he considered retirement. He became a "Sir" after being knighted by Britain's Queen Elizabeth in 2011 for his services to racing.
"He was one of the finest trainers of racehorses that the sport has ever witnessed," Professional Jockeys' Association joint president Steve Drowne said.
"His influence over generations of jockeys is renowned and those who rode for him benefited hugely from his knowledge and experience. He will be much missed by all of us."
Read: Suffragette's ultimate sacrifice
Frankel, the son of champion sire Galileo, went on to win 14 races in an undefeated three-year career and is regarded by many as the greatest racehorse ever produced. Cecil is widely credited with managing Frankel's career with delicacy and intelligence, allowing the colt to fulfill his potential.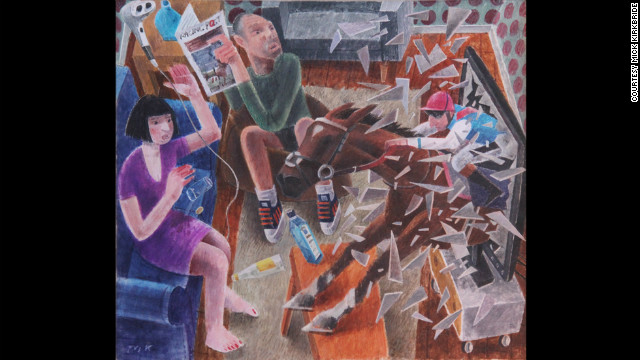 Artist Michael Kirkbride's painting, "Armchair Ride," was inspired by a poem about Frankel demolishing the field in last year's 2000 Guineas race.
Kirkbride painted the piece in egg tempura; a mixture of colored pigment and egg yolk which dates back to the 1st Century.
The British artist is perhaps best known for his paintings of English football scenes, including "Bar Kick," a surrealist look at sporting revelry in a pub.
British thoroughbred Frankel remained unbeaten in 14 consecutive races. The colt won his last ever race in the Champions Stakes at Ascot.
Leonardo da Vinci's 16th Century masterpiece "Mona Lisa," on display in Paris's Musee du Louvre, is one of the most visited artworks in the world. The famous portrait is thought to be of Lisa Gherardini, the wife of Francesco del Giocondo.
Pablo Picasso's 1937 painting "Weeping Woman" depicted long-time mistress Dora Maar. Their notoriously tempestuous relationship lasted nine years.
Frida Kahlo was the wife and muse of Mexican artist Diego Rivera. An acclaimed artist in her own right, today Frida is the more renowned of the pair, with actress Salma Hayek playing her in the 2002 biographical film "Frida."
Spanish artist Salvador Dali's wife Gala featured in many of his works, including 1949 painting "The Madonna of Port Lligat". She was also the muse of first husband, French poet Paul Eluard.
Andy Warhol catapulted model and actress Edie Sedgwick to "It Girl" status in his avant-garde films of the 1960s.
British artist Lucien Freud caused a stir with his 1995 painting of Job Centre supervisor Sue Tilley, called "Benefits Supervisor Sleeping." The naked woman weighed around 127kg at the time.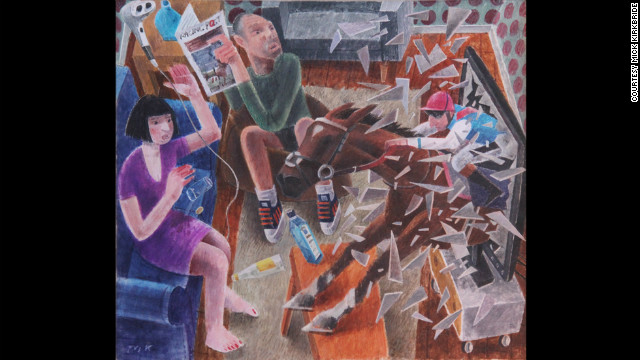 My muse: A race horse called Frankel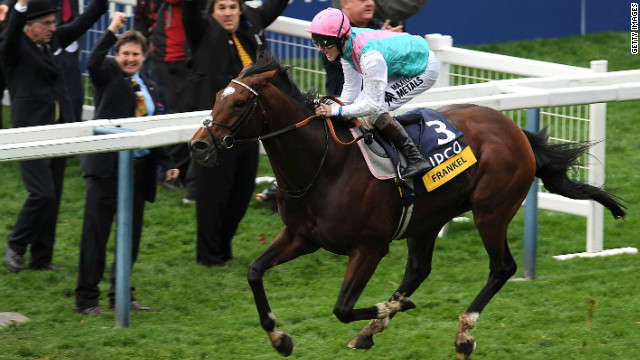 British colt Frankel powers home to take the Champion Stakes at Ascot -- his 14th consecutive win.
Queen Elizabeth II presents Frankel's jockey Tom Queally with the Champion Stakes trophy at Ascot.
Australian mare Black Caviar, pictured with trainer Peter Moody, remains unbeaten in 22 races.
Frankel has even been immortalised in a surrealist painting. Artist Michael Kirkbride's "Armchair Ride" was inspired by a poem about Frankel demolishing the field in last year's 2000 Guineas race.
Under the stewardship of jockey Queally, the four-year-old Frankel has brought home winnings of just over $4 million for his owners.
Trainer Henry Cecil has put his all into schooling Frankel and even installed a closed circuit TV system in the horse's stable to ensure he is safe at night.
Both Black Caviar and Frankel have spawned a micro marketing industry. Frankel flags were the order of the day at Glorious Goodwood this year. There is also an impressive line in Frankel fleeces, mugs and hats available online.
The Australian High Commission in the UK had to hold a ballot for Ascot tickets, such was the demand from the expat community to see Black Caviar on British soil. She also has an online store with cufflinks selling for $42.
Frankel and Black Caviar even have their own Twitter handles. "Goodbye UK, and thank you for your hospitality Your Majesty," tweeted @blackcaviar2006 after coming to Britain. "I enjoyed my time in Newmarket and racing at Royal Ascot xx."
In Frankel's new life as a stud, the in-demand colt is expected to command a fee of $160,000 each time he sires a foal.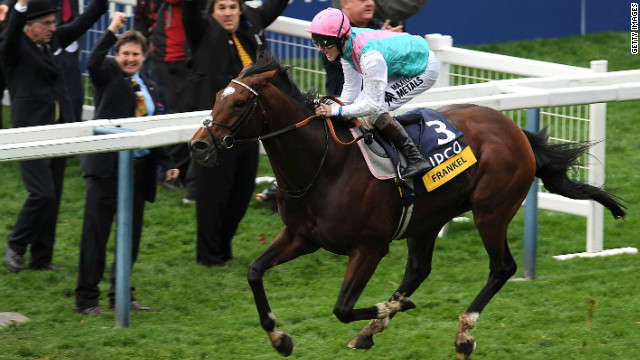 The 'Brangelina' of horse racing?
In 2006 it had been revealed that Cecil was undergoing treatment for stomach cancer. By 2012, his condition appeared to have worsened and, blighted by ill-health, he missed a number of important races, including Frankel's successful defense of the Group 1 Sussex Stakes at Goodwood.
But he was determined to be present at the Juddmonte International Stakes at York, which is where the iconic image of the trainer, braced against the elements in his trilby as he raged against the dying of the light, became imprinted on the racing public's consciousness.
As a stunned crowed watched Frankel demolish his rivals on his first outing over a mile and a quarter, a frail and visibly withered Cecil, never one for great displays of emotion, permitted himself a smile. Asked how Frankel's win had made him feel, barely audible, he whispered: "Young again."
Frankel was, of course, named after legendary American trainer Bobby Frankel, who succumbed to his own battle with cancer in 2009.
Frankel is now enjoying a career a stud, with the first of his progeny due to set foot on the racetrack in 2016. It would a fitting tribute to the genius behind Frankel's remarkable career if one of those sons or daughters were to bear the name Cecil.