Venezuela says it foiled plot to assassinate President Maduro
June 11, 2013 -- Updated 0950 GMT (1750 HKT)
STORY HIGHLIGHTS
The government says two paramilitary groups plotted to kill Maduro
The groups are made up of nine Colombian citizens
Maduro won a tightly contested election against Henrique Capriles Radonski
Former President Hugo Chavez died in March
(CNN) -- Venezuela has thwarted a plan by two paramilitary groups to kill President Nicolas Maduro, state-run VTV reported Monday.
Interior Minister Miguel Rodriguez Torres said members of the groups, made up of nine Colombian citizens, were arrested Sunday in the country's northwest before they were able to enter the capital, Caracas, with heavy weapons.
Intelligence officials are tracking a third group, he said.
"This may be part of a plan that was orchestrated from Colombia to kill President Maduro and de-stabilize the Venezuelan government," he said.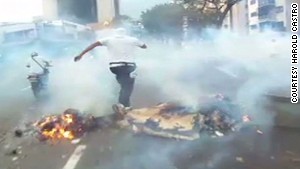 Chaos in Caracas after election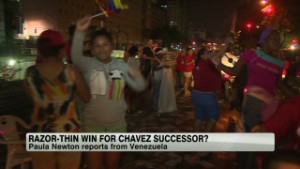 Capriles says Maduro is 'illegitimate'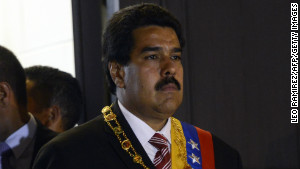 Maduro calls for peace, welcomes recount
The two nations have had a contentious relationship since 2007 when then-President Hugo Chavez said he was cutting ties with Colombia and especially former President Alvaro Uribe. He said the Colombian president had bowed to pressure from Washington "to get rid of Chavez."
In March of this year, Maduro struck a similar tone, accusing Uribe of hatching a plan to send a paramilitary force into Venezuela to kill him.
An attorney for Uribe called Maduro "a desperate person who holds power illegitimately."
Maduro was sworn in as president on April 19 after winning a tightly contested election against Henrique Capriles Radonski. Election officials credited Maduro with 51% of the vote.
The election followed the death of Chavez, who died in March following a long battle with cancer. He was 58.
While both Maduro and Capriles have publicly called for peace after the announcement of the tight election results, tensions have been running high in Venezuela.
Venezuela's opposition has filed a lawsuit with the country's Supreme Court, contesting the results, citing election irregularities that totaled more than 180 pages.
Ahead of the suit, Capriles told CNN affiliate Globovision that the results were illegitimate and new elections should be held.
"According to the law," he said, "what should happen would be a new election, without any of the irregularities that we have denounced."

Part of complete coverage on
December 10, 2013 -- Updated 1900 GMT (0300 HKT)

Presidents and prime ministers, celebrities and royals joined tens of thousands of South Africans to pay tribute to Nelson Mandela.

Syrian refugees fleeing into Lebanon tell CNN's Nick Paton Walsh how they stepped over dead bodies in their flight -- and now face the a biting winter.
December 11, 2013 -- Updated 1629 GMT (0029 HKT)

It looked plausible to most, but to deaf people watching the Mandela memorial -- it was all nonsense. The interpreter has been dubbed "a fake."
December 11, 2013 -- Updated 0541 GMT (1341 HKT)

They hoped for playful weekend outing in the snow. The moments of adventure dissolved into a fight for survival for the family of six.
December 11, 2013 -- Updated 1714 GMT (0114 HKT)

Yahoo's teen star Nick D'Aloisio sells the new digital future -- with vanishing content.
December 11, 2013 -- Updated 1328 GMT (2128 HKT)

Denmark's PM Helle Thorning-Schmidt made headlines when she snapped a selfie with PM David Cameron and President Barack Obama.
December 11, 2013 -- Updated 1311 GMT (2111 HKT)

Mars kits, a triple nipple baby bottle and extinct animal DNA are just some of things you'd find inside the "99¢ Store of the Future."
December 11, 2013 -- Updated 0958 GMT (1758 HKT)

They say necessity is the mother of invention. Here are 11 of the most mind-boggling inventions ever submitted to the U.S. patent office.
December 9, 2013 -- Updated 2311 GMT (0711 HKT)

Until he returned home this weekend, Merrill Newman -- an American held in North Korea -- had no idea what a story he'd become.
December 10, 2013 -- Updated 1611 GMT (0011 HKT)

The Web is set to change our lives over the next decade. This will also question the use of personal data and balancing new powers with ethics.
December 11, 2013 -- Updated 1756 GMT (0156 HKT)

Browse through images you don't always see in news reports, taken by CNN teams all around the world.

He was imprisoned for life but that did not quiet him. Nelson Mandela became South Africa's first black president, and an icon and inspiration.

Today's five most popular stories