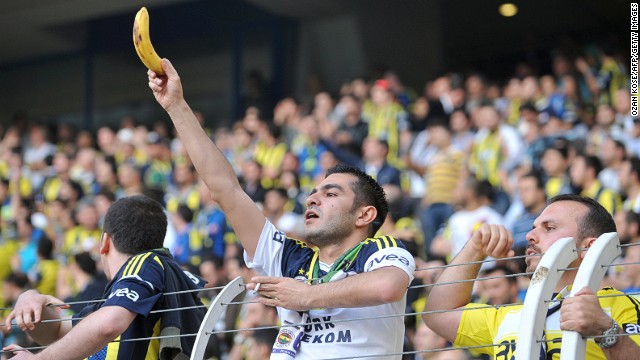 Racism has long been a stain on football but a resurgence of incidents in recent years has prompted soccer's authorities to launch a renewed bid to rid the game of discrimination for good. Here a Fenerbahce fan holds a banana towards Galatasaray's Ivory Coast striker Didier Drogba during a Turkish league match in May 2013.
The spark for a raft of racism reforms from the game's power brokers came when AC Milan midfielder Kevin-Prince Boateng walked off in a match with Italian lower league side Pro Patria in January after their fans abused him with monkey noises. The game was abandoned and his protest made headline news the world over.
CNN's Pedro Pinto stands on the spot where Boateng decided he'd had enough. He told the World Sport Presents Racism in Football documentary: "I decided to walk off the pitch because I said to myself, in this kind of environment, in this situation, I don't want to play football anymore."
Boateng's AC Milan teammate Mario Balotelli has been the subject of racial abuse over a number of years. He and Boateng were abused by AS Roma fans during a match at the San Siro in May that was briefly suspended by the officials as a result. A public address announcement implored visiting supporters to stop their chants.
Balotelli has had to deal with racism throughout his career. As far back as 2009, when he played for Inter, he was racially abused by opposing Juventus fans. Here, Inter's fans hold up banners in support of the striker.
Balotelli told Pedro Pinto he was prepared to walk off if he receives more racial abuse: "After what happened to me in (the Roma) game, I felt a little bit alone when I was home. I always said that if that happened in the stadium, like if nobody said anything, I don't care. But this time I think I changed my mind a little bit, and if it is going to happen one more time, I'm going to leave the pitch because it's so stupid."
Boateng's walk-off prompted the game's governing body to act and FIFA president Sepp Blatter invited the midfielder to sit on a task force dedicated to tackling racism in football. A raft of reforms have now been passed that could see teams relegated or expelled from competitions.
The head of FIFA's racism task force, Jeffrey Webb, told CNN the new measures could be "a defining moment in the fight against racism and discrimination." He labeled the recent abuse of Balotelli and Galatasaray striker Didier Drogba as "ignorant" and "unbelievable."
Blatter's new-found vigor to tackle racism was at odds with his sentiments in a 2011 interview with CNN when he expressed his belief that there was no on-field racism in football and that players who think they have been abused should simply say "this is a game." He later said his comments had been misinterpreted.
One of the most high-profile incidents in England saw Liverpool striker Luis Suarez banned for eight-matches for racially abusing Manchester United's Patrice Evra in October 2011. Prior to the teams' return fixture the following February, Suarez refused to shake Evra's hand. Suarez subsequently apologized.
Former England captain John Terry was found not guilty in a criminal court of racially abusing rival footballer Anton Ferdinand but was banned for four-matches by the Football Association. He accepted the charge, a £220,000 fine and apologized, saying: "I accept that the language I used, regardless of the context, is not acceptable on the football field or indeed in any walk of life."
The Serbian Football Association was hit with an $84,000 fine after a brawl between their under-21 team and England's in the city of Krusevac in October 2012. England player Danny Rose (far right) said he had been subjected to monkey chants throughout the game. The Serbian FA insisted their fine was for the altercation.
Serbian fans are renowned for creating an intimidating atmosphere, as CNN discovered at the Belgrade derby in May. Despite previous incidents, there was no hint of racism in the match, though the Serbian Football Association's technical director Savo Milosevic did reveal they have no program in place to tackle racism.
European football's governing body, UEFA also passed new laws on racism. They introduced a minimum 10-match ban for racist abuse by players or officials and escalating measures for clubs including fines and stadium closures for repeat offenders.
Various initiatives across Europe's leagues help to try and combat racism and offer opportunities to those communities that are under represented at the top of the game. The Asian Stars event, recently held at Chelsea's training ground, aims to encourage participation among aspiring Asian players at all levels of football.
Racism in football
Racism in football
Racism in football
Racism in football
Racism in football
Racism in football
Racism in football
Racism in football
Racism in football
Racism in football
Racism in football
Racism in football
Racism in football
Racism in football
Racism in football
STORY HIGHLIGHTS
CNN World Sport producer Harry Reekie on the problem of racism in soccer
"Racism in Football" documentary examines turning point in attitudes toward topic
The game's authorities have a new resolve to tackle discrimination in the game
Reekie: It will take generations for racism to be a thing of the past in football
The "World Sport presents: Racism in Football" documentary will first screen on CNN International on Saturday June 15. It investigates whether the "beautiful game" can eradicate one of its biggest problems. Click here for showtimes and more videos, news and features.
(CNN) -- Watching dozens of crazed supporters trying to set fire to a stadium makes you question your love of football.
I was standing in Partizan Belgrade's aging ground in Serbia's capital, where a narrow victory over fierce city rivals Red Star had seen the home side clinch the domestic title. It was the most intense and intimidating sporting atmosphere I have ever experienced, with passionate hatred spewing from every direction.
We had traveled to Serbia to film for the "World Sport presents: Racism in Football" documentary -- a project that has somewhat taken over my life in recent months.
Parts of Eastern Europe have a reputation, rightly or wrongly, for harboring racism; supposedly a hotbed for right-wing groups.
When I mentioned to a friend an urge to see for myself, he cheerily suggested going to the "Eternal Derby" as they call it in Belgrade. "You should go and watch Partizan versus Red Star -- it's the most dangerous game in Europe."
Read: Year Zero in soccer's racism fight?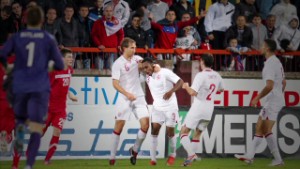 Tackling racism in the stands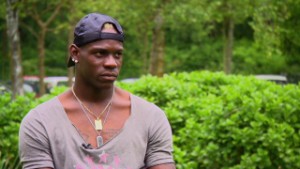 Balotelli: Racism makes me feel alone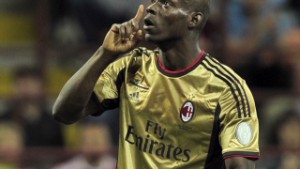 FIFA pass racism reforms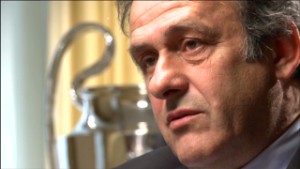 Platini: Bundesliga raises the bar
As it turns out, he wasn't far wrong. Almost every negative aspect humanity can offer was visible that evening. Hatred, intimidation, violence, verbal and physical abuse, arson. It was a melting pot of society's worst traits. At one point, riot police had to break up a mass brawl among three sections of Partizan's own supporters.
These weren't even rival fans -- they were on the same side -- and looked like they were trying to kill each other. At the end of the match, it was the Red Star supporters who started the fires. Amazed, I turned to a policeman. "Don't worry," he smiled back at me. "They always try to burn down the stadium when they lose."
But even in such an extreme environment, one thing we did not encounter in Belgrade was racism. I'll be honest, as a producer putting together a "racism in football" documentary, if it existed, I wanted to capture it on camera.
The game was in a country where racism has endured and been punished in the past. It was about as passionate a local derby as you can imagine, and the away side were fielding two black players in a country where they are a huge minority, and therefore an easy target for ignorant supporters. But not one incident was visible as far as our three-man team could see.
What struck me in that hate-filled environment was how racism and discrimination go well beyond every other form of taboo.
It was socially acceptable for those supporters to be violent; no-one was arrested when fires were started, no-one ejected when the riot police moved in. But racism goes much further than that, and what is pleasing is that football's authorities have begun to recognize as much.
For years, the general public in the UK, where I am from, has scoffed with every paltry fine handed out as punishment by European football's governing body UEFA for incidents of racism.
Until recently, FIFA has done little more to take a stand as ruler of the world game. And although I empathize with that derision through English eyes, I think it's fair to say the levels of sanctions handed out by authorities in the recent past have been nothing short of scandalous.
The example of Danish player Nicklas Bendtner being fined almost three times more for showing commercially branded underwear than the Russian FA was fined for racist behavior by its fans in Euro 2012 is an example often highlighted.
And with good reason. Surely few would disagree about the worrying disparity between the two incidents, no matter in which country you grew up?
Watching dozens of crazed supporters trying to set fire to a stadium makes you question your love of football
Harry Reekie
The event that changed everything, or at the very least sparked genuine momentum, is Kevin-Prince Boateng's walkoff against Pro Patria in January.
In the simplest terms, the public outcry and media coverage it provoked left FIFA with nowhere to turn. World football's governing body had been up against it since president Sepp Blatter told my colleague Pedro Pinto that all racism should be solved with a handshake, despite his insistence those comments were misunderstood.
Boateng's decision to walk off when faced with monkey chants from the crowd finally provoked Blatter to set up an anti-discrimination task force, headed by the impressive Jeffrey Webb, and the recommendations subsequently suggested were then accepted by an overwhelming majority at the recent FIFA Congress in Mauritius.
I have had the fortune of meeting Webb in person on two occasions over the past four months. In Zurich shortly after the task force was set up and again in Mauritius.
So often FIFA has been accused of having a "head in the clouds" attitude towards racism in football. "FIFA don't care," people often say. Well, let me assure you, Webb certainly cares.
He is an intelligent, personable man who carries himself with some assurance. He understands the enormous complexities of the subject and is passionate about making a stand against racism. I feel more confident football will slowly begin to combat racism under his leadership.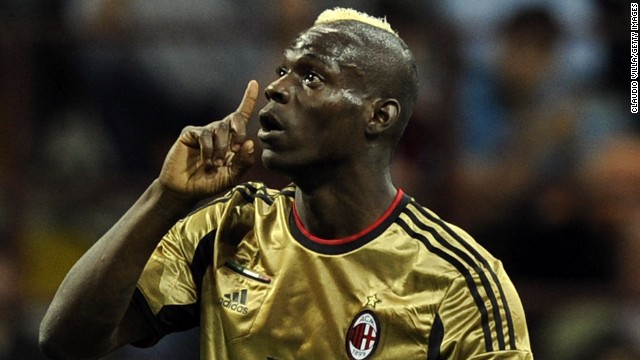 AC Milan's Mario Balotelli reacts to racist abuse from the visiting Roma fans at the San Siro in May. It was not the first time the Italian-born striker has been racially abused in Serie A.
Serie A side Lazio has already been punished four times in the 2012-13 season due to racist offenses by its fans in European matches.
"I don't care what game it is -- a friendly, Italian league or Champions League match -- I would walk off again," the Germany-born Kevin-Prince Boateng, who has represented Ghana, told CNN in an exclusive interview in January after he walked off in protest at racist abuse he was subjected to in a friendly match.
"I'm sad and angry that I'm the one that has to take action," added the AC Milan midfielder. "All the people who support me would support me in a big game. Players like Rio Ferdinand and Patrick Vieira have supported me and I just want to say thank you."
At the end of January, Boateng had a new teammate after AC Milan owner Silvio Berlusconi sanctioned a $30 million deal to sign striker Mario Balotelli from Manchester City. Berlusconi had previously branded Balotelli a "rotten apple."
La Stampa newspaper estimated that the signing of "Super Mario" could have been worth 400,000 votes in Berlusconi's bid for re-election in Italy back in February.
Before moving to England, the Italy-born Balotelli played for AC Milan's rivals Inter Milan, and during one Serie A match against Juventus the Turin club's fans once shouted: "There are no black Italians."
Soon after Balotelli returned to Italy, Inter Milan were fined $20,000 after racist chants from their fans about the AC Milan's striker at a match against Chievo. Inter play AC in the Milan derby on February 24.
"Berlusconi is an opportunist, who will say anything to win short-term support," Italian historian John Foot -- the author of the authoritative book on Italian football "Calcio" -- told CNN, in reference to the AC Milan owner's support for Boateng after the player walked off the pitch. "His comments are hypocritical at best, especially given his alliance with anti-immigrant and far-right parties, and his comments on Barack Obama (he called him 'sun-tanned')," added Foot. Berlusconi is pictured in the center, wearing a scarf.
Soon after Balotelli returned to Serie A, Berlusconi's brother Paolo -- during a political rally -- invited the public to an upcoming AC Milan match and was caught on camera -- the video was featured on the website of Italian newspaper La Repubblica -- saying: "OK, we are all off to see the family's little black boy." Paolo is pictured here, wearing glasses.
"I don't think you can run away, because then the team should have to forfeit the match," FIFA president Sepp Blatter told Abu Dhabi's The National newspaper. "This issue is a very touchy subject, but I repeat there is zero tolerance of racism in the stadium, we have to go against that. The only solution is to be very harsh with the sanctions (against racism) -- and the sanctions must be a deduction of points or something similar."
Two days after Boateng's walkoff, some sections of Lazio's crowd at Rome's Olympic Stadium were heard making monkey noises at Cagliari's Colombian striker Victor Ibarbo. However, the majority of the home crowd jeered and whistled to drown out the racists.
In 2010, Cameroon striker Samuel Eto'o suffered racist abuse from Cagliari fans when playing for Inter Milan in a Serie A game. The Sardinian club was subsequently heavily fined.
In 2005 the Italian authorities banned Paolo di Canio -- then playing for Lazio -- and fined him almost $11,000 for his use of a straight-arm salute. "The sports court decided that it was an act of racism," the head of Italy's Observatory on Racism and Anti-racism in Football, Mauro Valeri, told CNN. "The ordinary court, however, did not intervene. For me it's racism, for the Ministry of the Interior, no." Di Canio is now manager of English club Swindon Town.
While English football embarked on a program of stadium reconstruction after the 1980s disasters at Bradford, Heysel (pictured) and Hillsborough, Italian football has been arguably hampered by a lack of stadium redevelopment.
Of Serie A's big clubs, only Juventus has built a new stadium in recent years.
The Italian Ministry of the Interior has introduced an identity document -- "tessera del tifoso" -- for supporters to counteract hooliganism. In order to buy match tickets, fans must present their document, with the system designed to ensure away fans can't buy "home" tickets for games.
Owen Neilson is writing a book about Italian football grounds, "Stadio: The Life and Death of Italian Football." "If a stadia revolution is undertaken in Italy -- as it has happened in England -- a layer of culture unique to Italy will be tarmacked over, with 'Juventus Stadium' type replacements," said Neilson. "Football will be changed again in favor of profit and central figures in a club's history, such as Giuseppe Meazza (who played for both AC Milan and Inter) or Romeo Menti (Vincenza), will be moved from the spotlight . That will be a real loss."
"The Football Italian Federation, FIFA and UEFA must empower fan-based initiatives that are capable of creating a culture of self-regulation," Professor Clifford Stott, who has advised governments and police forces internationally on crowd management policy and practice, told CNN.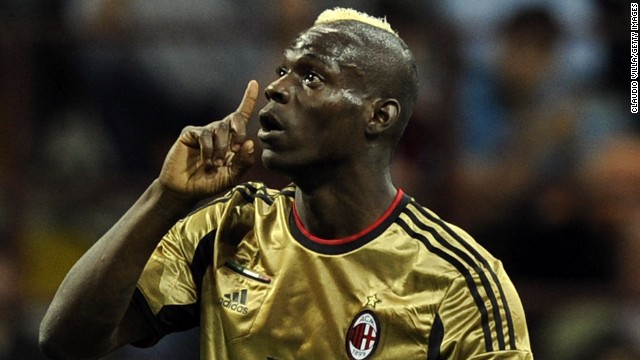 Italy's complex racism problem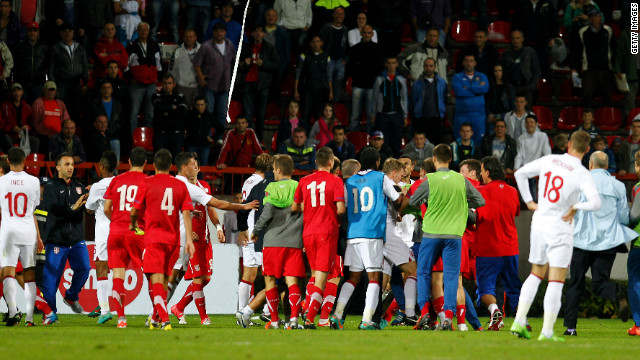 England midfielder Danny Rose claims he was subjected to monkey chants before, during and after the second-leg of their Under-21 Euro 2013 playoff match against Serbia on Tuesday, and had stones thrown at him by the crowd in Krusevac. Fans also ran on to the pitch and scuffles broke out after a 1-0 win secured England qualification for Euro 2013.
The Macedonia FA were fined $26,000 after fans racially abused England trio Ashley Cole, Sol Campbell and Emile Heskey during a qualifying game for Euro 2004.
In September 2011, Bulgaria were fined $55,000 after a small number of fans directed monkey chants at England's Ashley Young, Cole and Theo Walcott during a Euro 2012 qualifier in Sofia.
Russia was hit with a $38,000 punishment after supporters made monkey noises towards Czech Republic defender Theodor Gebre Selassie during Euro 2012
The Croatian FA were ordered to pay a $16,000 fine after their fans were found guilty of "displaying a racist banner and showing racist conduct during the Euro 2008 quarter-final tie against Turkey.
Russia were again in the news for the wrong reasons at Euro 2012 and were fined $39,00 for "the setting off and throwing of fireworks by Russia spectators, displaying of illicit banners and the invasion of the pitch by a supporter," during the Euro 2012 tie against Poland. Russia was also fined $155,000 after clashes between supporters and police during and after their game against the Czech Republic.
Denmark's Nicklas Bendtner was given a one-match ban and a $126,000 fine after he lifted his shirt to reveal a betting company's logo on his underwear while celebrating a goal against Portugal in a Euro 2012 group game.
Porto were hit by a $27,000 fine after their fans were found guilty of subjecting Manchester City forward Mario Balotelli to monkey chants during a Europa League game in February 2012. It took UEFA six weeks to finally hand out a punishment. But questions were raised after UEFA also fined City $40,000 after the club were found guilty of coming back out on to the field of play late after the halftime interval.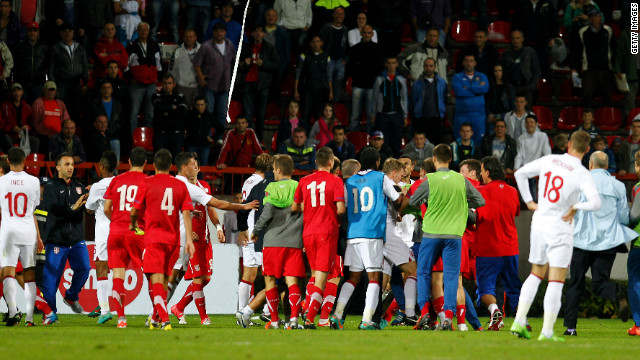 Soccer racism in Eastern Europe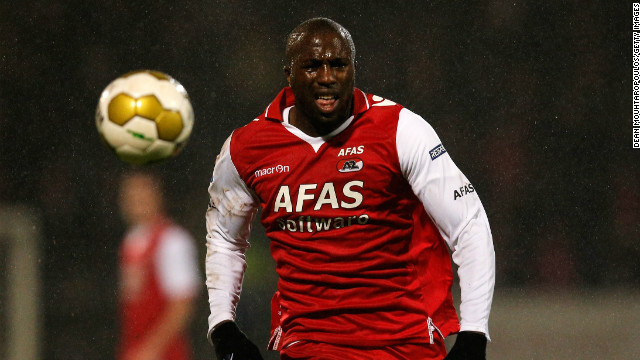 U.S. star Jozy Altidore was subjected to racial abuse during AZ Alkmaar's cup win at Den Bosch in the Netherlands. The match was halted and the crowd were asked to stop the abusive chanting before the action resumed.
AC Milan's Kevin Prince-Boateng walked off the pitch after being racially abused during his side's friendly game with Pro Patria earlier this month. The midfielder was praised for his actions by FIFA president Sepp Blatter.
Serbia was ordered to play one under-21 match behind closed doors and was fined $105,000 by European football's governing body UEFA for racial abuse in a match with England. UEFA president has appealed the verdict of his organization in the hope of seeing stiffer punishments administered.
Chelsea and England captain John Terry was charged by UK police after allegedly making racist remarks to Queens Park Rangers defender Anton Ferdinand in October 2011. Terry was cleared of the charges in a London court in July 2012.
Liverpool's Luis Suarez was banned and fined by the English Football Association after Manchester United's Patrice Evra claimed the Uruguayan racially insulted him during a match, also in October 2011. Suarez flatly denies Evra's claims.
Brazilian World Cup winner Roberto Carlos walked off the pitch while playing for Russian team Anzhi Makhachkala against Krylya Sovetov in June the same year, after having a banana thrown towards him in the closing stages of the match.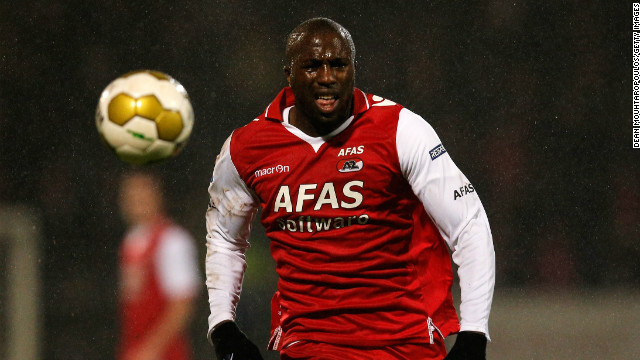 Racism in football
Boateng himself is another impressive individual. The day after his walkoff against Pro Patria, the AC Milan star spoke to CNN about what happened. Very few footballers would have had the courage to do that. Subsequently, I have also met him twice in person.
Once at the United Nations in Geneva where he was invited to attend a global day against discrimination as an ambassador, and the second at AC Milan's training ground in May when he popped into the room where we were to talk to Mario Balotelli on the same topic.
He is wonderfully articulate, a fine ambassador for the cause and something of an unlikely hero, a role he says he is just about comfortable with. I sincerely hope his involvement continues in the months and years to come, for it is patently clear the likes of Webb actually listen to what he has to say.
But what will the sanctions imposed by FIFA in Mauritius actually achieve? Even as I sat in that congress hall, I asked myself the same question.
To even begin to answer, it's important to try to contextualize the issue, to understand the overwhelming complexities of racism in general. It is a subject I have lived over the past four months, and the more I read and the more questions I ask, the breadth of the social history and geography involved becomes more dauntingly apparent.
While planning what to put in the documentary, a close colleague suggested how fascinating and relevant the politics of South African football would be.
Another asked how I was going to factor in the tensions and history surrounding football in the Middle East, using the European Under-21 Championship in Israel as a peg. The possibilities are endless. And a hopeless task awaits anyone even attempting to cover it comprehensively.
The method I use to try to separate the issues in my own head is to filter everything into "actions" and "attitudes."
Changing people's beliefs and opinions can only be achieved through education and progressive social integration over generations
Harry Reekie
By "action," I refer to the specific aspect of attempting to combat racism in football. Unquestionably this is something that needed to be addressed by authorities who hither to had been mostly burying their heads in the sand.
The creation of a task force was a positive step forward and through the sanctions imposed in Mauritius, every single national association in world football under FIFA's banner -- 209 to be exact, more than the member nations of the U.N. -- have a framework on which to base punishments.
An incident of racist abuse from a player will now automatically carry a five-match ban, no matter if it occurs in Washington, Warsaw or Wellington.
UEFA and European football advocated minimum 10-game bans at their recent congress in London, and by very definition, suggested FIFA's five-game ruling was not stringent enough.
Blatter publicly lambasted the $65,000 fine handed to Roma by Serie A's governing body Lega Calcio, after the club's fans racially abused Balotelli in May, and he wrote to the association's chairman asking for it to be reconsidered. Until recently, that simply would not have happened.
Balotelli told us in our exclusive interview that he would walk off the pitch the next time he was racially abused. The story we put out was picked up by media organizations in more than 70 countries.
And all that came after he told us he didn't want to talk about racism. Balotelli's antics often let him down. But he has had the courage to stand up to racists both on and off the pitch, and for that, he deserves a lot of praise in my book. The more high-profile stars who speak out, the better.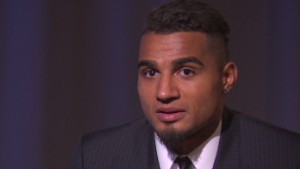 Boateng: Racism in football must end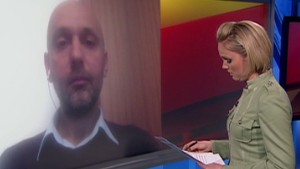 FARE: 'Erratic' Sepp Blatter should quit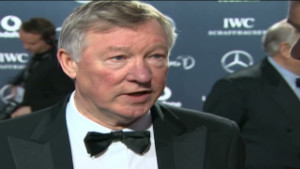 2012: Ferguson: 'Racism still exists'
This increased exposure has gone hand-in-hand with an explosion of coverage via social networks and smaller media organizations.
If racial abuse occurs anywhere, in stadiums, in the bar before the game, in the street -- you name it -- the likelihood nowadays is that someone will be there to film it and post it online. We shouldn't underestimate just how much of a deterrent that is.
All this adds up to an increasing chance of racists being caught, reported and punished. Clubs could now face points deductions or relegation if their fans or players are found guilty of second offenses.
Some supporters may be passionate to be point of fanatical, but they are rarely stupid to the core. If deterrents are put in place -- and, crucially, enforced by national associations -- then I have little doubt the number of racist incidents will slowly begin to decline in years to come.
If examples are made then supporters will quickly become aware that shouting abuse from the stands will directly hinder their team's chances of doing well in the league, winning trophies or qualifying for major competitions, and that is what they really care about.
We will see when the next incident happens if FIFA and UEFA uphold their "zero tolerance" mantra and demand that a national association actually follows through with the punishments now written into FIFA's global rulebook.
But the key aspect for me in the whole issue of racism is that of "attitudes." Racism spreads across the world; it is deep-rooted into the framework of almost every society on the planet.
It is in any conceivable manner far and away a more complex and important subject than sport. And while football can set an example to the world like no other pastime, any suggestion that it can provoke a tangible change in attitudes is unrealistic.
There may have been racism I couldn't hear in Belgrade that night. In the end, what does it matter? What does it prove either way? If I had heard one racist comment, does that make Serbia a racist country? Of course not. Does hearing no racism suggest not one person in that stadium held offensive beliefs?
We're talking about an issue which utterly transcends football and should be mindful not to combine the two. Maybe one day, society in every country may begin to understand that racist views are not acceptable to voice, but changing people's beliefs and opinions can only be achieved through education and progressive social integration over generations.
When we sat down with Boateng at the U.N., he said something which lodged in my mind.
"I have a little son now and I want to take care of things because I want him to grow up in a nice place and not a place where he has to be confronted by racism."
It is a noble ambition, but one that could take centuries to realize.