Australian cricketer suspended after bar assault on England rival
June 13, 2013 -- Updated 1307 GMT (2107 HKT)
STORY HIGHLIGHTS
An Australian cricketer has been banned and fined for hitting a rival player
David Warner punched England's Joe Root in an Australian-theme bar
Warner has been fined $11,000 and banned until July 10 by Cricket Australia
The batsman will be eligible for the forthcoming Ashes series against England
(CNN) -- A cricketer who punched a rival international player in a bar has been fined and banned ahead of one of the sport's oldest and most renowned competitions.
Australia batsman David Warner struck young England counterpart Joe Root in an Australian-themed bar in the English city of Birmingham in the early hours of Monday morning.
Warner had to sit out Wednesday's Champions Trophy match with New Zealand, and Cricket Ausrtalia announced Thursday that he will miss the rest of the limited-overs tournament.
As well as being fined $11,000, he cannot play for Australia until the first Ashes Test against England begins on July 10. His suspension will give other players a chance to take his place at the top of the batting order.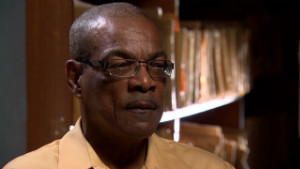 World Sport Presents: Branded a Rebel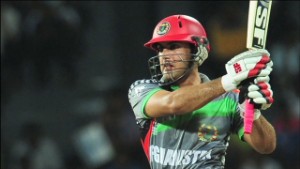 From refugee to Afghan cricket captain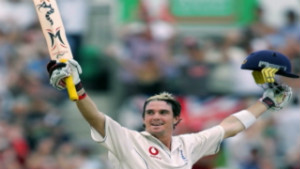 Pietersen's fashion faux pas
"Warner pleaded guilty to breaching Rule 6: Unbecoming Behavior. CA Senior Code of Behavior Commissioner," read a statement from Cricket Australia.
Read: Sporting mercenaries or crusaders for a cause?
"The Hon. Justice Gordon Lewis AM, fined Warner AU$11,500 and suspended him from the remainder of Australia's ICC Champions Trophy campaign as well as the Australian team's two tour matches before the first Ashes Test against Somerset and Worcestershire. Warner will be eligible for selection for the first Test."
The Ashes is one of the oldest rivalries in sport, having first been contested in 1882. The series is played on a two-yearly basis, although back-to-back series will be played between July and January 2014.
The scheduling switch was made in order to prevent the Ashes taking place directly before the 2015 Cricket World Cup, which will be hosted by Australia and New Zealand.
World Sport Presents: Branded a Rebel
It is the second time in under a month that Warner has been cited for "unbecoming behavior."
The 26-year-old was fined $5,500 for a Twitter tirade he directed at Australian cricket journalist Robert Craddock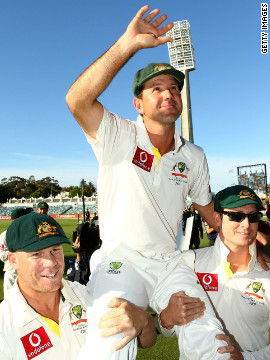 Ricky Ponting is carried from the field by David Warner, left, and Michael Clarke, his successor as Australia captain, after his 168th and final Test match.
Ponting holds daughter Matisse (R), as his wife Riannna carries daughter Emmy (L), following Australia's defeat in the third and final Test of the series against South Africa at the WACA ground in Perth.
The 37-year-old was given a guard of honor by his opponents when he went out to bat on day four. South Africa captain Graeme Smith later described Ponting as "the player I respect the most" following a record-breaking career.
Ponting, one of only three players to have scored more than 13,000 Test runs, managed a trademark early boundary as Australia chased a huge target of 623 to win.
However, he fell for just eight runs and the home side went on to lose by 309 for a 1-0 series defeat as South Africa retained the top Test ranking.
He was given a standing ovation by the 7,000-strong crowd, having matched Steve Waugh's record of Test appearances for Australia.
A fan shows his appreciation for Ponting, who won a record 48 Tests as captain and was involved in 108 victories overall.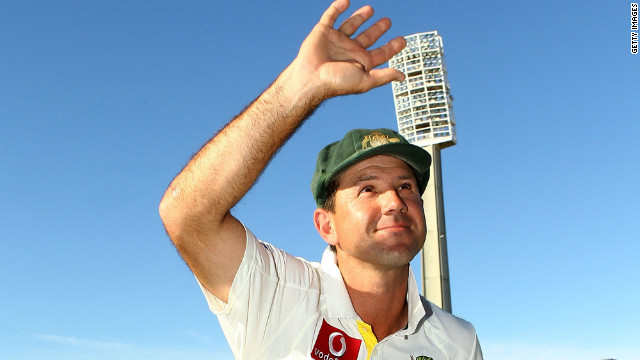 Ricky Ponting ends cricket career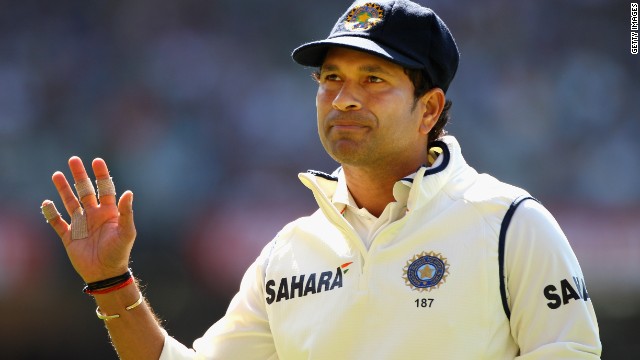 Sachin Tendulkar will end his record-breaking cricket career following his 200th Test match, against the West Indies in his home city of Mumbai.
A face-painter with a queue of spectators outside Mumbai's Wankhede Stadium. The match is not being covered by the world's leading photo agencies due to a dispute with Indian cricket's ruling body, which dates back to 2012.
Security was tight around the ground, which could have been sold out 10 times according to local reports.
Tendulkar helped his Indian Premier League side Mumbai Indians to win the Twenty20 limited-overs tournament earlier this year.
Indian painter Jagjot Singh Rubal touches up his painting commemorating Tendulkar's famous cricketing milestone.
Tendulkar became the first man in cricket history to score 100 international hundreds when he made 114 in a limited-overs match against Bangladesh on March 16, 2012.
Tendulkar visited the residence of Bangladesh's Prime Minister Sheikh Hasina Wazed, right, to mark his achievement.
He had been stuck on 99 since the 2011 World Cup, when he closed to within one of the milestone with a ton against South Africa. Tendulkar helped India win the final against co-hosts Sri Lanka in his home city of Mumbai on April 2. He scored only 18 in that match, but was India's top runscorer as his country won the 50-over tournament for the first time.
Cricket fans had been waiting for the milestone, which came 33 innings after the South Africa game. Tendulkar went close during India's disappointing tour of Australia -- against whom he has scored 20 tons, more than any other nation.
Tendulkar is the first and only player in cricket history to score 15,000 Test match runs, achieving the feat in November 2011.
Having scored a triple century as a schoolboy, and then passing 100 on his first-class debut in 1988, Tendulkar made his international debut the following year at the age of 16 against Pakistan.
Tendulkar scored his first international century in the five-day format the following year on India's tour of England, hitting 119 not out in the second Test at Old Trafford.
Debate still rages as to whether Tendulkar can be considered greater than Australian legend Donald Bradman, whose Test career ended in 1948 with an incredible average of 99.94, scoring 6,996 runs in 52 matches.
England's players applaud after Tendulkar scores 193 in Leeds in 2002, passing Bradman's record of 29 Test centuries. He has now played 188 Tests, notching 51 hundreds.
Tendulkar, left, became Test cricket's highst runscorer in October 2008 when he passed Brian Lara's previous record of 11,953 during a home series against Australia.
Tendulkar became the first batsman to score 17,000 runs in one-day internationals with a knock of 175 against Australia in Hyderabad on November 5, 2009.
Tendulkar's next foray into three figures saw him become the first batsman to score 200 in a 50-over international -- against South Africa on February 25, 2010. Indian schoolchildren in Amritsar celebrated their national hero's landmark feat.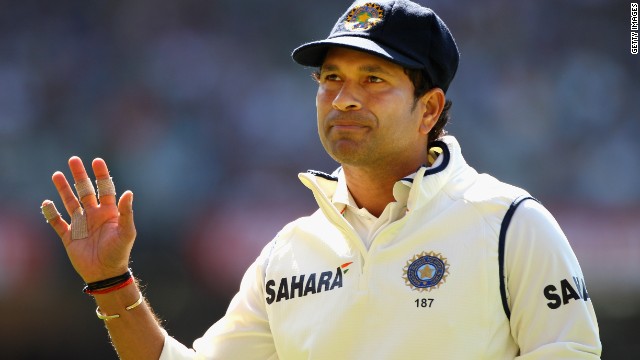 Sachin Tendulkar retires from cricket
Warner, who also aimed slurs at Craddock's colleague Malcolm Conn, took exception to an article Craddock had written about the Indian Premier League (IPL).
Warner, who played for the Delhi Daredevils during the lucrative 20-over competition, was reacting to a piece Craddock penned in which he called the IPL a "smoldering cesspit" following allegations of corruption made against the league.
The controversy surrounding Warner is the last thing an ailing Australia team needed, with captain and key batsman Michael Clarke struggling to recover from a persistent back injury ahead of the Ashes.
Australia is also reeling after a 4-0 series defeat away to India in March.
The last Ashes series, which was held in Australia between November 2010 and January 2011, was won 3-1 by England.

Today's five most popular stories
Part of complete coverage on
Cricket
April 17, 2014 -- Updated 1145 GMT (1945 HKT)

India's Premier League has moved part of its season to the UAE. CNN's Amir Daftari has more.
December 31, 2013 -- Updated 1951 GMT (0351 HKT)

CNN's Piers Morgan decided to face a few balls from Australian cricket great Brett Lee. It didn't go well.
November 18, 2013 -- Updated 0956 GMT (1756 HKT)

Cricket legend Sachin Tendulkar talks to CNN's Mallika Kapur about his career, fan expectations and future plans.
January 6, 2014 -- Updated 1445 GMT (2245 HKT)

Gareth Evans was just a small boy when a team of West Indies cricketers arrived in apartheid South Africa. The lives of these men would never be the same.
December 29, 2013 -- Updated 1754 GMT (0154 HKT)

Jacques Kallis crowns his final Test appearance with an innings that typifies his status as one of cricket's greatest batsmen.
November 18, 2013 -- Updated 0101 GMT (0901 HKT)

Every sport has its gods -- and Sachin Tendulkar has bowed out as one of the greatest in cricket's pantheon.
March 8, 2013 -- Updated 1659 GMT (0059 HKT)

World Sport investigates what happened to the West Indian cricketers who were shunned after playing in apartheid-era South Africa.
March 6, 2013 -- Updated 1609 GMT (0009 HKT)

It has been 30 years since a group of young men from the Caribbean made a decision that would define their lives.
March 8, 2013 -- Updated 1512 GMT (2312 HKT)

It was supposed to be cricket's "Rosa Parks" moment, and it led to South Africa's sporting isolation for two decades.
March 8, 2013 -- Updated 1659 GMT (0059 HKT)

For the young black cricketers who left the Caribbean to play in apartheid-era South Africa 30 years ago, everything changed that day.
March 7, 2013 -- Updated 1247 GMT (2047 HKT)

West Indies cricketer Franklyn Stephenson on the discrimination he witnessed during South Africa's apartheid era.
April 10, 2013 -- Updated 1149 GMT (1949 HKT)

He plays the only sport approved by the Taliban, a game he learned as a war refugee in Pakistan.