STORY HIGHLIGHTS
Andy Murray thrilled to be back in action after missing French Open
World No. 2 missed Roland Garros with back problem
Murray won both matches Thursday to make quarterfinals at Queen's Club
Briton reached final of last year's Wimbledon and won Olympic gold at same venue
(CNN) -- Andy Murray has spent much of the past few weeks watching the action unfold on the television -- but the World No.2 says his injury-enforced absence has rekindled his passion for tennis.
The Briton, who reached the final at Wimbledon last year, returned to Queen's Club Thursday to finish off his rain delayed game with Nicolas Mahut before sweeping aside Australia's Marinko Matosevic 6-2 6-2 in 56 minutes.
And after shrugging off a recurrence of the back injury which he suffered at the Rome Masters in May, Murray is far more grateful for the time he spends on court after being forced to withdraw from the French Open.
Read: Murray withdraws from French Open
"I think it can be easy to take things for granted sometimes," Murray told reporters.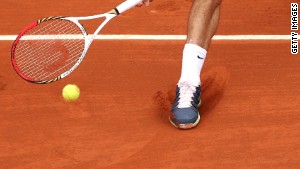 Secrets below Roger Federer's feet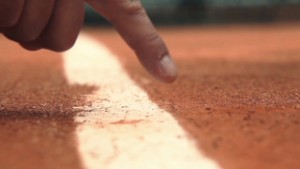 Secrets of a French Open umpire unveiled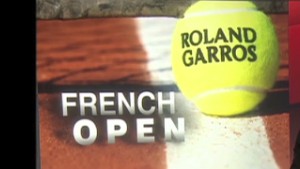 In or out? Let Twitter decide
"You know, I played pretty much every Slam for about seven years and I missed it. It was difficult watching and not being there.
"You realize how much you love competing and you love being around the tournaments.
"When everything is good and you're healthy and you're playing every week you don't often think about it that much.
"And when you're away from it and you miss one of the biggest tournaments, one of the tournaments you prepare extremely hard for and put the hard work in for, then it's tough.
"I was really looking forward to getting back on the court again and hopefully I can have a good week."
Read: Murray condemns 'cover up'
Murray was beaten by Roger Federer in the final at Wimbledon just over 12 months ago but got revenge on the Swiss by taking Olympic gold in fine fashion.
And after coming through the best part of two games in a single day, the 26-year-old is confident he's well on the way to regaining full fitness.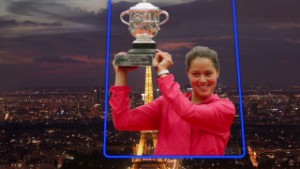 Ivanovic targets more French titles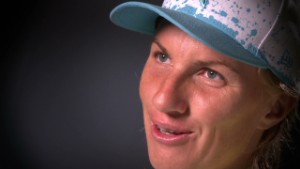 Kuznetsova's 2009 French Open win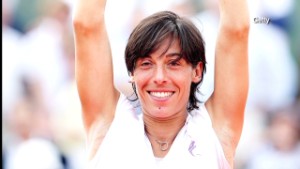 Francesca Schiavone's historic Open win
"I feel good. That was what was most pleasing about the matches," Murray said.
"There was a lot of stops and starts on Wednesday, having to warm up and cool down and stuff.
"But everything felt good and I woke up this morning with no real stiffness, which is good.
"I thought I moved pretty well. Normally the first couple of matches here the court is quite slippery, and that's something I have struggled with the last few years.
"This time I haven't slipped down once. That has been a good sign."
Murray, who will be back on court Friday to face Germany's Benjamin Becker in the quarterfinals, added: "I probably feel a bit more confident coming into this grass court season because of how I played on it last year.
"I think because I managed to win some big matches and play well on the grass last year, I know what I did well and what I need to keep doing."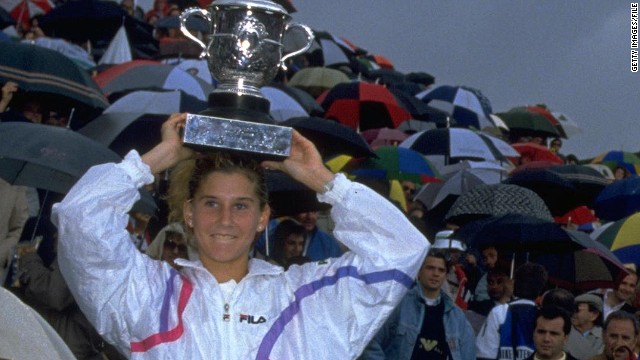 Monica Seles' career began in breathtaking fashion. In 1990, aged just 16 years and six months, the Yugoslavia-born starlet beat Steffi Graf to become the youngest French Open singles champion. After winning the year-end championships, Seles finished the season ranked No. 2 in the world.
Seles followed up her victory in Paris with success at the first grand slam of 1991, beating Jana Novotna to win the Australian Open final in January before replacing Graf at the top of the world rankings in March. Seles then defended her Roland Garros crown before beating Martina Navratilova to clinch the U.S. Open.
Seles defended all three of her grand slam titles in 1992, and lost in the final at Wimbledon. She then won the Australian Open for the third time in a row, but the defining moment of her career arrived at the 1993 Hamburg Masters, when a man later identified as an obsessive fan of Graf ran onto the court and stabbed her in the back. Her injuries healed within weeks, but Seles was out of the sport for over two years.
Seles finally returned to the WTA Tour in August 1995, coming back with a bang as she beat Amanda Coetzer in the final of the Canadian Open.
In 1996 Seles enjoyed a fourth Australian Open win, defeating Anke Huber in the final. But it would prove to be her final grand slam title as she struggled to regain the form she displayed before the attack, as she suffered weight problems.
A foot injury forced Seles out of what would prove to be the final Tour match of her career at the 2003 Italian Open.
New Zealand played host to two exhibition matches between Seles and Martina Navratilova in 2005. Despite losing both matches, Seles announced her intention to return to competitive action in 2006. The comeback, however, never happened.
Seles was back at Roland Garros in 2012, when she presented the winner's trophy to Maria Sharapova after the Russian defeated Sara Errani of Italy.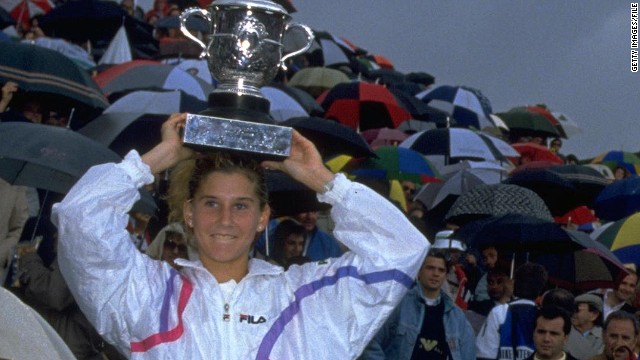 Monica Seles' highs and lows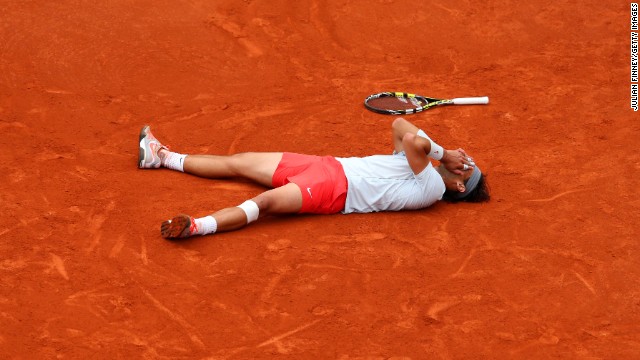 Rafael Nadal of Spain reacts after winning match point against David Ferrer of Spain during the men's singles final match of the French Open at Roland Garros Stadium in Paris, on Sunday, June 9. Nadal won 6-3, 6-2, 6-3.
Nadal poses for photos with the Coupe des Mousquetaires trophy.
Nadal plays a forehand against Ferrer.
Nadal plays a forehand to Ferrer.
A protester runs onto the court with a lit flare during the match.
Protesters light flares and unfurl a banner which calls for the French President Francois Hollande's resignation on the top of Court Suzanne Lenglen as Nadal and Ferrer compete.
Ferrer returns a shot to Nadal.
Ferrer plays a forehand to Nadal.
Ferrer returns a shot to Nadal.
Nadal prepares to serve to Ferrer.
Nadal plays a backhand against Ferrer.
Ferrer plays a forehand against Nadal.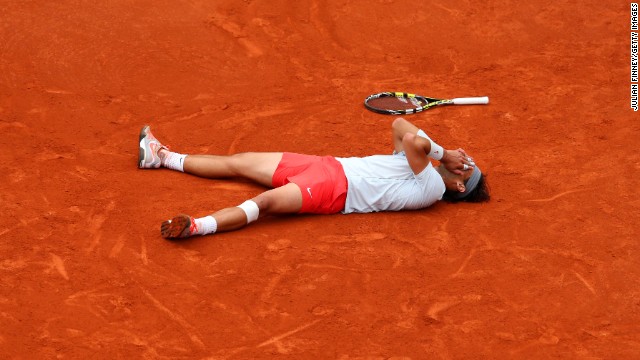 Photos: The French Open: Men's singles final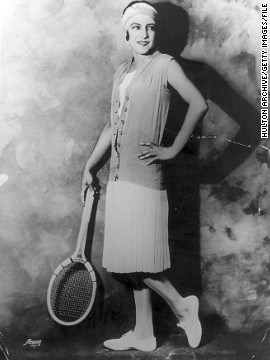 Suzanne Lenglen revolutionized women's tennis in the 1920s, with her daring outfits and aggressive style of play.
"She had that thing that we love in our public figures -- she had a sense of drama," author Larry Engelmann told CNN's Open Court.
"When she walked out on the court, when she walked down the street after the match, there was a certain passion, drama, gloriousness, a suffering to her that seemed to indicated depths that people wanted to see in a national figure," Engelmann says.
Lenglen never played at Roland Garros, which was built after she retired in 1927, but the second show court there has since been named after her -- and the statue outside commemorates one of her most iconic action images.
"When she was young, she studied dance -- she studied ballet and people said she played tennis like a dancer," Engelmann says. "She walked around the court between points on her tip toes. She posed a certain way when she was going to serve."
"Suzanne learned tennis from the best male players," Engelmann says. "She was very competitive and she played a much more sophisticated game and she broke the limits. It was a sort of quantum leap into a more aggressive, athletic game."
Lenglen is pictured here with fellow French tennis star Rene Lacoste, who went on to launch his own fashion house.
"She also wore very fashionable clothing on the court -- French designers designed for her," Engelmann says. "There was more transparency to her gowns. She wore short-sleeved blouses when she played. In a period of time when light skin was highly prized -- she took glory in being out in the sun and having a tan."
She was one of the world's most famous female athletes in the 1920s, and her success inspired a character in "Le Train Bleu," a production by the Diaghilev Ballet Russe which featured costumes by Coco Chanel.
After retiring, Lenglen helped set up a tennis school near Roland Garros. She is pictured here with students in 1937, a year before her death at the age of 39. She had long suffered poor health, and was diagnosed with leukemia not long before she died.
Lenglen's crown as the queen of women's tennis was taken by American Helen Wills Moody, pictured left with Hollywood actress Joan Crawford.
Mary Pierce was the last Frenchwoman to hold the Coupe Suzanne Lenglen for the winner of the Paris grand slam when she triumphed at Roland Garros in 2000.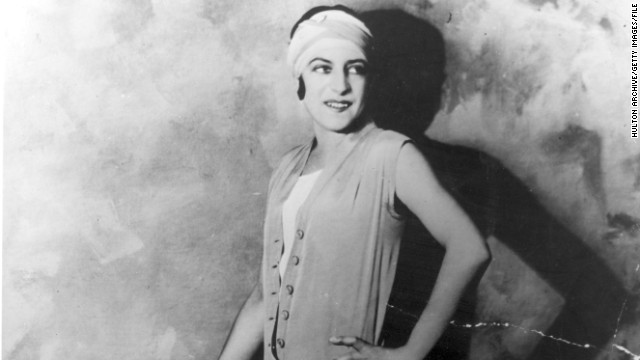 French Open's favorite 'Flapper'
Elsewhere, Lleyton Hewitt continued his impressive run of form with a 5-7 6-3 6-4 win over American Sam Querrey.
Hewitt, 32, will face former U.S. Open winner Juan Martin del Potro, who needed less than an hour to see off British wildcard Dan Evans.
Second seed Tomas Berdych eased through to the last eight with a 6-3 6-4 win over Slovenia's Grega Zemlja and will now face defending champion Marin Cilic.
Jo-Wilfried Tsonga was forced to play two three set matches in one day to book his place in the quarterfinals and a meeting with America's Denis Kudla.
Tsonga, seeded fourth, defeated fellow Frenchman, Edouard Roger-Vasselin 6-3 6-7 6-3 early Thursday before seeing off Dutchman Igor Sijsling 7-5 5-7 6-3.
Elsewhere, Tommy Haas continued the defense of his title at the Halle Open by reaching the last eight with a straight sets win over Ernests Gulbis.
Haas will play Gael Monfils for a place in the last eight.
There were also wins for 2011 champion Philipp Kohlschreiber and France's Richard Gasquet.