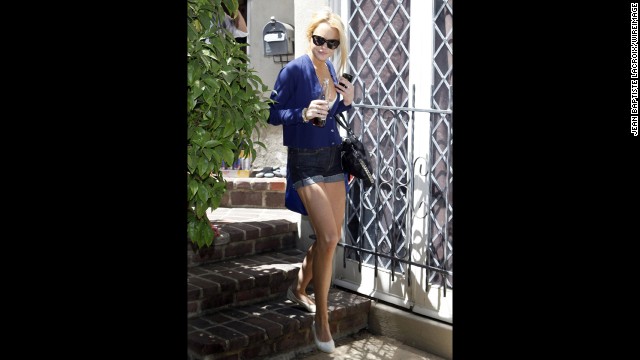 On August 23, 2009, Lindsey Lohan testified before a grand jury that the Bling Ring stole two watches, an Hermes bag, two paintings, a custom fur coat and a "Chrome Hearts" necklace, among other things. The actress estimated the damage to be hundreds of thousands of dollars in one trip.
The Bling Ring made their first stop at Paris Hilton's home in October 2008 and made four visits before the heiress finally took notice in December 2008. The thieves first made it into the home through the open front door but later used spare keys found under the front doormat. Hilton testified that the group grabbed more than $2 million worth of jewelry, as well as partially nude photographs of her.
In May 2009, the Bling Ring made five trips to Rachel Bilson's home. Bilson testified that her alarm was turned off and that the thieves made off with higher-end shoes, purses, clothing and a whole cabinet of DVDs. The actress also revealed that some irreplaceable things were stolen, such as her grandmother's jewelry and her mom's engagement ring.
Audrina Patridge was out of town on February 22, 2009, when her house was robbed. The "Hills" star had left a door unlocked and her home alarm off. The Bling Ring, caught on surveillance camera, made off with her jewelry, sunglasses, purses, passport, laptop computer and custom-fit jeans.
Megan Fox and Brian Austin Green's home was broken into in August 2009, but it was weeks before the stars noticed anything was missing. Green testified that he had forgotten to turn on their home alarm. The Ring lifted a handgun and a watch.
The Bling Ring got into Miranda Kerr and Orlando Bloom's home on July 13, 2009, while they were out of town. Bloom testified that the stolen goods included paintings and photographs as well as jackets, T-shirts, underpants, a rug and a box with 10 watches. The actor estimated total loss from the burglary at $500,000.
The Bling Ring arrived at the home of "High School Musical" actress Ashley Tisdale in July 2009 while the star was in Hawaii. The teens bolted from the home after discovering a housekeeper at the front door.
Bling Ring member Nick Prugo confessed to police that he had robbed the home of an Encino architect, believing it belonged to renowned DJ Paul Oakenfold. Prugo robbed the place even after discovering the mistake, taking a Nikon camera and $5,000 in cash.
Police found research on the address of "Spring Breakers" star Vanessa Hudgens after apprehending a stolen computer from the thieves. The Bling Ring never attempted to break into the actress' home, but she was on a list that included fellow Disney alumni Miley Cyrus, Hilary Duff and Zac Efron.
The Bling Ring was intent on stealing from those they deemed to be the most fashionable celebrities in Hollywood. Jessica Simpson's fashion line became the first celebrity collection to top $1 billion in retail sales. But the Ring members passed her over, telling Vanity Fair's Nancy Jo Sales they had no interest in Simpson's more downscale merchandise.
The Bling Ring's A-List Victims
The Bling Ring's A-List Victims
The Bling Ring's A-List Victims
The Bling Ring's A-List Victims
The Bling Ring's A-List Victims
The Bling Ring's A-List Victims
The Bling Ring's A-List Victims
The Bling Ring's A-List Victims
The Bling Ring's A-List Victims
The Bling Ring's A-List Victims
STORY HIGHLIGHTS
The Bling Ring was a group of teenage robbers who targeted celebrities starting in 2008
This week, Sofia Coppola releases a film based on the true story
Paris Hilton, one of the victims, says people need to aspire to something more than fame
(CNN) -- Celebrities developed a new reason to fear for their safety in 2008, thanks to five teenagers from the Valley.
Over the course of a year, this group managed to steal a reported $3 million worth of goods from the homes of various A-list celebrities. They came to be known as "The Bling Ring," and they let nothing stand in the way of their quest for fashion and fame. They wanted to be part of the lives of the celebrities they worshiped and the notoriety they assumed would accompany it.
It has been more than three years since the Ring members were arrested and their activities were documented in a 2010 article in Vanity Fair by Nancy Jo Sales. Now the gang is getting their biggest claim to fame yet: a major film. It's not just any film but one from an Oscar-winning writer/director and starring one of the hottest young actresses in the industry. Now everyone can get an inside look at their exploits.
Sofia Coppola has five films and one Academy Award under her belt but was raised into fame as the daughter of legendary director Francis Ford Coppola. At "The Bling Ring's" recent Hollywood premiere, Coppola revealed that she had a hard time wrapping her head around this real-life case.
"It just seemed so out of hand compared to things we did when I was a kid and just so timely just about our obsession with pop culture and reality TV. It's a story that couldn't have happened 10 years ago."
Lindsay Lohan, Rachel Bilson, Orlando Bloom, Miranda Kerr, Megan Fox, Brian Austin Green and Audrina Patridge all fell victim to the teen thieves. The most famous case may be that of socialite Paris Hilton, whose Hollywood Hills home was robbed on numerous occasions by the Ringers. Hilton first saw the film at the Cannes Film Festival this year, and the celebrity says it was a struggle to watch the events play out on the big screen.
Review: 'Bling Ring' is America's youth culture gone mad
"I was really emotional watching the film. I tried to hold back tears, and I was just really upset and mad that these kids had done this to me. I felt so violated. What they did was so wrong, so watching it was so bizarre to know that that was real life."
(Hilton also has a cameo in the movie, and parts were filmed in her house.)
The Ring tracked their targeted celebrities online. Thanks to entertainment news stories, they knew who would be out of town, and search engines helped turn up the celebrities' exact addresses. Once they found the location of each home, they had no trouble getting in with unlocked doors and barely hidden spare keys, officials said.
The robbers picked up as much clothing, jewelry and handbags as they could carry. In certain instances, they also raced off with artwork, electronics and even a gun from the home of Fox and Green. The group managed to nab millions in cash and clothing before police could identify any of the parties responsible.
Coppola is known for her keen aesthetic eye. Despite winning the industry's highest accolade for her work as a screenwriter, her films are famous for their use of imagery and music to create atmosphere. While working on this film, Coppola made a conscious effort not to glamorize the extreme tale of celebrity obsession.
"I wanted to make it seductive enough so you understood how you got into this world, but you want to be clear that you don't want to be encouraging. I think it's something important to look at, like our interest in this side of culture and how healthy it is to be that extreme with it."
In 2012: Defendant in 'Bling Ring' burglary case is sentenced
In addition to the teens, there were two adults helping unload the stolen goods. All seven parties alleged to be part of the Ring were taken to court, and four of them were sentenced to time in jail.
Alexis Neiers -- immortalized on her E! show "Pretty Wild" complaining to Sales about her negative portrayal in the Vanity Fair article -- was one of these people, serving 30 days of a six-month sentence. Coincidentally, part of that time was spent in a cellblock with Bling Ring victim Lohan.
In the new film, "Harry Potter" actress Emma Watson portrays a character loosely based on the former reality star-turned-drug and alcohol abuse counselor. Watson feared that the film adaptation wouldn't send the right message to a celebrity-obsessed public.
"I was definitely concerned. At one point, I was like, 'Oh, my God, everything looks so incredible. People might be glamorizing with this.' But I think Sofia's perspective is very balanced. She's not there to judge; it's not official commentary. But at the same time, I think it shows the darker, monotonous, repetitive aspects of what that lifestyle's really like."
The story of the Bling Ring captures a young generation raised on the concept of fame being the ultimate achievement, a world where hard work and talent aren't necessary to achieve success. With reality TV and other pop culture phenoms, it's hard to imagine this trend reversing any time soon. But Hilton, for one, is hopeful.
"I think when people watch this film, they're definitely going to see what our culture's like and how celebrity-obsessed it is. And how things need to change. People need to have more important priorities and other things to aspire to."
Designer pieces worth stealing: 17 picks inspired by 'Bling Ring'