Blatter unfazed by Brazil's last-minute 'fine tuning' for Confederations Cup
June 14, 2013 -- Updated 1650 GMT (0050 HKT)
STORY HIGHLIGHTS
FIFA president Sepp Blatter is confident Brazil can host 2014 World Cup
Concerns raised over Brazil's readiness for the Confederations Cup
The World Cup warm-up begins with Brazil taking on Japan on Saturday
FIFA confirms Nigeria will take part in the tournament despite bonus row
(CNN) -- The head of world football's governing body has moved to allay fears Brazil will not be ready to host the forthcoming Confederations Cup.
The South American country is staging the tournament as a dress rehearsal for the 2014 World Cup, with the opening match pitching Brazil against Asian champions Japan in Brasilia on Saturday.
FIFA president Sepp Blatter was asked in a press conference why workers were still on site at the Maracana Stadium in Rio de Janeiro, which will host the final of both the Confederations Cup and the World Cup.
"They are still working because they are trying to finish it," said Blatter, who has been the head of world soccer since 1998. "That's my personal opinion.
Read: 'The man who made Brazil cry'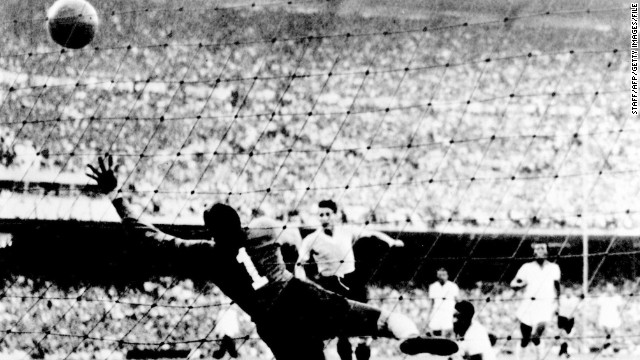 Moacyr Barbosa Nascimento's life was forever changed after the 1950 World Cup. With Brazil needing just a draw against Uruguay in its final game to lift the trophy for the first time, the team lost 2-1 and he was blamed for the second goal. The goalkeeper's perceived mistake haunted him. Twenty years later he overheard a woman in a supermarket say to her son, "There is the man who made Brazil cry."
The Maracana Stadium in Rio de Janeiro was the venue for the 1950 final, with 200,000 spectators packed into the purpose-built arena. The stadium has been redeveloped and a crowd of 78,000 people will watch the final of 2014 World Cup at the iconic ground.
All eyes will be on Neymar during both June's Confederations Cup and next year's World Cup. The attacker, who recently signed for Barcelona in a deal reportedly worth in excess of $80 million, is Brazil's star player and must perform to his best if "La Selecao" are to satisfy an expectant public.
The Brazil team of 1970, which beat Italy 4-1 in the World Cup final in Mexico, is widely regarded as the greatest of all time. Pele, a three-time World Cup winner seen here leaping on his teammates, says Brazil must recover from the failure of 63 years ago.
Carlos Alberto, captain of the 1970 team, lifts the Jules Rimet trophy which Brazil was allowed to keep after becoming the first nation to win the World Cup three times. The former fullback thinks next year's World Cup will come too soon for Brazil's inexperienced team.
Luiz Felipe Scolari was the coach of the last Brazil team to lift the World Cup, in Japan and South Korea in 2002. The veteran has been reappointed in a bid to inject life into an ailing Brazil team. His results have so far left much to be desired: two wins, one defeat and four draws since November 2012.
England was Brazil's first opponent at a refurbished Maracana earlier this month. A half-volley from midfielder Paulinho, pictured, rescued a 2-2 draw for the 2014 World Cup host.
Brazil's most recent match, the last before the Confederations Cup starts, ended in a comfortable 3-0 defeat of France. A penalty from Lucas Moura, right, completed the scoring.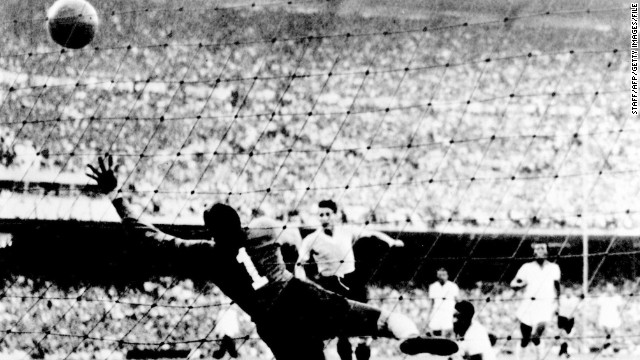 Brazil's most painful moment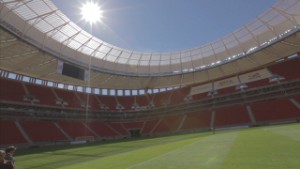 Will Brazil be ready for the World Cup?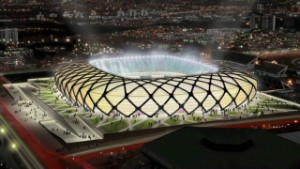 World Cup stadium in Amazon rainforest
"We have been in competitions where, one hour before the head of state arrives, there were still painters painting something.
"There is a lot of work which will be done at the last minute. So for me it is not a surprise that with two days to go they are still working somewhere. It means that something is not finished, so we should just say 'OK' and finish it.
"I've been directly involved in World Cups since 1978 and I have witnessed a lot of such problems."
Concerns over Brazil's readiness to host football's biggest event have been voiced for some time.
World Sport Presents: Racism in Football
Those reservations were given credence last month when the roof collapsed at the newly-constructed Arena Fonte Nova in Salvador due to heavy rain and "human error."
Brazilian sport minister Aldo Rebelo defended his country's preparations, describing work which is still going on at Confederations Cup venues as "fine tuning."
"We have the situation where not only in the Maracana but in other stadiums we still have people working to finish," said Rebelo.
"There was a lot of work done and a huge effort was made in order to deliver this for the Confederations Cup."
Meanwhile, FIFA general secretary Jerome Valcke delivered assurances Nigeria will compete in the Confederations Cup, following reports that the Super Eagles had refused to board a flight to Brazil on Thursday in a row over performance bonuses.
Nigeria, which qualified for the tournament by winning the Africa Cup of Nations, will now head to South America on Saturday ahead of a match with Tahiti in Belo Horizonte on Monday.
"I spoke with the team manager, they will be on a plane on Saturday and they will be at the Confederations Cup," Valcke told reporters. "The problem is solved.
"The issue is solved and they will fly to Brazil on Saturday."