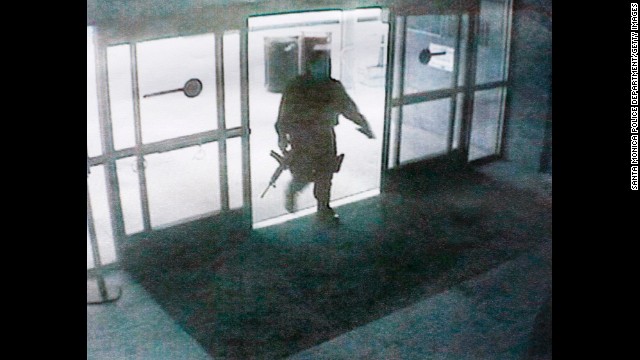 This photo, released by the Santa Monica Police department, shows the gunman entering the Santa Monica College library on June 7. The gunman's shooting spree began in a home near the college, where two were found dead, and ended when police killed him in the college library. Santa Monica police have identified the suspect as John Zawahri.
The gunman enters the college library wearing black fatigues.
The gunman, carrying what appears to be an assault rifle (circled), enters the library.
Santa Monica police officially identified the suspect in the shootings as 23-year-old John Zawahri.
The Santa Monica police released this photo showing ammunition, magazines and guns believed to have been dropped by the gunman.
Los Angeles Police Department officers along with Los Angeles County Sheriff deputies search the campus of Santa Monica College after a reported shooting on Friday, June 7.
iReporter Daniel Kraft
took this image of what he believes to be the shooter's body as Kraft was being evacuated from the campus by a SWAT team.
A car with windows shattered by bullets sits in front of a partially burned house where two bodies where found. Authorities believe the incident may be related to the shooting on the campus of Santa Monica College.
An inspector stands outside the partially burnt house where two bodies were discovered near the Santa Monica College campus.
A Los Angeles County SWAT team sharpshooter circles the campus in a helicopter.
Los Angeles Police Department officers deploy around the campus.
Students rush to safety after shots were fired.
California Highway Patrol officers work to contain the scene.
Los Angeles County Sheriff deputies search the grounds.
Backpacks and food are left behind after students fled the campus.
Police gather during the search of the campus.
SWAT officers conduct a search at the college after the shooting.
Women leave campus after the shooting.
A police officer helps search the campus.
iReporter Aleksandr Kats
photographed local law enforcement trying to secure the grounds of Santa Monica College.
During the campus lock down,
iReporter Nathaniel Westveer
photographed the chaotic scene right outside his office building, which is 100 feet away from the crime scene at Santa Monica College. He says during the shooting, police closed down the intersection as they combed the adjacent office complex with their guns drawn.
Shooting at Santa Monica College
Shooting at Santa Monica College
Shooting at Santa Monica College
Shooting at Santa Monica College
Shooting at Santa Monica College
Shooting at Santa Monica College
Shooting at Santa Monica College
Shooting at Santa Monica College
Shooting at Santa Monica College
Shooting at Santa Monica College
Shooting at Santa Monica College
Shooting at Santa Monica College
Shooting at Santa Monica College
Shooting at Santa Monica College
Shooting at Santa Monica College
Shooting at Santa Monica College
Shooting at Santa Monica College
Shooting at Santa Monica College
Shooting at Santa Monica College
Shooting at Santa Monica College
Shooting at Santa Monica College