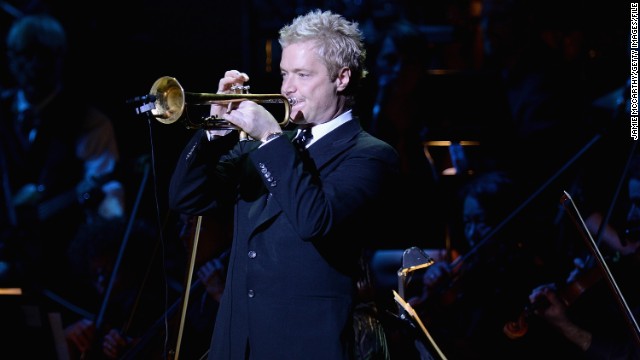 Chris Botti's November 3 performance of the national anthem during a "Monday Night Football" game left one Indianapolis Colts player in tears, with viewers at home calling it one of the best they've ever heard. Performing "The Star-Spangled Banner" can be risky business, though; here's what happened during some memorable past renditions.
At the World Series game on October 24, 2013, it was James Taylor who had the save of the night. The singer was there to lead the stadium in the national anthem, but instead of "The Star-Spangled Banner," he began singing "America the Beautiful."
In a 2012 interview
, Barr told CNN's Piers Morgan it was "a huge regret that was hard to come back from."
Comedian Roseanne Barr's disastrous rendition of the national anthem during a San Diego Padres game in July 1990 drew almost unanimous boos.
But Whitney Houston hit the right notes at Super Bowl XXV in January 1991, stirring Americans' patriotic feelings during the Persian Gulf War. Her version of "The Star-Spangled Banner" reached the Billboard chart's Top 20 that year.
a rendition
on Inauguration Day in January 2013. The singer later told reporters "
she decided to sing along with my prerecorded track
," a decision she made in part because she didn't have time to rehearse with the U.S. Marine Band and had had "no proper sound check." But she wowed any doubters in her rehearsals and halftime show at the Super Bowl in February.
Beyonced wowed the nation with
memorable but untraditional version
during the 1983 NBA All-Star Game.
Marvin Gaye, pictured in 1984, sang a
Bryan later explained
. "I just wanted to do my best. I promise it was from the heart. If I offended anyone with my approach I sincerely apologize. Anytime I sing the anthem it is an honor and my heart beats out of my chest."
Luke Bryan was so nervous about becoming one of the stars famous for messing up the national anthem, he wrote a few lyrics on his palm before singing "The Star-Spangled Banner" at a baseball game in July 2012 -- and was swiftly called out for it. "I had a few key words written down to ensure myself that I wouldn't mess up,"
Highs and lows of the national anthem
Highs and lows of the national anthem
Highs and lows of the national anthem
Highs and lows of the national anthem
Highs and lows of the national anthem
Highs and lows of the national anthem
Highs and lows of the national anthem
Highs and lows of the national anthem
Highs and lows of the national anthem
Highs and lows of the national anthem
STORY HIGHLIGHTS
Sebastien de la Cruz caused a stir on social media after singing the national anthem
Critics were outraged that he was wearing a mariachi suit while singing
After his game 3 performance, the Spurs brought him back for an encore
San Antonio Mayor Julian Castro introduced him during game 4
(CNN) -- In less than 48 hours, Sebastien de la Cruz has become a household name.
The 11-year-old Mexican-American boy's singing of the national anthem in his mariachi outfit caused a stir during game 3 of the NBA finals in his San Antonio hometown Tuesday.
On Thursday night, the Spurs decided to bring back "El Charro de oro" for an encore performance.
Even though he was the subject of racist comments on Twitter, the San Antonio native was again wearing a mariachi outfit, according to Carlos Manzanillo, corporate communications manager at San Antonio Spurs. Manzanillo had no comment on why the Spurs decided to bring back Sebastien.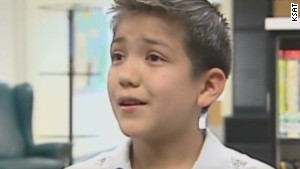 Boy sings national anthem, faces racism
Sebastien was introduced by San Antonio Mayor Julian Castro, who stressed how proud he was by his talent and composure over the past few days.
Castro said Spurs coach Gregg Popovich expressed disdain for the "idiots" who posted the bigoted comments and described Sebastien as a "class act" and "way more mature than most his age."
"To be invited back to sing the national anthem is just amazing because now I know the San Antonio Spurs like how I sing," Sebastien said. "It makes me feel like I'm doing something legendary."
Castro posted a response to the controversy on his Facebook page.
"I'm proud of our young San Antonio superstar Sebastien de la Cruz for a spectacular rendition of our national anthem at last night's Spurs game. Sebastian, don't let a few negative voices get you down. You are a true talent and you represent the best of our nation's future!"
Some might wonder if his encore rendition will attract more negative comments on social media.
However, critics might be more cautious after what happened to Andre Lacey, a firefighter whose tweet caught national attention.
According to an interview with The Augusta Chronicle newspaper in Georgia, Fire Chief Chris James said the firefighter "will be counseled for sure."
Lacey's actions were "completely inappropriate and not acceptable" and "by no means are reflective of the Fire Department's attitude," he said.
Most commenters cited on Tumblr's Public Shaming blog have either taken down their racist tweets or deleted their accounts.
Facebook commenter Gabriel Gemenez said that she had mixed feelings about Sebastien's performance because of his attire.
Those who were offended probably wouldn't have lashed out had he worn "slacks or khakis and button-down shirt/polo" instead of his mariachi outfit, Gemenez said.
Although the U.S. has no true background and is made up of different ethnicities, she said, his mariachi outfit only represented Mexico and one should have a "little taste when you're singing the national anthem."
But it seems the support for Sebastien outweighed the criticism.
Actress and Texas native Eva Longoria said on Facebook, "As a Mexican-American, I am so proud of Sebastien De La Cruz, a great symbol of what America is today! #GoSpursGo!"
Jordan Knight of New Kids on the Block showed his support for the young mariachi singer on Twitter: "I'm sorry... But slamming a kid for wearing a mariachi outfit while singing the national anthem is close-minded and bigoted!!!!!!"
"You can love your heritage and love your country at the same time!!! You can respect others culture as well a your own at the same time!!!"
"El Charro de oro" will make his way up to New York City this weekend for the second New York City Mariachi Conservatory Conference, where he will be singing in the national anthem competition.
Follow Cindy Y. Rodriguez on Twitter