Warren Buffett on sisters, children and parents
June 16, 2013 -- Updated 2042 GMT (0442 HKT)
STORY HIGHLIGHTS
Billionaire Warrent Buffett talks to CNN's Poppy Harlow about girls education
(CNN) -- In a recent Fortune magazine essay, Warren Buffett -- one of the world's wealthiest people -- explains why women are key to America's prosperity. CNN's Poppy Harlow sat down with the Berkshire Hathaway chairman and CEO to talk about girls education, his sisters, his family and how, as he says, "If I had been born a female, I would have been very unhappy about the Constitution."
Watch the full interview in Part 1 and 2 of the videos.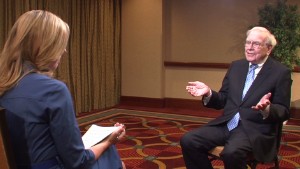 Buffett: Companies should invest in women
More: Jennifer Buffett -- Make schools safe for girls everywhere
Photos: The girls' stories from "Girl Rising"

Today's five most popular stories
June 17, 2013 -- Updated 1346 GMT (2146 HKT)

The school year started with a shooting. Now, Malala eyes a summer of speaking at the U.N. and telling her story in a new book.
May 22, 2013 -- Updated 1527 GMT (2327 HKT)

One girl with courage is a revolution. CNN Films' "Girl Rising" tells the stories of girls across the globe and the power of education to change the world.

CNN Films' "Girl Rising" follows girls across the world in their quest for education

What a queen, a correspondent, an activist and an actress have to say to girls everywhere? Read their open letters.

Join the conversation and write your open letter -- Share your story and read others' experiences at iReport today
June 13, 2013 -- Updated 0150 GMT (0950 HKT)

Less than half of U.S. teen moms graduate high school. And the lack of opportunities is a slow death for them, one principal says.
June 17, 2013 -- Updated 1352 GMT (2152 HKT)

Are you inspired to help the cause of girls' education around the world?

Get more information about CNN Films' "Girl Rising" as well as the latest news and global voices on the topic of girls education.