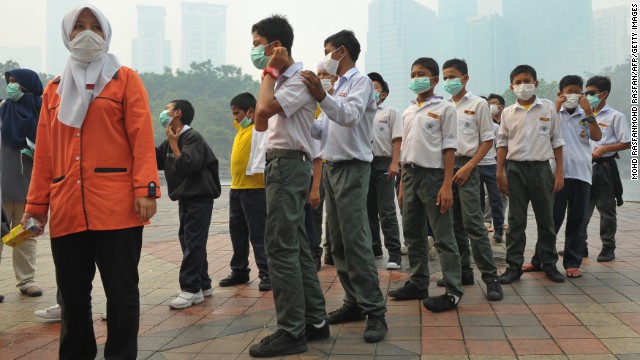 Students wear masks as haze shrouds Kuala Lumpur on June 23. Many schools in Malaysia were closed on Monday after air pollution caused by forest fires in Indonesia spiked to hazardous levels.
Motorists drive as haze shrouds Malaysia's landmark Petronas Twins Towers in Kuala Lumpur on June 23. The Malaysian government declared a state of emergency on June 23 in two southern areas.
A woman helps her friend with a face mask as haze shrouds Kuala Lumpur on June 23.
Elderly people sign up to collect face masks at the community centre for the low income in Singapore on June 22, 2013.
Apartment buildings were shrouded in a haze of smoke on Wednesday, June 19, in Singapore. The city-state's worst pollution crisis in more than a decade, the haze stems from illegal slash-and-burn forest fires in neighbouring Sumatra, Indonesia.
An aerial photograph taken on June 17 showed smoke billowing from fires in areas surrounded by agricultural plantations in Rokan Hilir town in Sumatra, about 280 kilometers (173 miles) west of Singapore.
The Singapore Flyer ferris wheel was barely visible through the smoke haze on June 20. That day, the country's Pollutant Standards Index (PSI) rose to the highest level on record, reaching 371.
Undeterred by the smog, a couple took engagement photographs in front of the city's skyline at the Marina Bay waterfront on June 20.
A man cut a striking figure against Singapore's hazy skyline on June 20.
Masked pedestrians crossed a street in the central business district on June 20.
A local pharmacy put up an out-of-stock notice for face masks on June 20.
People sat by the Singapore River as the city's hazy skyline was relatively brightened by night lights on June 20.
The CEO of Singapore's National Environment Agency, Andrew Tan (R), arrived at the Indonesia Foreign Ministry office in Jakarta on June 20. Tan led the Singapore delegation for an emergency haze meeting convened by the Indonesian Foreign Ministry.
Indonesian firefighters from the Forest Ministry battled forest fires on June 20 in Pekanbaru, the capital of Riau province on Sumatra island.
NASA's Terra and Aqua satellites capture images of smoke billowing from wildfires on Sumatra toward Singapore on June 19.
Malaysia chokes on smoke
Malaysia chokes on smoke
Malaysia chokes on smoke
Singapore chokes on smoke
Singapore chokes on smoke
Singapore chokes on smoke
Singapore chokes on smoke
Singapore chokes on smoke
Singapore chokes on smoke
Singapore chokes on smoke
Singapore chokes on smoke
Singapore chokes on smoke
Singapore chokes on smoke
Singapore chokes on smoke
Singapore chokes on smoke