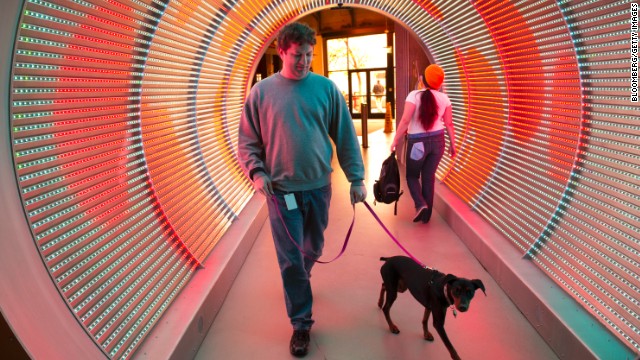 This gallery offers a look inside tech companies' striking offices: A 'time tunnel' at Zynga, featuring programmable LED lights, leads from the entrance to the office space.
Lest employees forget that the company logo is a dog, canine images are prominently displayed.
Meeting spaces at Skype, just off rows of desks.
Just one of Silicon Valley's ubiquitous game areas.
Google's employee perks are well known.
The office features an indoor bike lane.
Murals adorn many of the Facebook office's walls. This one is of an android.
The international team is unmistakable, with the overhead flags.
Hassell architecture firm designed Alibaba's headquarters.
Not so different from Silicon Valley, work spaces are open and designed for collaboration.
LinkedIn has a free food program for its employees year round, but during the summer months employees head outside for Food Truck Fridays.
Zynga, San Francisco
Zynga, San Francisco
Skype, Palo Alto, California
Skype, Palo Alto, California
Google, Boulder, Colorado
Google, Amsterdam
Facebook, Menlo Park, California
Facebook, Menlo Park, California
Alibaba, Hangzhou, China
Alibaba, Hangzhou, China
LinkedIn, San Francisco