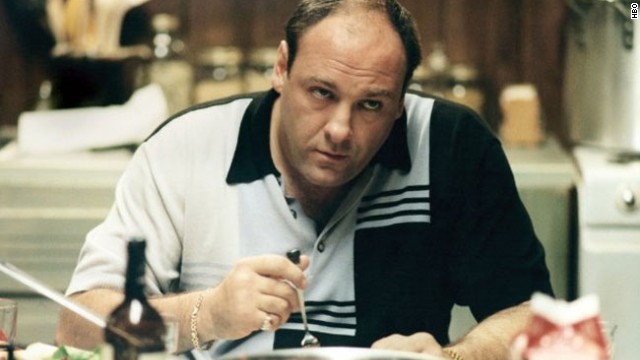 "The Sopranos" cast has lost its heart with the surprising death of James Gandolfini, but the stars will tell you they've also lost a dear, dear friend. Here, the actors who helped bring David Chase's mafia story to life for six seasons on HBO reflect on the passing of the man who embodied mob boss Tony Soprano.
Edie Falco, who portrayed Tony's wife, Carmela: "I am shocked and devastated by Jim's passing. He was a man of tremendous depth and sensitivity, with a kindness and generosity beyond words. I consider myself very lucky to have spent 10 years as his close colleague. My heart goes out to his family, as those of us in his pretend one hold on to the memories of our intense and beautiful time together. The love between Tony and Carmela was one of the greatest I've ever known."
Jamie-Lynn Sigler, who portrayed Tony's daughter, Meadow: "This news has left me heartbroken. I can only imagine the pain his family feels at this time, and my heart goes out to them, especially Deborah, Michael and Liliana. I spent 10 years of my life studying and admiring one of the most brilliant actors, yes, but more importantly one of the greatest men. Jim had the ability, unbeknownst to him, to make you feel like everything would be alright if he was around. I treasure my memories with him and feel so honored that I was an up close witness to his greatness."
Michael Imperioli, who portrayed Tony's nephew Chris Moltisanti: "Jimmy treated us all like family with a generosity, loyalty and compassion that is rare in this world. Working with him was a pleasure and a privilege. I will be forever grateful having had a friend the likes of Jimmy."
Tony Sirico, who played Tony's criminal colleague, "Paulie Walnuts": "He was one of my best friends in life. We visited war zones together in Afghanistan and Iraq. He was like family to me. I loved him and I miss him already."
Lorraine Bracco, who played Tony's psychiatrist, Dr. Melfi: "We lost a giant today. I am utterly heartbroken."
Aida Turturro, who portrayed Tony's sister, Janice: "I've not only lost a great friend, but a true brother, on screen and off. James was the most generous actor to work with, but more so, a man with a heart of gold. I love him and my heart goes out to his family."
Steven Van Zandt, who portrayed Tony's 'consigliere' Silvio: "I have lost a brother and a best friend. The world has lost one of the greatest actors of all time. Maureen and I send our deepest sympathy and love to Deborah, Michael, Lily, and all of Jimmy's family."
Maureen Van Zandt, who played Gabriella, Silvio's wife: "I loved James so much. He was a beautiful man and a genius. I was honored to breathe the same air as him. I'll love and remember him forever."
Drea de Matteo, who portrayed Adriana La Cerva: "Fughedabout losing one of the best actors of our time ... we lost so much more. (A)nyone from the 'Soprano' family will tell you he was one of the most generous, real and humble human beings ever ... with a presence that could shatter planets when he walked into a room. A King through n through. So very sorry for his family."
'Sopranos' cast mourns James Gandolfini
'Sopranos' cast mourns James Gandolfini
'Sopranos' cast mourns James Gandolfini
'Sopranos' cast mourns James Gandolfini
'Sopranos' cast mourns James Gandolfini
'Sopranos' cast mourns James Gandolfini
'Sopranos' cast mourns James Gandolfini
'Sopranos' cast mourns James Gandolfini
'Sopranos' cast mourns James Gandolfini
'Sopranos' cast mourns James Gandolfini