Messi to appear in court in tax fraud case
June 20, 2013 -- Updated 1324 GMT (2124 HKT)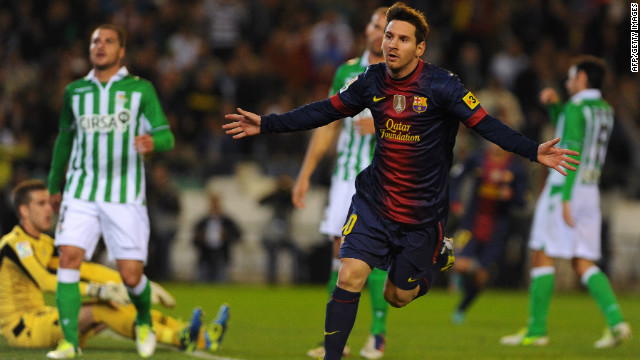 Lionel Messi celebrates after matching Gerd Muller's record of 85 goals in a calendar year, netting in the 16th minute of Barcelona's match against Real Betis in December 2012. Just nine minutes later the Argentina star passed the German's 1972 milestone.
Messi passed Muller with three more possible matches to play in 2012. Then a three-time world player of the year, he went on to win a record fourth Ballon d'Or in January,
Messi made a quick recovery to be fit for the Betis game, having been injured after coming on as a substitute during a Champions League match against Benfica.
Messi enjoyed a stellar 2012. With a hat-trick against Grenada in March, he equaled and broke the all-time goalscoring record for Barcelona in official matches of 232 set by Cesar Rodriguez.
A hat-trick against Malaga in May took Messi to 68 goals for the 2011-12 season, edging him past the record for goals in a European season set by Bayern Munich's Muller in 1972-73.
Muller was one of the most predatory strikers in football history, winning both the World Cup and the Europan Championship with West Germany.
Click here to see a comparison of Muller and Messi.
Messi also had a standout year for the Argentina national team. He scored 12 goals for his country in 2012, including a hat-trick against archrivals Brazil in June.
Messi became Barca's all-time leading goalscorer in "El Clasico" matches against Real Madrid in August 2012. His free-kick in that match was his 15th in the fixture against Barca's archrivals.
Messi beats Muller
Time to spare
On the brink of history
Record in doubt
Barca's best
Chasing Muller
Magnificent Muller
For club and country
El Clasico
STORY HIGHLIGHTS
Spanish court rules that Lionel Messi and his father must testify in tax case
The Barcelona soccer star denies all allegations of wrongdoing
He is accused by Spanish tax authorities of handing in fraudulent returns
The Argentine is said to owe $5 million relating to image rights revenue
(CNN) -- Soccer star Lionel Messi must appear in court on September 17 to face possible charges of tax fraud, prosecutors in Spain said Thursday.
The four-time world player of the year and his father Jorge Horacio Messi are suspected of defrauding Spanish tax authorities of more than $5 million between 2006 and 2009. They deny the charges.
A judge will decide after the hearing whether to go ahead with the case, which is being held in a town near Barcelona -- where Messi has lived since moving from his native Argentina as a teenager.
Messi, who turns 26 next Monday, is 10th on the list of the world's highest-paid athletes as compiled by business magazine Forbes with earnings of $41 million.
Read: Neymar pledges to back Messi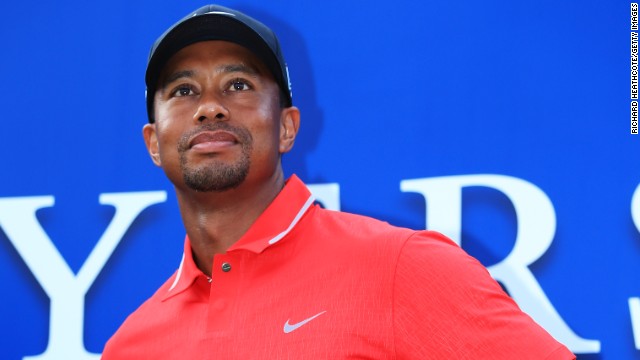 Golf's world No. 1 Tiger Woods has reclaimed his position as the world's highest-earning athlete, according to Forbes. The 14-time major winner picked up $13.1 million in salary/winnings in the 12 months to June 1, as well as $65 million from endorsements with companies such as Nike. Woods is thought to be close to resigning with the American sportswear giant.
The previous No. 1 Roger Federer pocketed $6.5 million from on-court success over the past 12 months. The tennis star's endorsements, which include deals with Nike, Rolex, Wilson and Credit Suisse, earned the 17-time grand slam winner $65 million.
Kobe Bryant of the Los Angeles Lakers is the highest-paid player in the NBA. His salary of $27.85 million is $7 million higher than any other player, and his jersey was the biggest seller overseas during the 2011-12 season.
Miami Heat's LeBron James is the toast of the NBA when it comes to endorsements, boasting deals with companies such as Nike, McDonald's, Coca Cola and Samsung earning him $42 million of his $59.8 million total.
Quarterback Drew Brees cashed in last July by signing a new five-year contract with the NFL's New Orleans Saints worth $100 million. Brees' new deal also came with a $37 million signing bonus.
Aaron Rodgers of the Green Bay Packers is the highest annual earner in the NFL. His five-year deal is worth $110 million.
Four-time major winner Phil Mickelson collected $44 million in endorsements over the last year, including deals with Callaway, Barclays and KPMG.
David Beckham recently called time on his playing career, but he is still the highest-earning footballer on the planet. The $5.2 million salary he received during his spell with Paris Saint-Germain, his final club, was donated to charity. The former England captain recently launched a clothing line with H & M.
Real Madrid's Cristiano Ronaldo earns half of his money from endorsements. This is thought to have prompted talks of a new contract with the Spanish club, with both parties unable to agree over Ronaldo's image rights. The Portuguese star currently splits his image rights 60-40, according to Forbes.
Barcelona star Lionel Messi is used to finishing top of the pile. But the four-time FIFA Ballon d'Or winner is the third-highest-earning footballer, with Adidas launching a signature line for the Argentine earlier this year.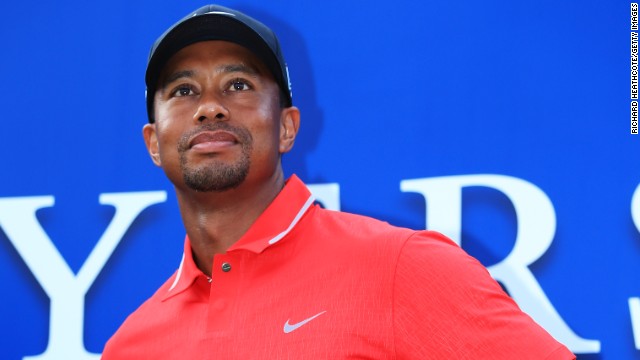 Tiger tops highest-paid athlete list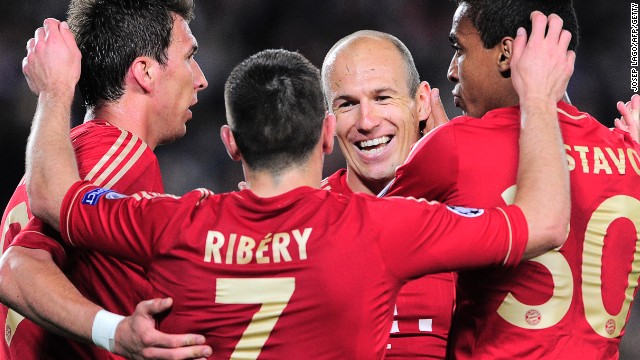 Arjen Robben celebrates with his Bayern Munich teammates after their resounding second leg victory over Barcelona in the Nou Camp.
Lionel Messi sat on the bench throughout his side's crushing second leg defeat to Bayern Munich. He has been nursing a hamstring injury the last few weeks.
Robben wheels away after his superb opener for Bayern in the 3-0 second leg win over Barcelona.
Thomas Mueller heads home Bayern Munich's third in the 3-0 second leg win over Barcelona to complete a 7-0 aggregate triumph.
A chastened Gerard Pique reflects on his own goal in the Nou Camp as his side slumped to a 3-0 second leg defeat to Bayern Munich.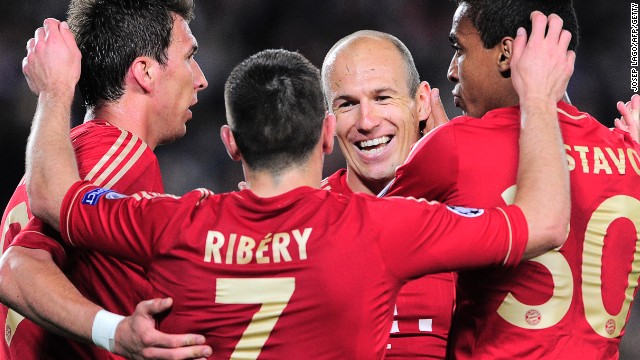 Bayern night of triumph in Nou Camp to reach Champions League final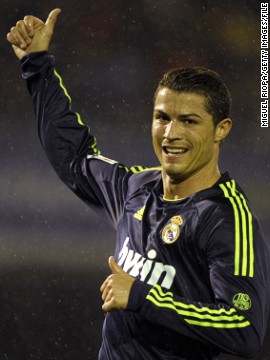 Real Madrid have usurped Manchester United as the world's most valuable soccer club according to Forbes. The Spanish giants, whose star player is Cristiano Ronaldo, increased their value by 76% over the past year to $3.3 billion.
Since Forbes started their study in 2004 this is the first time English Premier League club Manchester United have not appeared top. Despite bumper commercial deals with Chevrolet and Aon taking their value to $3.17bn they have to make do with second place.
Barcelona, who count arguably the world's best player Lionel Messi among their ranks, are third on the list, as they were in 2012. They almost doubled their value over the previous year -- the biggest rise out of any club in the top 20 -- to $2.6 billion.
Arsenal, who have qualified for the lucrative European Champions League for 15 successive seasons, remain fourth on Forbes' list. Led by Arsene Wenger, they have built up a substantial amount of cash reserves since their move to a new stadium. Their value stands at $1.32 billion.
German champions Bayern Munich, who are still on course for an historic treble, are fifth on the list with a value of $1.3 billion. Former Barcelona coach Pep Guardiola is joining the club at the end of the current season.
AC Milan are the only club in the top 10 to have gone down in value in the previous year but despite that their figure is put at £945 million.
Chelsea, owned by Russian billionaire Roman Abramovich, are seventh. Their value is $901 million and has gone up 18% in the past year. Their biggest name is striker Fernando Torres, who cost them $76 million from Liverpool in 2011.
On course for the title in Italy's Serie A, Juventus are valued at $694 million which puts them eighth on Forbes' countdown.
Big-spending Manchester City are ninth on the list with a value of $689 million. Since they were bought by Sheikh Mansour bin Zayed Al Nahyan, the new owner has spent an estimated $1.5 billion on the club. They won their first English top flight title for 44 years in 2012.
English club Liverpool, owned by John W. Henry's Fenway Group -- who also own the Boston Red Sox -- have a value of $651 million, which is up 5% on last year.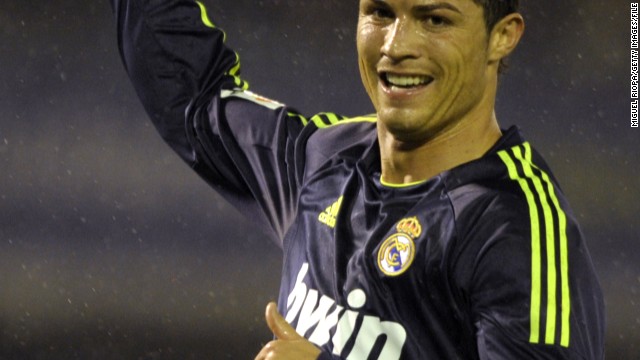 Real Madrid world's most valuable club
According to the papers filed on June 12 by prosecutor Raquel Amado in Gava, a seaside resort close to Barcelona where Messi lives, it is alleged that they tried to avoid paying taxes in Spain by selling the player's image rights through overseas companies.
His club Barcelona said it was not involved, as the image rights payments are independent of the reported $20 million yearly salary he receives from the Spanish champion team.
Messi used his Facebook website page to deny the charges earlier this month.
"We have just known through the media about the claim filed by the Spanish tax authorities," read the statement in Spanish and English.
Read: Woods tops highest-paid athlete list
"We are surprised about the news, because we have never committed any infringement.
"We have always fulfilled all our tax obligations, following the advice of our tax consultants, who will take care of clarifying this situation."
Messi joined Barcelona as a 13-year-old in 2000, and has won six Primera Liga titles, three European Champions League crowns. Last year he scored an unprecedented 86 goals for club and country.
CNN's Laura Perez Maestro contributed to this report.