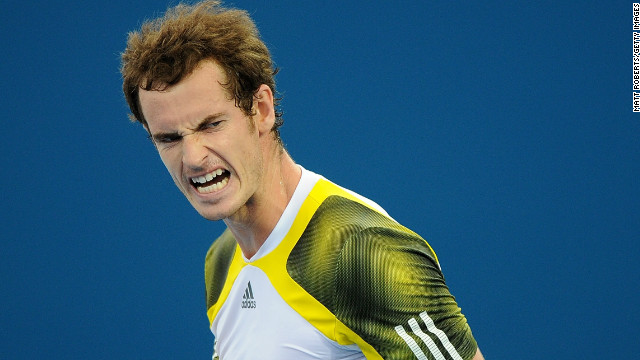 Andy Murray dedicated his win at January's Brisbane International to his longtime friend Ross Hutchins, who was diagnosed with cancer in the weeks leading up to the tournament.
Hutchins was treated for Hodgkin's lymphoma at the Royal Marsden Hospital in London.
Hutchins took to the court during the Rally Against Cancer charity match at June's AEGON Championships at Queen's Club.
Hutchins and Murray both appeared at the Rally Against Cancer, where the Scot donated his $115,000 tournament winner's prize to charity.
The pair played Davis Cup tennis for Great Britain in the doubles after progressing through the junior circuit together.
Hutchins is a doubles specialist but Murray has risen to No. 2 in the singles rankings. After losing out at Wimbledon to Roger Federer, he gained revenge by winning gold at the 2012 London Olympics.
Murray then became the first British man to win a grand slam title since Fred Perry in 1936 after winning last September's U.S. Open following a titanic tussle with Novak Djokovic.
Murray's maiden grand slam triumph came after he squandered a two-set lead before edging out Djokovic in a tense decider.
Dedication time
Treatment time
Back on court
Best of friends
Double trouble
Olympic champion
Grand slam winner
Eyes on the prize
STORY HIGHLIGHTS
Ross Hutchins gives a rare insight into the life of Andy Murray
Murray dedicated win at Brisbane to Hutchins, who is recovering from cancer
Scot will be best man at Hutchins' wedding in November
Hutchins has finished his treatment and is helping raise money for cancer charity
Open Court is CNN's monthly tennis show. Click here for news, videos and features.
London (CNN) -- When Andy Murray won the Brisbane International, a warmup event for January's Australian Open, few were surprised.
But what followed was largely out of character for a man who is perceived as one of the more dour characters in the world of sport.
After winning the final, Murray turned towards the television cameras and showed a side of himself that had so rarely been seen.
"I'd like to dedicate this victory to one of my best friends," the British tennis star told the crowd. "He's back home watching and you're going to get through."
Read: Murray inspired by friend with cancer
Thousands of miles away in London, Murray's former roommate Ross Hutchins sat facing the prospect of six months of grueling chemotherapy after being diagnosed with Hodgkin's lymphoma -- a cancer of the lymph node immune system.
Friends since their early years and former doubles partners, the two were inseparable on and off the court, with both taking time to tease one another about their receding hairlines.
But not even Hutchins, who has seen a side of Murray that few others have caught a glimpse of, expected such a gesture.
"I didn't expect the speech, that's for sure," the Englishman told CNN's Open Court.
"I just expected him to, well I was hoping he would win the title ... we had been very close that week as we always are.
"So I was watching the speech and was thinking how pleased I was he had won, and then he came and dedicated his trophy, which meant the world to me.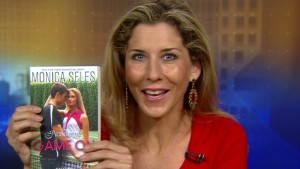 Monica Seles is now a novelist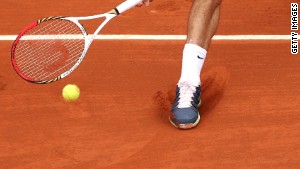 Secrets below Roger Federer's feet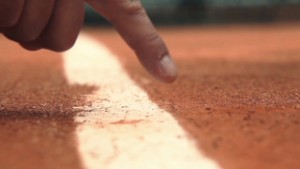 Secrets of a French Open umpire unveiled
"It's something which lifted me up and it meant a lot because it was a big stage leading into a grand slam.
"My fiancee cried and she doesn't cry that much. It was a very special moment for us, it was something we shared together and it was something we'll never forget."
It was a rare moment of emotion from Murray, who has often been derided for his downbeat personality.
Read: Murray wins historic first Grand Slam
The tears which followed his defeat by Roger Federer in last year's Wimbledon final finally allowed the public a glimpse of what lay behind a perceived deadpan exterior.
His victory on the same court at the London Olympics was then followed by his first grand slam triumph at the U.S. Open last September -- a day that Hutchins will never forget.
Having been two sets ahead of world No.1 Novak Djokovic in the final at Flushing Meadows, Murray allowed his rival to fight back and move level before triumphing in a pulsating final set.
"He was so determined to win that match, I don't think we can ever appreciate what was going through his head," said Hutchins.
"Everyone in the world that had watched him over the last final finals was thinking, 'Oh it's going to happen again.'
"Andy was saying, 'you're going to be better after this, you're going to be stronger, you're going to be a far tougher person and tennis player.
Ross Hutchins
"But he wouldn't let it and it was a joy to watch. It was an incredible moment when he picked up the trophy."
A friend in need
While Murray had triumphed and defeated his demons, Hutchins was just beginning his own personal battle that same month.
Searing back pains prevented him from sleeping for more than two hours, and left him in absolute agony. So severe was his sleep deprivation that Hutchins tried everything from laying out on the wooden floor in his bathroom, to sleeping on a foam roller covered with tennis balls.
It was only after speaking to a coach at a training camp in La Manga, Spain, that Hutchins began to realize the severity of the situation.
After initial tests showed pneumonia in his left lung, Hutchins sought further medical advice about an enlarged lymph node in his chest, which turned out to be cancerous.
Hodgkin's lymphoma is a cancer of the white blood cell found in the lymphatic system, which is a network of vessels and glands spread throughout the body.
Its most common symptom is a painless swelling in a lymph node, normally in the neck, armpit or groin.
The day his diagnosis was confirmed -- December 27, 2012 -- is etched into Hutchins' memory.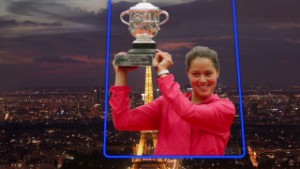 Ivanovic targets more French titles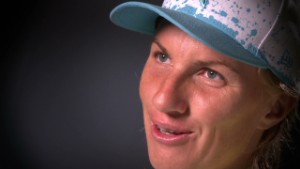 Kuznetsova's 2009 French Open win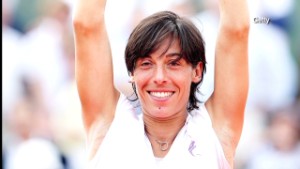 Francesca Schiavone's historic Open win
"I called Andy and spoke to him about it," said Hutchins, who got engaged to his longtime girlfriend Lindsay Wood in February. "Andy was saying, 'You're going to be better after this, you're going to be stronger, you're going to be a far tougher person and tennis player.'
"Obviously my fiancee was upset. I'd actually warned her that it was going to be this.
"She was amazing, she'd been through cancer in her family with one of her parents so she knew what it was all about, so she was like a rock for me.
"I love her to bits and I can't thank her enough. She was great and she was supportive, but that was initially a tough moment."
Support
Hutchins has been overwhelmed with messages of support from well wishers from across the world since he announced his condition at the end of last year.
Far from being a household name in the world of tennis, the 28-year-old, who grew up a stone's throw away from Wimbledon, can barely believe the public's reaction.
"It's something that I can't really express in words," said Hutchins. "I've still got all the letters and all the cards in my living room and they mean so much to me.
"People who have taken time from three-year-old kids who have written or drawn pictures to me, to people who have done montages, it's been incredible. A lot of them will remain in my heart forever, because it's something you don't expect."
Murray, in particular, has been a rock for Hutchins -- showing a more sensitive side than their usual joking banter.
"He has a great family and he's been so positive. Hopefully he'll go for his scan and it will all be OK."
Andy Murray
"We don't normally have too many serious conversations," he added. "I've needed a different side of Andy but we're closer than ever."
Recovery
Hutchins completed his chemotherapy sessions last week and was courtside as Murray won the Aegon Championships at Queen's Club on Sunday.
The two appeared on court, after the world No. 2's final win over Marin Cilic, at the Rally Against Cancer charity match alongside Tim Henman, Murray's coach Ivan Lendl, Tomas Berdych and a host of celebrities.
Murray donated his $115,000 winner's prize to the charity, which supports the Royal Marsden hospital where Hutchins was treated.
"Ross has handled it all so well," Murray told CNN in his typical understated manner. "He has a great family and he's been so positive. Hopefully he'll go for his scan and it will all be OK."
Hutchins will be tested in mid-July to see if the cancer has been defeated, while a final verdict will come in late September or October following another scan.
Best man
After that, there is the small matter of his wedding at the end of November, at which Murray will be best man.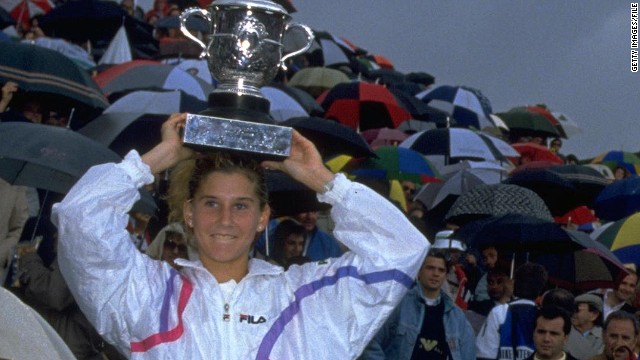 Monica Seles' career began in breathtaking fashion. In 1990, aged just 16 years and six months, the Yugoslavia-born starlet beat Steffi Graf to become the youngest French Open singles champion. After winning the year-end championships, Seles finished the season ranked No. 2 in the world.
Seles followed up her victory in Paris with success at the first grand slam of 1991, beating Jana Novotna to win the Australian Open final in January before replacing Graf at the top of the world rankings in March. Seles then defended her Roland Garros crown before beating Martina Navratilova to clinch the U.S. Open.
Seles defended all three of her grand slam titles in 1992, and lost in the final at Wimbledon. She then won the Australian Open for the third time in a row, but the defining moment of her career arrived at the 1993 Hamburg Masters, when a man later identified as an obsessive fan of Graf ran onto the court and stabbed her in the back. Her injuries healed within weeks, but Seles was out of the sport for over two years.
Seles finally returned to the WTA Tour in August 1995, coming back with a bang as she beat Amanda Coetzer in the final of the Canadian Open.
In 1996 Seles enjoyed a fourth Australian Open win, defeating Anke Huber in the final. But it would prove to be her final grand slam title as she struggled to regain the form she displayed before the attack, as she suffered weight problems.
A foot injury forced Seles out of what would prove to be the final Tour match of her career at the 2003 Italian Open.
New Zealand played host to two exhibition matches between Seles and Martina Navratilova in 2005. Despite losing both matches, Seles announced her intention to return to competitive action in 2006. The comeback, however, never happened.
Seles was back at Roland Garros in 2012, when she presented the winner's trophy to Maria Sharapova after the Russian defeated Sara Errani of Italy.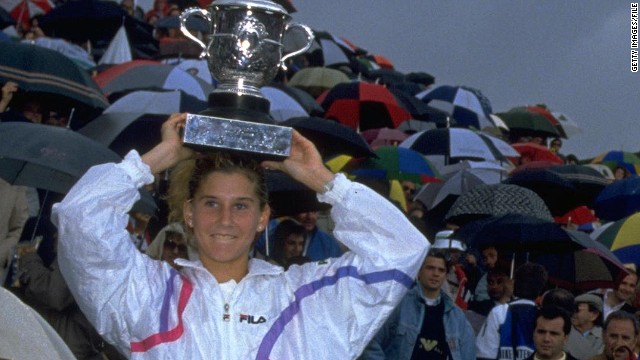 Monica Seles' highs and lows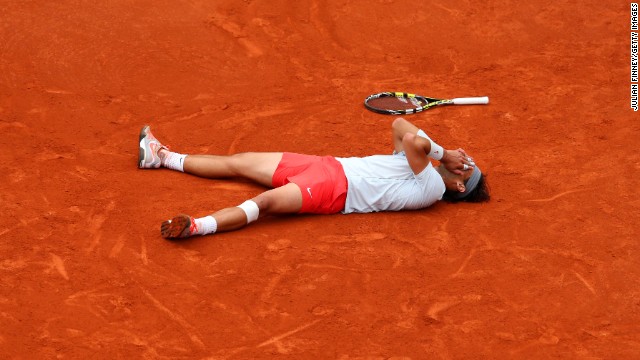 Rafael Nadal of Spain reacts after winning match point against David Ferrer of Spain during the men's singles final match of the French Open at Roland Garros Stadium in Paris, on Sunday, June 9. Nadal won 6-3, 6-2, 6-3.
Nadal poses for photos with the Coupe des Mousquetaires trophy.
Nadal plays a forehand against Ferrer.
Nadal plays a forehand to Ferrer.
A protester runs onto the court with a lit flare during the match.
Protesters light flares and unfurl a banner which calls for the French President Francois Hollande's resignation on the top of Court Suzanne Lenglen as Nadal and Ferrer compete.
Ferrer returns a shot to Nadal.
Ferrer plays a forehand to Nadal.
Ferrer returns a shot to Nadal.
Nadal prepares to serve to Ferrer.
Nadal plays a backhand against Ferrer.
Ferrer plays a forehand against Nadal.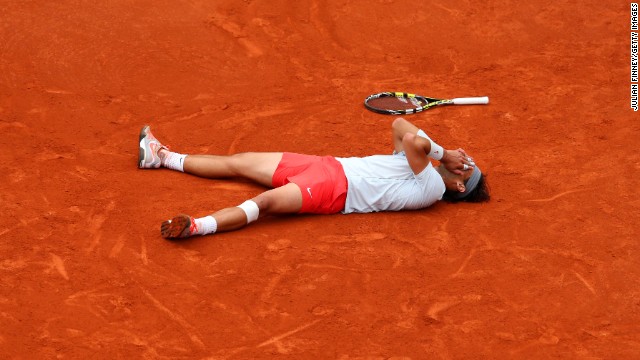 Photos: The French Open: Men's singles final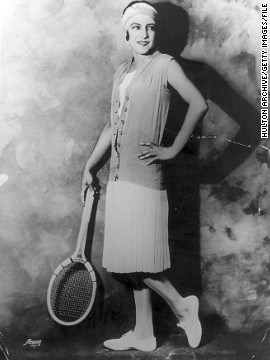 Suzanne Lenglen revolutionized women's tennis in the 1920s, with her daring outfits and aggressive style of play.
"She had that thing that we love in our public figures -- she had a sense of drama," author Larry Engelmann told CNN's Open Court.
"When she walked out on the court, when she walked down the street after the match, there was a certain passion, drama, gloriousness, a suffering to her that seemed to indicated depths that people wanted to see in a national figure," Engelmann says.
Lenglen never played at Roland Garros, which was built after she retired in 1927, but the second show court there has since been named after her -- and the statue outside commemorates one of her most iconic action images.
"When she was young, she studied dance -- she studied ballet and people said she played tennis like a dancer," Engelmann says. "She walked around the court between points on her tip toes. She posed a certain way when she was going to serve."
"Suzanne learned tennis from the best male players," Engelmann says. "She was very competitive and she played a much more sophisticated game and she broke the limits. It was a sort of quantum leap into a more aggressive, athletic game."
Lenglen is pictured here with fellow French tennis star Rene Lacoste, who went on to launch his own fashion house.
"She also wore very fashionable clothing on the court -- French designers designed for her," Engelmann says. "There was more transparency to her gowns. She wore short-sleeved blouses when she played. In a period of time when light skin was highly prized -- she took glory in being out in the sun and having a tan."
She was one of the world's most famous female athletes in the 1920s, and her success inspired a character in "Le Train Bleu," a production by the Diaghilev Ballet Russe which featured costumes by Coco Chanel.
After retiring, Lenglen helped set up a tennis school near Roland Garros. She is pictured here with students in 1937, a year before her death at the age of 39. She had long suffered poor health, and was diagnosed with leukemia not long before she died.
Lenglen's crown as the queen of women's tennis was taken by American Helen Wills Moody, pictured left with Hollywood actress Joan Crawford.
Mary Pierce was the last Frenchwoman to hold the Coupe Suzanne Lenglen for the winner of the Paris grand slam when she triumphed at Roland Garros in 2000.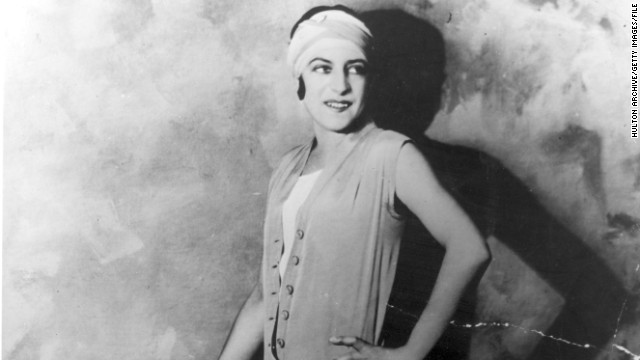 French Open's favorite 'Flapper'
Murray is taking charge of planning the bachelor party along with Hutchins' brother -- a task he was expecting, according to his close friend.
"I think Andy kind of knew it was coming," said Hutchins.
"When I got engaged I think he knew it was going to be him and then I said to him, 'You know it would mean a lot to me,' knowing how supportive he has been over the years.
"He kind of jumped to it, he was like 'Great, it means a lot to me, let's do it and let me know if you need me for anything else.'
"And he probably says that a lot at the moment and I am using him a lot."
'Superstar'
Hutchins believes his friend has all the attributes to become "a great champion" as he begins his bid next week to become Britain's first Wimbledon men's winner since Fred Perry in 1936.
"You dream about being able to time the ball that sweetly and to have the precision that he has," says Hutchins.
"Mentally he's so strong, he's able to rise to occasions and serve aces on break points, he's able to capitalize when he senses his opponent is struggling with a certain tactic.
"He is a superstar, he's a master tactician, and he's as feisty and competitive as they come."