China rocked by cash crunch, surprise fall in factory output
June 21, 2013 -- Updated 1954 GMT (0354 HKT)
STORY HIGHLIGHTS
Lack of bank access to cash, surprise fall in factory output rock China
China's seven-day rate jumped to record 12% after Beijing refused new funds
China central bank aims to slow expanding debt, easy access to credit
Shanghai Composite Index has slid 10% since the start of June
Hong Kong (CNN) -- China delivered a one-two punch of negative economic data this week, hitting first with an initial report on factory activity falling to a surprise nine-month low and then with interbank lending rates rocketing to a record high.
The gloomy numbers keep fears alive that the world's second-largest economic engine is not just slowing down -- but also seizing up.
China's main seven-day repurchase rate jumped to a record 12% this Thursday, according to CME Group. China's weighted average overnight repo rate hit 13.1% -- the highest in more than a decade.
The rate spikes are a reaction to Beijing's decision earlier this week to withhold new infusions of cash into the markets. One of the central bank's aims is to slow the growth of China's ballooning debt and stop easy access to credit.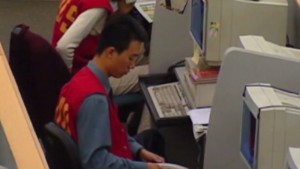 China's cash crunch a 'homegrown issue'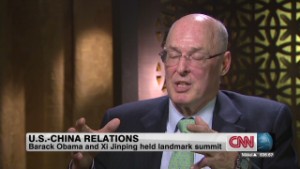 In China, economics influences politics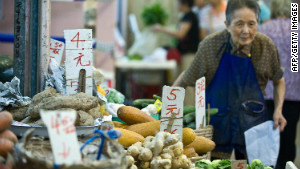 China's GDP expected to grow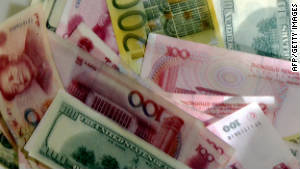 U.S.: China currency very 'undervalued'
The country's total debt is estimated to stand at more than 200% of GDP when debt from the central government, local governments, corporations and households are included, says Swiss bank UBS.
In April, Fitch had warned China of its high debt levels, downgrading the country's long-term currency rating. The ratings agency cited expansion of easy credit and structural weakness in China's economy.
However on Friday, repurchase rates fell on reports that China's central bank had supplied more than $8 billion in new liquidity to ease the current cash crunch.
On June 20, the same day that China's repurchase rates hit record highs, HSBC's June "flash" purchasing managers' index fell to a nine month low of 48.3. A PMI reading below 50 indicates contraction in the country's manufacturing sector as new export orders plunged from major trading partners like the United States and Europe.
Some China watchers fear the country will miss its self-imposed 2013 growth target of 7.5%.
Since June 1, China's benchmark Shanghai Composite Index has fallen 10%.

Part of complete coverage on
March 3, 2014 -- Updated 1033 GMT (1833 HKT)

Mobile World Congress spans the full spectrum of untethered gadgetry Explore this year's top trends with Stuff Magazine Editor Will Findlater.
February 28, 2014 -- Updated 1623 GMT (0023 HKT)

Cocoa-nomics: Why chocolate really doesn't grow on trees. CNN returns to Africa's cocoa plantations to examine the fight against child labor.
February 27, 2014 -- Updated 1958 GMT (0358 HKT)

CNN's Maggie Lake speaks to Lego CEO Jørgen Vig Knudstorp about why Lego continues to be a hugely popular toy.
February 27, 2014 -- Updated 2032 GMT (0432 HKT)

A Japanese rocket roared into orbit carrying what NASA calls its most precise instrument yet for measuring rain and snowfall.
February 28, 2014 -- Updated 2003 GMT (0403 HKT)

When you hail yourself as a "passionate advocate" for job-seekers, you probably ought not blast one of those job-seekers in a snide e-mail.
February 26, 2014 -- Updated 2201 GMT (0601 HKT)

Love that chocolate Haagen-Dazs ice-cream? But what about the way its makers treat their farmers? Oxfam reveals the ethics behind the brands.
February 20, 2014 -- Updated 1121 GMT (1921 HKT)

SnapScan is an award-winning app allowing buyers to pay with their smartphone -- no need to worry about carrying cash or lost credit cards.
February 18, 2014 -- Updated 1452 GMT (2252 HKT)

In the wake of recent credit card breaches, CNN's Richard Quest explores the threats of the non-cash economy. Is your money as safe as you think?
February 19, 2014 -- Updated 0833 GMT (1633 HKT)

Like many companies in China, Fu Shou Yuan uses celebrities to attract clients. Except, in this case, they're dead. They're in the funeral business.
February 19, 2014 -- Updated 1255 GMT (2055 HKT)

Coca-Cola is staying afloat as the soda market shrinks, and many point to a marketing strategy around the so-called "secret recipe."

Today's five most popular stories