Deripaska: Market slump after Fed stimulus wind-back hint 'emotional'
June 21, 2013 -- Updated 1732 GMT (0132 HKT)
STORY HIGHLIGHTS
Deripaska has dismissed the markets rout following the Fed's stimulus announcement this week as "very emotional"
Deripaska said the reaction on Russian markets was "disproportionate" to the country's economic situation
The Fed's hints it would dial back its cheap money program come as Russia expects a loosening of economic policy
(CNN) -- Russian billionaire Oleg Deripaska has dismissed the markets rout that followed the Federal Reserve's suggestion it would wind back its stimulus program later this year as "very emotional."
Deripaska, speaking to CNN at the St Petersburg International Economic Forum, said the reaction on Russian markets -- which included a 4% drop in stock prices -- was "disproportionate" to the country's economic situation.
Deripaska also played down the significance of Russia's pledge to crack down on tax evasion as part of an agreement with other G8 leaders.
Russia: We can survive if Fed winds down stimulus
Deripaska, who Forbes estimates to be worth $8.5 billion, told CNN the Russian president's plans "wouldn't change anything for us."
The comments were "sort of warning...keep paying taxes," he said.
CNN Twitter chat: Africa on the rise as BRICs fall?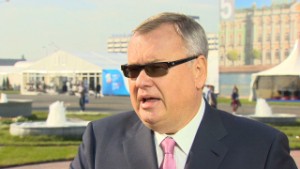 Are Russian interest rates too high?
The Fed's hints it would dial back its cheap money program come as Russia expects a loosening of economic policy under its new bank head, Elvira Nabiullina.
At 8.25%, the country's interest rate is high for developing economies and, according to Deripaska, the new leadership will help restructure the country's financial sector. His views echo those of VTB president Andrey Kostin, who earlier told CNN interest rates were too high. Kostin said he expected a change in focus of monetary policy, to become more "relaxed."
Deripaska said the country produced enough raw materials but now needed to invest money in processing. "Russia has a lot of opportunity inside Russia to grow," he said.

Today's five most popular stories
Part of complete coverage on
St. Petersburg International Economic Forum
June 21, 2013 -- Updated 0934 GMT (1734 HKT)

Around the world, and in developing nations especially, there is an overwhelming demand for higher education. So can it be satisfied online?
June 20, 2013 -- Updated 1807 GMT (0207 HKT)

Russia's finance minister has played down the impact of a dialing-back of the U.S. Federal Reserve's stimulus program, saying the country will weather it better than others.
June 20, 2013 -- Updated 0507 GMT (1307 HKT)

Global power players are gathering for high-level talks in St. Petersburg, but one speaker says change can be made in more modest ways: On the football field.
June 19, 2013 -- Updated 1748 GMT (0148 HKT)

Updated global forecasts make for ugly reading. But look closely and you can pick out the true future powerhouses of the world.

The BRIC nations were tagged to drag the globe out of economic despair. CNN asked experts where we should be looking for hope -- the BRICs? Africa? Or the South?
June 9, 2013 -- Updated 1314 GMT (2114 HKT)

A two day summit between the U.S. and China wrapped up with words of agreement.
June 11, 2013 -- Updated 1516 GMT (2316 HKT)

Was the "B" put in BRICs just to make the name sound good? Some would argue that appears to be the case now.
March 27, 2013 -- Updated 1449 GMT (2249 HKT)

The term "BRICS" used to describe these rapidly growing economies is so last year; today everyone is talking about the "CIVETS."
March 27, 2013 -- Updated 0948 GMT (1748 HKT)

Could the BRICS really have a development bank? India's finance minister gives his view.
June 12, 2013 -- Updated 1434 GMT (2234 HKT)

The United Arab Emirates and Qatar got what they wanted: An upgrade to emerging market status. But Greece got downgraded.