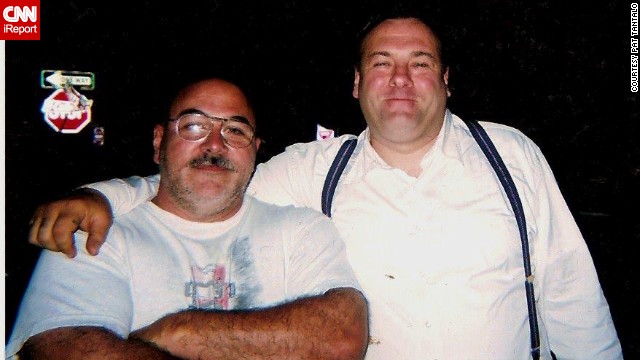 When the news broke on Wednesday that "The Sopranos" star James Gandolfini died at 51, tributes poured in around the world, including CNN iReport. "So long, paisan" was how Orlando, Florida, resident
Pat Tantalo
chose to say goodbye to the friend he met on the set of the 2006 film "Lonely Hearts." "When Jimmy arrived, he was bigger than life. He shook everyone's hands and made sure he learned everyone's name. We were just finishing a production meeting and we introduced ourselves. We instantly connected. He planted his huge mitts on my shoulders and called me a little bull."
Randy Robinson
worked on the set of "Lonely Hearts" as well. "When I first met him it took a little time for him to warm up to you, but after he did, he was like a big funny bear. He was very tired on many occasions on set. There was this old couch where he would lay down for a much-needed nap. He snored louder than a bear could growl. They actually had to wake him because the microphones would pick it up."
Julio Ortiz-Teissonniere
met Gandolfini outside of his Broadway show, "God of Carnage," in 2009."I thought how cool it was when he spoke to a former classmate of his that was standing next to me waiting to get his autograph. He remembered her and he even asked about another classmate."
Erin Farley went to several locations in North Caldwell, New Jersey, the morning after Gandolfini died, including the Holsten's Ice Cream Parlor, site of the famous final scene of the series. "Being from New Jersey, Tony Soprano was always a name I heard growing up. And yesterday when he passed away, my state was so affected and I wanted to find out why."
booth
that Tony Soprano sat in during the very last episode. A reserved sign sits on the table alongside a newspaper dedicated to Gandolfini."
Farley pointed out that, as of Wednesday night, "Ice cream eaters can sit anywhere but the
Neigbors and fans flocked to the home which was used as the home of the Sopranos to pay their respects. "The neighbors remember him as a friendly guy who would just come up and hug you. Though he played a criminal on television, they say he was one of the nicest men and always waved hello."
Farley saw a candle and a bag of pasta left in front of the driveway, in "Tony's" memory. "It was really interesting to listen to people call him Tony and not James. Everyone called him Tony, that's just who he is. He was an icon for New Jersey and it shows."
Art Frewin
named his Wellin, Ontario, bar the "Bada Bing Roadhouse," inspired by "The Sopranos," and paid tribute on the sign outside his establishment when he heard the news. "I was sorry to see Tony ... James pass away. We'll always know him as Tony, you know. I thought he was a brilliant actor who played a brilliant part. I was very taken aback. 51 is way too young."
'So long, paisan:' Fans mourn Gandolfini
'So long, paisan:' Fans mourn Gandolfini
'So long, paisan:' Fans mourn Gandolfini
'So long, paisan:' Fans mourn Gandolfini
'So long, paisan:' Fans mourn Gandolfini
'So long, paisan:' Fans mourn Gandolfini
'So long, paisan:' Fans mourn Gandolfini
'So long, paisan:' Fans mourn Gandolfini