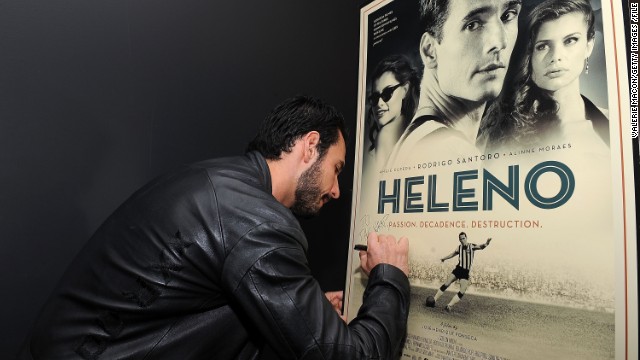 Actor Rodrigo Santoro signs a poster for the film "Heleno", in which he plays the mercurial striker. A destructive personality, together with illness and drug problems prevented Heleno from becoming one of Brazil's greatest ever players. But he helped pave the way for some of the world's greatest soccer icons...
Ask many Brazilians who is the greatest footballer of all time and their answer will be simple: "Pele." The striker won three World Cups with Brazil between 1958 and 1970 and is his country's leading goalscorer with 77 goals from 92 caps.
Most football fans would say Argentina's Diego Maradona is the only player who can rival Pele for the title of greatest ever. In Brazil, however, Garrincha is regarded as the only player who comes close to the great man. The tricky winger was a key part of Brazil's World Cup triumphs in 1958 and 1962. Sadly, Garrincha struggled with alcohol problems and died of liver cirrhosis aged 49.
After a Pele-inspired triumph in 1970, Brazil would wait 24 years before lifting the World Cup again. Although the 1980s was a barren decade in terms of trophies for Brazil, the team which the South Americans sent to the 1982 World Cup is heralded as one of the most entertaining in history. Central to its free-flowing, attacking style was Zico, a midfielder of considerable craft and guile who collected 72 caps between 1976 and 1988.
When Brazil finally won the World Cup for a fourth time in 1994 in the U.S., the team was derided by some for being too functional. In a team short of star quality, striker Romario was the shining light, scoring five goals as Brazil lifted the trophy thanks to a penalty-shootout victory over Italy.
Ronaldo watched on as Romario fired Brazil to victory in 1994, four years later he was the star man at France 1998. Brazil lost the final 3-0 to the hosts, with mystery surrounding their starting 11 as Ronaldo was left out of, then reinstated to, the team for the deciding match at the Stade de France. Ronaldo's redemption arrived in 2002, when he scored both goals as Brazil beat Germany 2-0 to lift the World Cup for a fifth time.
While Ronaldo was the star man in Japan and South Korea, he was ably supported by flamboyant playmaker Ronaldinho. Ronaldinho's performance in the World Cup earned him a move to Barcelona in 2003, where he went on to win the European Champions League in 2006. He was twice named FIFA World Player of the Year.
The latest Brazilian tipped for stardom is Neymar, who recently followed in Ronaldinho's footsteps by joining Barcelona. All eyes will be on the forward when Brazil host the World Cup in 2014. Neymar has made a good start to Brazil's Confederations Cup campaign, scoring two goals in two matches.
Heleno
Pele
Garrincha
Zico
Romario
Ronaldo
Ronaldinho
Neymar?
STORY HIGHLIGHTS
Heleno de Freitas was one of Brazil's first soccer stars
Striker starred for Botafogo in Rio de Janeiro in the 1940s, scoring over 200 goals
Heleno missed out on the 1950 World Cup after pointing a gun at Brazil's coach
He died aged just 39 after struggling with syphilis and drug problems
Editor's note: Ready to Play debuts on CNN International on July 26 at 1530.
(CNN) -- Women wanted him. Men wanted to be him.
Seven decades before Neymar, a world away from Ronaldinho and Ronaldo, a predecessor to Zico and Socrates and a formidable striker who could have rivaled Pele.
That man was Heleno de Freitas, a soccer superstar in the days before Brazil ruled the "beautiful game."
He was a larger than life playboy who abandoned a legal career to become his country's finest footballer. And before the Maracana -- Brazil's iconic stadium in Rio de Janeiro -- was built, Heleno was the city's star attraction with a "Jekyll and Hyde" personality which saw him flit from outrageous charmer to disruptive egoist.
Read: 'The man who made Brazil cry'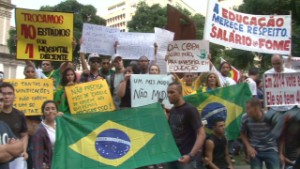 Greivanes unleashed in Brazil protests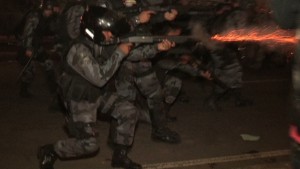 Shocking video shows Brazil clashes
"Sometimes he was a gentleman, other times you couldn't stand him," explains Marcos Eduardo Neves, author of "There was never a man like Heleno."
"Like the book by R.L. Stevenson, he was a doctor and a monster," Neves told CNN.
Heleno is best remembered for his nine-year spell with Rio club Botafogo, scoring over 200 goals for the team between 1939 and 1948 to become one of South America's most feared strikers.
Blog: Can anyone stop Spain at 2014 World Cup?
But his career, much like his life, was tinged with tragedy, as circumstance and his ability to press the self-destruct button prevented him from capturing any significant silverware as a player.
"He grew up knowing he wanted to be a football player," says Neves. "When he moved from Minas Gerais to Rio he marveled at beach football and Botafogo ... His will became an obsession."
An affluent background had afforded Heleno the opportunity to train as a lawyer, but the courtroom could not contain his football talent or his vibrant personality.
World Sport Presents: Racism in Football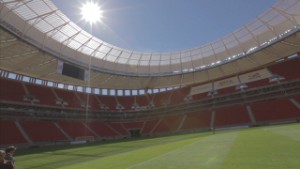 Will Brazil be ready for the World Cup?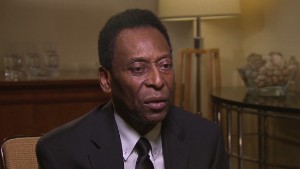 Pele: Mourinho is 'good for Chelsea'
"He had a big ego and his soul craved the screams of thousands of football supporters," Neves says.
"He loved his star status, being an international idol, playing for his national team and being desired by women and admired by men.
"He thought his fame would be eternal. He believed he would be Heleno de Freitas forever."
Arguably Heleno's crowning moment -- Brazil's crowning moment -- should have come at the 1950 World Cup.
It was the first time Brazil had hosted the tournament -- next year the World Cup returns to the South American nation for a second time-- and it was an opportunity for the country to announce itself as a global power, both on and off the pitch.
With the grandest of stages -- the Maracana -- constructed, Heleno's public awaited.
But when 200,000 Brazilians packed into the stadium for an agonizing defeat to Uruguay in the tournament's final match, Heleno was nowhere to be seen.
Read: The football-mad nation that had it all
"Because of World War II, Heleno missed out on the World Cups of 1942 and 1946," explained Neves. "The 1950 World Cup was his last chance, given his physical and technical peak. But he wasted it."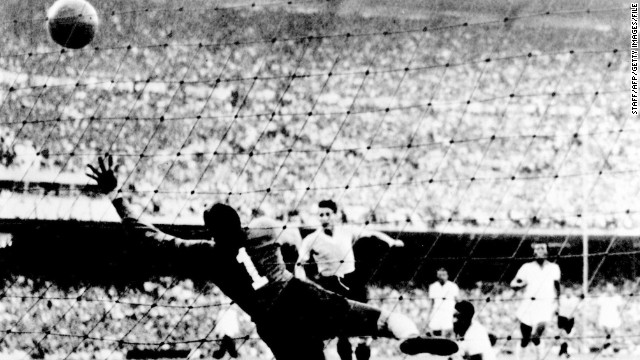 Moacyr Barbosa Nascimento's life was forever changed after the 1950 World Cup. With Brazil needing just a draw against Uruguay in its final game to lift the trophy for the first time, the team lost 2-1 and he was blamed for the second goal. The goalkeeper's perceived mistake haunted him. Twenty years later he overheard a woman in a supermarket say to her son, "There is the man who made Brazil cry."
The Maracana Stadium in Rio de Janeiro was the venue for the 1950 final, with 200,000 spectators packed into the purpose-built arena. The stadium has been redeveloped and a crowd of 78,000 people will watch the final of 2014 World Cup at the iconic ground.
All eyes will be on Neymar during both June's Confederations Cup and next year's World Cup. The attacker, who recently signed for Barcelona in a deal reportedly worth in excess of $80 million, is Brazil's star player and must perform to his best if "La Selecao" are to satisfy an expectant public.
The Brazil team of 1970, which beat Italy 4-1 in the World Cup final in Mexico, is widely regarded as the greatest of all time. Pele, a three-time World Cup winner seen here leaping on his teammates, says Brazil must recover from the failure of 63 years ago.
Carlos Alberto, captain of the 1970 team, lifts the Jules Rimet trophy which Brazil was allowed to keep after becoming the first nation to win the World Cup three times. The former fullback thinks next year's World Cup will come too soon for Brazil's inexperienced team.
Luiz Felipe Scolari was the coach of the last Brazil team to lift the World Cup, in Japan and South Korea in 2002. The veteran has been reappointed in a bid to inject life into an ailing Brazil team. His results have so far left much to be desired: two wins, one defeat and four draws since November 2012.
England was Brazil's first opponent at a refurbished Maracana earlier this month. A half-volley from midfielder Paulinho, pictured, rescued a 2-2 draw for the 2014 World Cup host.
Brazil's most recent match, the last before the Confederations Cup starts, ended in a comfortable 3-0 defeat of France. A penalty from Lucas Moura, right, completed the scoring.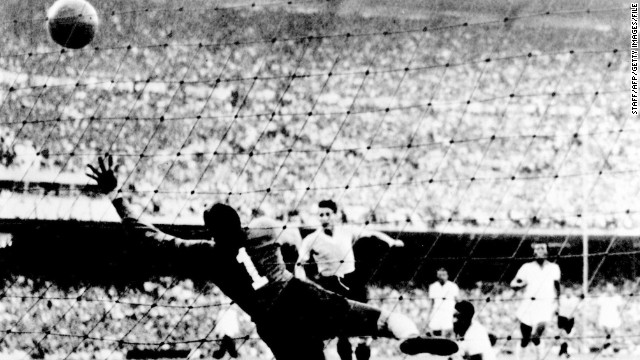 Brazil's most painful moment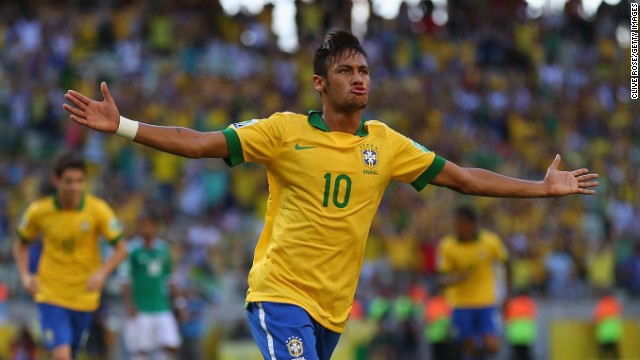 Hours after declaring himself saddened by the need for protests against Brazil's social conditions, Neymar brought joy to his compatriots with the opening goal in a 2-0 win over Mexico.
A family of four negotiate their way to the game as riot police prevent protesters from gaining access to Fortaleza's Castelao Stadium.
Protesters confront riot police officers on the distant outskirts of the Castelao Stadium, which has been newly built for next year's World Cup at a cost of $240 million.
A police officer holds his weapon as protesters continue their demonstration ahead of Brazil's Group A match with Mexico in the ongoing Confederations Cup.
Fans hold up banners - which state that they are protesting against corruption, rather than the national team - ahead of Brazil's 2-0 win over Mexico.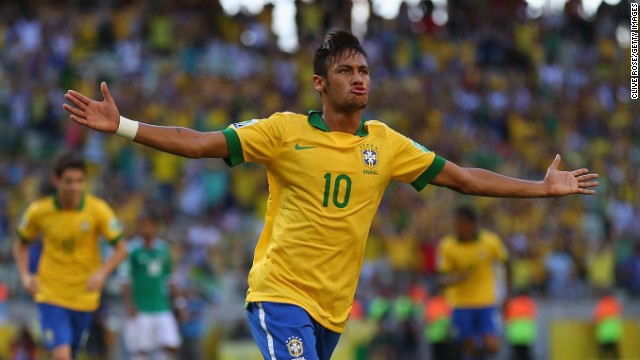 Confederations Cup: Brazil beats Mexico as Fortaleza protests
In 1949 Heleno was playing for Vasco Da Gama, having spent the previous year living the high life in Argentina with Boca Juniors -- with his spell in Buenos Aires rumored to have even included a fling with Argentina's then First Lady, Eva "Evita" Peron.
Heleno's coach at Vasco was Flavio Costa, who was also in charge of the Brazil national team.
But Costa criticized the attitude of his combustible star and Heleno's response was typically trigger happy.
He pointed a gun to Costa's head and pulled the trigger. The gun wasn't loaded, but that action was enough to kill Heleno's dreams of playing in the World Cup.
Vasco won the Rio de Janeiro State Championship, but by now Heleno was an outcast.
When Brazil was left heartbroken by a 2-1 defeat to Uruguay which destroyed its World Cup dreams, Heleno was playing in Colombia's lucrative illegal leagues.
"For the fans, Brazil lost the World Cup because they didn't have Heleno," says Neves. "Brazil feared a valiant Uruguay. With Heleno, it wouldn't be like this. He didn't fear anyone or anything.
"They say that, in 1951, Heleno used to say he could have saved Brazil," says Jose Henrique Fonseca, director of the biographical film "Heleno," which was released in 2011.
By the time Brazil, led by the precocious talents of Pele and Garrincha, finally won the World Cup for the first time in Sweden in 1958, Heleno was hurtling towards an early grave.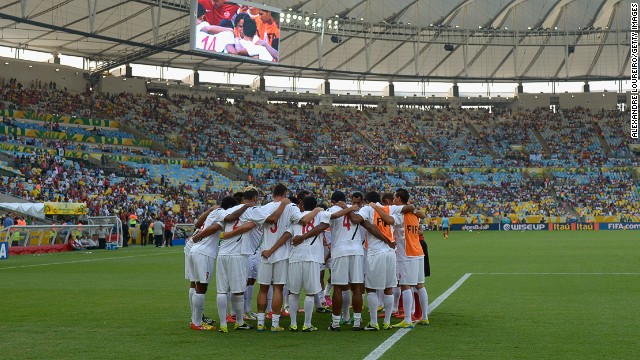 Tahiti form a huddle before their showdown with World and European champions Spain. The minnows are ranked 137 places below their opponents and eventually lost their Confederations Cup match 10-0 in Brazil.
Before the game Tahiti's players presented each man in the Spanish squad with a necklace. Here, Steevy Chong Hue puts one round the neck of Cesar Azpilicueta.
Tahiti had huge support among the 71,000 crowd at the famous Maracana stadium in Rio, from a clutch of their own supporters, as well as the neutral fans who threw their weight firmly behind the underdogs.
Fernando Torres grabbed four goals in Spain's victory, but the biggest cheer of the night came when he missed a second half penalty.
David Villa registered a hat-trick as Spain cut through Tahiti's rearguard time and time again.
Tahiti goalkeeper Mickael Roche had his busiest evening on a football field as Spain peppered his goal.
Tahiti's players lap up the acclaim from the stands at the end of the match.
There was a heavy police presence on the streets in Rio before the match in response to the ongoing protests in Brazil.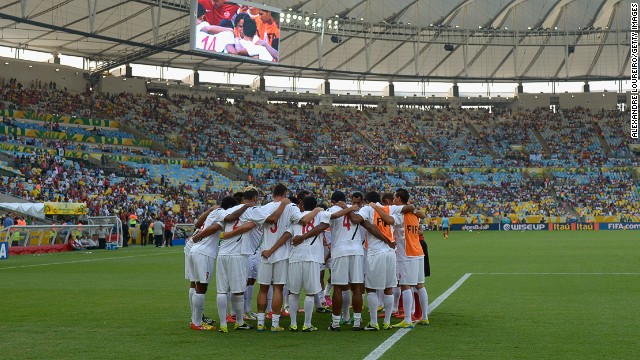 Tahiti's mission impossible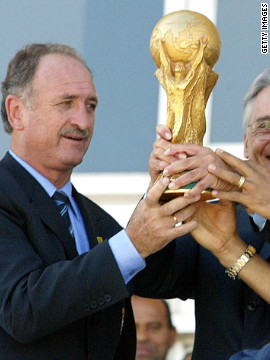 Luiz Felipe Scolari first took over Brazil in 2001, turning around their 2002 World Cup qualification campaign and leading them to a record fifth tournament win in Japan and South Korea.
"Big Phil" also enjoyed a degree of success in charge of Portugal. When the Iberians hosted Euro 2004 all appeared to be going to plan as Portugal reached the final. But Scolari and his team were beaten 1-0 by underdogs Greece in the Lisbon final.
Portugal bounced back and reached the last four of the 2006 World Cup in Germany. But Scolari's team ran into a Zinedine Zidane-inspired France in the semifinals, with "Zizou" scoring the winning penalty.
Chelsea's oligarch owner Roman Abramovich hired Scolari in 2008. Despite Scolari's Chelsea starting the season in fine attacking form, he was fired in February 2009 after a run of poor results.
Scolari joined Sao Paulo-based Palmeiras in 2010. With his team struggling, Scolari departed the club in September. Palmeiras were consequently relegated to Brazil's second tier.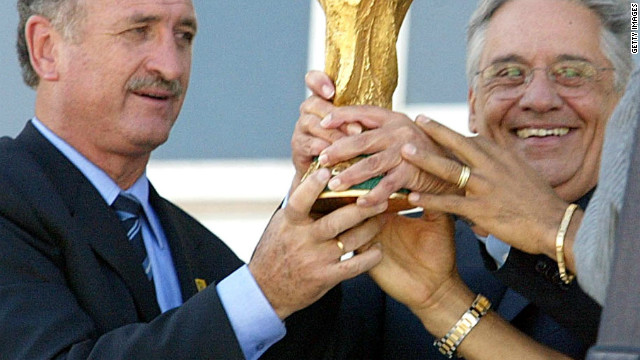 The career of Luiz Felipe Scolari
"Heleno became a walking bomb ready to explode. Syphilis and drugs just amplified his self-destruction," Neves says.
"He had a good upbringing, he was elegant, educated and from a good family. He could have enjoyed a career as a lawyer or diplomat -- instead he suffered a pathetic death in a mental institution."
Heleno died on November 8, 1959, aged just 39.
"He was a victim of his refusal to be treated for syphilis and if untreated it affects the brain," Fonseca told CNN.
"He suffered a lot. To see a photo of him when he died is amazing, he looked 70 years old."
Could Heleno, free from disease and drug addiction, have carved out a legacy as formidable as Pele, who is widely regarded as the greatest player who has ever lived?
"Pele is one of a kind, like Michael Jordan, Tiger Woods and surfer Kelly Slater are," says Neves. "But Heleno would be more recognized worldwide. Maybe at the level of a Zico, Romario and Ronaldo."
For Brazil, much like the tale of the 1950 World Cup final, Heleno's story is one of what might have been.