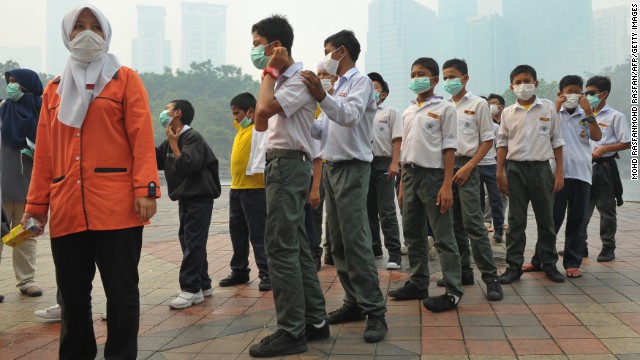 Students wear masks as haze shrouds Kuala Lumpur on June 23. Many schools in Malaysia were closed on Monday after air pollution caused by forest fires in Indonesia spiked to hazardous levels.
Motorists drive as haze shrouds Malaysia's landmark Petronas Twins Towers in Kuala Lumpur on June 23. The Malaysian government declared a state of emergency on June 23 in two southern areas.
A woman helps her friend with a face mask as haze shrouds Kuala Lumpur on June 23.
Elderly people sign up to collect face masks at the community centre for the low income in Singapore on June 22, 2013.
Apartment buildings were shrouded in a haze of smoke on Wednesday, June 19, in Singapore. The city-state's worst pollution crisis in more than a decade, the haze stems from illegal slash-and-burn forest fires in neighbouring Sumatra, Indonesia.
An aerial photograph taken on June 17 showed smoke billowing from fires in areas surrounded by agricultural plantations in Rokan Hilir town in Sumatra, about 280 kilometers (173 miles) west of Singapore.
The Singapore Flyer ferris wheel was barely visible through the smoke haze on June 20. That day, the country's Pollutant Standards Index (PSI) rose to the highest level on record, reaching 371.
Undeterred by the smog, a couple took engagement photographs in front of the city's skyline at the Marina Bay waterfront on June 20.
A man cut a striking figure against Singapore's hazy skyline on June 20.
Masked pedestrians crossed a street in the central business district on June 20.
A local pharmacy put up an out-of-stock notice for face masks on June 20.
People sat by the Singapore River as the city's hazy skyline was relatively brightened by night lights on June 20.
The CEO of Singapore's National Environment Agency, Andrew Tan (R), arrived at the Indonesia Foreign Ministry office in Jakarta on June 20. Tan led the Singapore delegation for an emergency haze meeting convened by the Indonesian Foreign Ministry.
Indonesian firefighters from the Forest Ministry battled forest fires on June 20 in Pekanbaru, the capital of Riau province on Sumatra island.
NASA's Terra and Aqua satellites capture images of smoke billowing from wildfires on Sumatra toward Singapore on June 19.
Malaysia chokes on smoke
Malaysia chokes on smoke
Malaysia chokes on smoke
Singapore chokes on smoke
Singapore chokes on smoke
Singapore chokes on smoke
Singapore chokes on smoke
Singapore chokes on smoke
Singapore chokes on smoke
Singapore chokes on smoke
Singapore chokes on smoke
Singapore chokes on smoke
Singapore chokes on smoke
Singapore chokes on smoke
Singapore chokes on smoke
STORY HIGHLIGHTS
Singapore's pollution index hits record high as smoke lingers over city state
Reading hits 401, while anything above 300 is considered "hazardous"
The smoke, caused by seasonal burn off in Sumatra, is straining political relations
Singapore PM says it could last for weeks, if not months
Are you in Singapore? Send us your experiences and images of the haze but please stay safe.
Hong Kong (CNN) -- Singapore's pollution standards index (PSI) tipped the scales at 401 at noon on Friday, the highest ever recorded, as the government warned that the lingering haze could last for weeks.
The National Environment Agency warned the elderly, pregnant women, children and those with heart and lung conditions to remain indoors as the index hit an historic high. An index reading above 300 is defined as "hazardous" and is regarded as potentially life threatening to the ill and elderly.
Interactive: See the smog descend on Singapore
Meanwhile, Singapore's Prime Minister Lee Hsieng Loong warned residents angry about the smoke wafting in from Indonesia that they may have to learn to live with it, for now.
"We can't tell how this problem is going to develop because it depends on the burning, it depends on the weather, it depends on the wind," he told a press conference on Thursday.
"It can easily last for several weeks and quite possibly it could last longer until the dry season ends in Sumatra which may be September or October."
READ: Singapore chokes on haze
The Straits Times reported that queues had formed outside pharmacies across the island on Friday morning and that many had sold out of the particulate-filtering N95 respiratory masks within minutes.
While schools remained closed in Singapore for the summer break, more than 300 were shut temporarily in nearby Malaysia due to the haze. Many office workers in the city-state, meanwhile, struggled to get to work through the haze-shrouded central business district.
It looks like that footage of London smog in the 1950s, except that it smells like a day-old hearth
British expat, Singapore
"It looks like footage of London smog in the 1950s, except that it smells like a day-old hearth," a British expat energy sector analyst, who did not want to be named, told CNN.
'It smells like burning' says Singapore resident
Singapore's Minister for the Environment, Vivian Balakrishnan, flew to Jakarta on Thursday evening to meet with his Indonesian counterparts in a bid to coordinate a response to the smoke problem. The haze, caused by seasonal burn off in Sumatra, has strained relations between the two countries which normally share friendly ties.
"Singapore should not be behaving like a child and making all this noise," senior Indonesian minister Agung Laksono told a press conference on Thursday. "It's not what Indonesians want, it's nature."
Singapore -- which prides itself on its good air quality and green credentials - -- has blamed Indonesian commercial interests for causing the smoke problem.
"Singaporeans have lost patience, and are understandably angry, distressed and concerned," Balakrishnan said on his Facebook page. "No country or corporation has the right to pollute the air at the expense of Singaporeans' health and wellbeing."
Jakarta, meanwhile, has pointed the finger at Singaporean palm oil ventures which it says have caused the smog by clearing land to make way for plantations that provide the feedstock for city-state's refining industry.
"The slash-and-burn technique being used is the cheapest land-clearing method and it is not only used by local farmers, but also employees of palm oil investors including Singaporean and Malaysian companies,'' Hadi Daryanto, a senior official at Indonesia's Forestry Ministry, told Indonesian media.
"We hope the governments of Malaysia and Singapore will tell their investors to adopt proper measures so we can solve this problem together.''
Three Singapore-based palm oil companies with land concessions in Indonesia, including Wilmar International Ltd, Golden Agri-Resources Ltd and First Resources Ltd, said this week they had "zero burning" policies and used only mechanical means to clear land.
Singapore's Prime Minister Lee said the city-state had provided satellite data to Indonesia to help identify who was responsible for the fires.