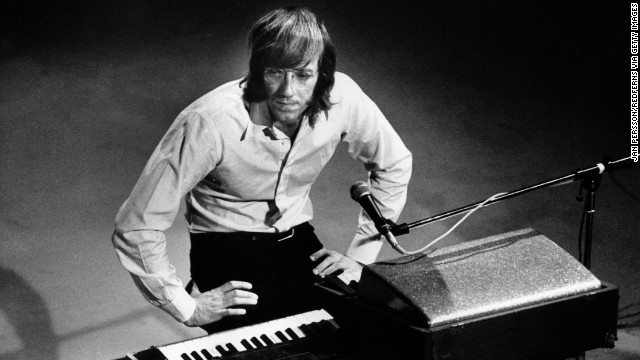 The Doors' founding keyboardist, Ray Manzarek, died at 74 in Germany on Monday, May 20, after a long fight with cancer, his publicist said.
From left, Manzarek, Robbie Kreiger, John Densmore and Jim Morrison pose in the studio. The Doors formed in 1965 after Manzarek happened to meet Morrison on California's Venice Beach.
From left, Densmore, Krieger, Morrison and Manzarek arrive at the London Airport in 1968. Their third studio album, "Waiting for the Sun," was released that year.
The Doors perform on a television set in Copenhagen, Denmark, on September 18, 1968. The legendary rock group went on to sell 100 million albums worldwide, establishing five multiplatinum discs in the U.S.
Manzarek is interviewed in the dressing room at Richard's Rock Club in Atlanta on May 18, 1974. He continued to work as a musician after The Doors disbanded following Morrison's death in 1971.
Manzarek performs at a concert in Los Angeles celebrating the 100th anniversary of Harley-Davidson on September 6, 2002.
The Doors of the 21st Century perform at the Miller Rock Thru Time Celebrating 50 Years of Rock Concert at Roseland in New York on September 17, 2004. The band was formed by Manzarek and Doors bandmate Robby Krieger in 2002.
Manzarek plays on stage at the Miller Rock Thru Time concert in 2004.
Manzarek delivers a speech after being honored by a star on the Hollywood Walk of Fame on February 28, 2007. The Doors were celebrating the 40th anniversary of their debut album.
Manzarek performs at the Annual Sunset Strip Music Festival's Tribute to Motley Crue at the House of Blues in Hollywood, California, on August 18, 2011.
Ray Manzarek, left, and Krieger of The Doors strike a pose at the screening of "The Doors Mr. Mojo Risin': The Making of L.A. Woman" at the Egyptian Theater in Los Angeles on January 20, 2012.
Doors keyboardist Ray Manzarek
Doors keyboardist Ray Manzarek
Doors keyboardist Ray Manzarek
Doors keyboardist Ray Manzarek
Doors keyboardist Ray Manzarek
Doors keyboardist Ray Manzarek
Doors keyboardist Ray Manzarek
Doors keyboardist Ray Manzarek
Doors keyboardist Ray Manzarek
Doors keyboardist Ray Manzarek
Doors keyboardist Ray Manzarek