Pakistani prime minister: Musharraf should stand trial for treason
June 24, 2013 -- Updated 1105 GMT (1905 HKT)
STORY HIGHLIGHTS
Former President Pervez Musharraf is accused of abrogating the constitution
The country's new prime minister, Nawaz Sharif, says Musharraf should stand trial
The two men clashed in the late 1990s when Musharraf was army chief
Musharraf overthrew Sharif's elected government in a bloodless coup
Islamabad, Pakistan (CNN) -- Former Pakistani President Pervez Musharraf should stand trial for treason, the country's prime minister said Monday.
Prime Minister Nawaz Sharif accused Musharraf of illegally abrogating the constitution in November 2007.
That month, Musharraf declared a state of emergency, suspended Pakistan's constitution, replaced the chief judge and blacked out independent TV outlets.
Musharraf said he did so to stabilize the country and to fight rising Islamic extremism. The action drew sharp criticism from the United States and democracy advocates. Pakistanis openly called for his ouster.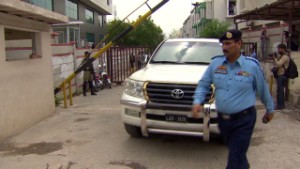 Former President Musharraf in court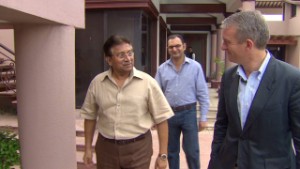 Pervez Musharraf facing charges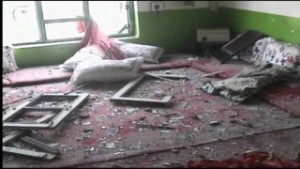 Secret drone deal between Pakistan, U.S.
Under pressure from the West, he later lifted the state of emergency and promised elections.
When those elections came, his party was dealt a serious blow.
Musharraf stepped down in August 2008 as the governing coalition began taking steps to impeach him.
Raza Bokhari, a spokesman for Musharraf, accused the government of "demonstrating recklessness in its intention to pursue unwarranted treason charges" against him, saying the former president had served the country with "selfless devotion and perseverance."
No love lost
It's not surprising that Sharif would call for Musharraf to be held criminally liable -- there is no love lost between the two men.
In the 1990s, when Sharif was prime minister, Musharraf was military chief. Sharif feared Musharraf was plotting his ouster.
He fired Musharraf in October 1999 after the army's failed invasion of Kargil, in Indian-held Kashmir. And when Musharraf was on a flight to the city of Karachi, his plane was initially denied permission to land, allegedly by Sharif.
The military responded by overthrowing Sharif in a bloodless coup. Musharraf took power, and a court subsequently convicted Sharif on hijacking and treason charges.
Sharif managed to negotiate a period in exile in Saudi Arabia instead of prison. He returned to Pakistan to challenge Musharraf's rule in late 2007.
His party didn't win. But he waited.
This year, his party won a majority of the votes, putting him back in power.

Part of complete coverage on
December 13, 2013 -- Updated 1644 GMT (0044 HKT)

Put aside out-of-date views of Africa and see it the way Africans seem to: With a high level of optimism, a CNN survey shows.
December 13, 2013 -- Updated 0937 GMT (1737 HKT)

The all too real political theater playing out in Pyongyang may offer another tantalizing glimpse behind the opaque curtain of the North Korea.

Read the journal of Mira Sorvino, a human rights activist and Oscar winning actress, who went to Cambodia with the CNN Freedom Project.
December 13, 2013 -- Updated 0757 GMT (1557 HKT)

Kenya could reinvent itself as a center for innovation. But it needs to build new research universities and expand its education, one expert argues.
December 12, 2013 -- Updated 1819 GMT (0219 HKT)

The sign language interpreter widely ridiculed for his performance at the Nelson Mandela memorial stands by his work.
December 12, 2013 -- Updated 1456 GMT (2256 HKT)

Behind the scenes in Cambodian karaoke bars -- a common front for child prostitution.
December 12, 2013 -- Updated 0446 GMT (1246 HKT)

A global risk firm surveys the most politically explosive countries.
December 12, 2013 -- Updated 1509 GMT (2309 HKT)

On Tuesday, I was free. On Wednesday, I became a criminal. India's high court just made being gay illegal, writes Tushar Malik.
December 12, 2013 -- Updated 1046 GMT (1846 HKT)

A Japanese actor says playing villians in Chinese films has helped the China-Japan divide. CNN's Ivan Watson reports.
December 11, 2013 -- Updated 1524 GMT (2324 HKT)

Pope Francis is Time's person of the year. His papacy has drawn adulation from people around the world for his man-of-the-people ways.

He was imprisoned for life but that did not quiet him. Nelson Mandela became South Africa's first black president, and an icon and inspiration.
December 13, 2013 -- Updated 1333 GMT (2133 HKT)

Browse through images you don't always see in news reports, taken by CNN teams all around the world.

Today's five most popular stories