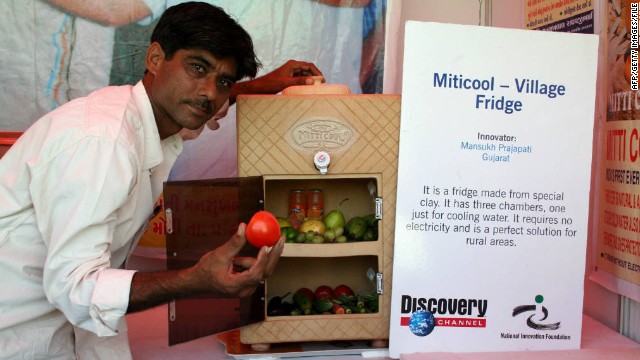 The Mitticool Fridge was developed and launched by Indian engineer, Mansukhbhai Prajapati (pictured), in 2006. Made entirely from clay, the device costs roughly $50 and uses no electrical power. It can keep items of food fresh for up to five days and has been a valuable addition to rural communities in India.
In consultation with local communities, Frugal Digital developed Darshana, a low-cost lunch box projector for use in schools. The projector is fitted with a small USB 2.0 port and uses a phone touch screen as a trackpad.
GE's Vscan is a pocket-sized ultrasound device being utilized in both developing and developed regions of the world. Launched in 2010, the hand-held tool costs just $7,900 (compared to traditional ultrasound consoles which can cost as much as $150,000) and has improved access to advanced prenatal care in areas of rural China, India and Africa.
Mehtar Hussain and Mushtaq Ahmed from Assam built a bamboo windmill for around $100 to pump water from a small padi field. The invention has now been adopted by Gujarati salt workers, who are some of the poorest people in the state, to pump brine water. Petrol-powered pumps consume huge amounts of fuel, at a cost of around $1,000 each year. The wind-powered pump runs at a fraction of the cost.
Paresh Panchal's bamboo splint-making machine makes it possible for people in isolated villages to make incense sticks at low cost. Bamboo splint-making has been done manually for years using knives, which can be tedious, time-consuming and risky. The machine was awarded at the 7th annual presidential grassroots innovation awards in March, 2013.
Professor Anil Gupta shows Hollywood film director James Cameron a biomass gasifier invented by Raj Singh Dahiya. Dahiya was born into humble circumstances, but taught himself engineering from a young age. The gassifier -- developed over 20 years -- creates fuel from farm waste bringing power to otherwise isolated areas of the country to light houses, filter water, and run mills.
Mansukhbhai Jagani's motorcycle-based tractor is both cost effective -- costing roughly $318, and fuel efficient -- it can plow an acre of land in 30 minutes with just two liters of fuel.
D. Renganathan developed a mechanical tree climber which can be used for scaling palm and coconut trees. Climbing trees for harvest is difficult and dangerous work -- the tree climber designed by Renganathan uses a 'four-lock pin' system to prevent falls. The device now sells across south Asia.
Frugal Digital also developed Clock Sense, a monitor converted from an old alarm clock which can easily assess temperature, pressure, pulse, oxygen saturation, respiration rate, blood sugar. It is cheap to produce and can be assembled from components which are easy to find across India. The indicator provides simple information: red means the patient should be taken to the hospital immediately, yellow indicates that an appointment with a doctor should be made, green indicates good health.
Staff monitor a ward of a Narayana Hrudayalaya clinic in southern India. Somewhere between Walmart and a low-cost airline, the chain of medical centers aim to bring affordable healthcare to the masses. The organization's founder, Dr. Devi Shetty, even believes he will be able to conduct heart surgery for as little as $800 (compared to as much as $100,000 for the same procedure in some hospitals in the U.S.)
A woman is interviewed by a citizen journalist for for CGNet Swara, a voice portal that allows rural Indians to dial-in via their mobile phones and listen to local news reports for areas where there is often little media coverage.
Indian prosthetics organization, BMVSS, say they can produce an artificial limb for as little as $45. This compares to upwards of $10,000 dollars for a similar procedure in the U.S. Thousands of Indian amputees who would otherwise be unable to afford expensive medical procedures have benefited from BMVSS and their "Jaipur Foot" program since it was established in 1975.
Frugal innovation
Low-cost projections
Affordable health
Wind power
Cut-price incense
Blockbuster idea
Easy rider
Scalable business
Time is a cure
No frills healthcare
Local news
Affordable prosthetics
STORY HIGHLIGHTS
Indian inventors recycle old technology to solve local problems
Inventions include amphibious bicycles, wind-powered irrigation systems and tree-climbing machines
Frugal innovators around India have patented their inventions and received awards
Virtual Think Tank is a digital series focusing on the emerging markets, covering their startups, the power of the middle classes on their economies and the macro environment.
(CNN) -- In 2001 a huge earthquake shook the state of Gujarat in India.
2,000 people were killed, 400,000 lost their homes, and countless more lost their businesses in the devastation.
One young entrepreneur, Mansukhbhai Prajapati, lost everything, but found an innovative way to get back on his feet. Prajapati designed a low-cost clay fridge which required no electricity and continued to function in the event of major catastrophes or blackouts such as the one that devastated his village.
Prajapati's invention is part of a growing trend in India that has become known as "frugal innovation" -- below-the-radar inventors across the country devising low-cost solutions to local problems, often borne of necessity, using bespoke technologies of their own creation.
Read: Future of transport is self-driving cars
So striking has the trend for frugal innovation become, that last year the National Endowment for Science, Technology and the Arts (Nesta), an independent charity in the UK, commissioned and published a major research paper on the phenomenon.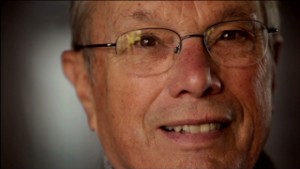 How pilot revolutionized navigation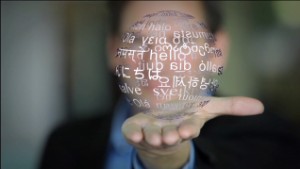 Math whiz masters machine translation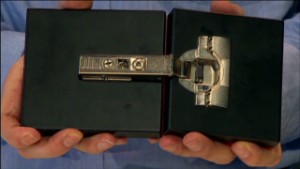 Silent success of BLUMOTION hinge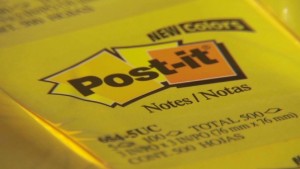 Divine inspiration behind Post-it Notes
The paper said "frugal innovation is found throughout the Indian system: from ... efforts to crowdsource drug discovery driven by government labs, to Bharti Airtel's approach to cutting the cost of mobile phone calls, to the Keralan approach to palliative care which is providing access to support at the end of life for thousands in a void of formal healthcare."
At the forefront of the frugal innovation movement is Professor Anil Gupta who, for the last 20 years, has been travelling across India in search of local inventors whose creativity has had a positive impact on rural poverty. In 1989, Gupta founded the Honey Bee Network, an organization that uncovers grassroots inventors, and helps bring their inventions to the world.
"I have walked about 4,000 kilometers in the last 12 years," says Gupta. "I have tried to map the minds of people who are creating around the country."
Read: High-school teen builds one-man submarine
Gupta's journey has brought him into contact with inventors who are solving common problems in frugal ways, using traditional knowledge and readily available materials.
By his own reckoning, Gupta believes that the Honey Bee Network has helped unearth over 25,000 new inventions, including a motorbike-mounted crop sprayer, a device for climbing trees, an amphibious bicycle and a wind-powered irrigation system.
Kirsten Bound, the author of Nesta's report, says "frugal innovation is all about creating advantage out of constraint. Faced with scarce resources and institutional voids, frugal innovators develop radical new solutions to problems. It's not just about making things cheaper, but better, more appropriate and scalable. It involves leveraging available resources in new ways, reducing or re-using waste or even re-thinking an entire system around a product or service."
Mansukhbhai Patel, a Gujerati farmer devised just such a product. Picking cotton in Gujarat is a manual task which, in the past, has frequently been undertaken by children. In a bid to reduce the work involved, Patel invented a cotton-stripping machine that can be operated by one person. Professor Gupta believes the invention has helped significantly reduce child labor in the region.
Read: Spectacular tech 'firsts' up for auction
Nothing can justify preventing people from learning from one another
Anil Gupta, Honey Bee Network founder
Frugal Digital, a research group run by the Copenhagen Institute of Interaction Design, seeks to promote exactly this kind of invention. The group runs projects in conjunction with Indian inventors to build cheap, "hackable" devices to solve enduring problems across the subcontinent.
Priya Mani, project manager for Frugal Digital, says that there is a lot to learn from "thinking about how you can hack everyday castaway objects." The projects the organization has run in conjunction with Indian inventors have already yielded products that are being used around India today, including a classroom projector fashioned from repurposed cell phone components and a low-cost health screening tool made from an old alarm clock.
But Mani believes that work being done by frugal innovators in India has yet to have a significant international impact: "People thought we were totally nuts trying to create something new out of old parts."
Bound believes that the philosophy of frugal innovation and the practice of repurposing technology could be applied globally. "Frugal innovation coming out of India could have important implications for the rest of the world" says Bound.
"General Electric has shown with its now famous ultra-low cost ECG machine that there is a Western market for products born out of the constraints of the Indian healthcare market. It forces multinationals to think about how their existing investment intensive models of innovation can face inevitable growing competition with Indian and Chinese multinationals."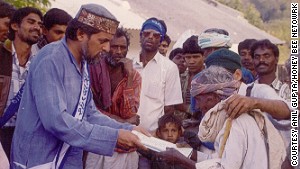 Professor Anil Gupta meets local Indian inventors
Read: Ex-cop builds robot from household goods
Of course, not all stories of frugal innovation have a happy ending. In 1975, flooding across India brought the province of Bihar to a standstill. The rising waters in the village of Jatwa-Janerwa made it impossible for many people to work, shop or go about their daily lives.
Local honey salesman, Mohammed Saidullah, was forced to cross the swollen Ganges river for sell honey, but every trip came at a price -- the boat was expensive and paying the levy was driving him towards penury -- so he came up with novel solution.
Saidullah locked himself away for three days of solid design and construction. When he emerged he had constructed an amphibious bicycle, which would allow him to contend with the annual monsoon.
It looked like a regular bike, but had large retractable floats attached to the sides of each wheel. Saidullah's invention earned him a raft of awards including the National Innovation Foundation's lifetime achievement award. Yet in spite of the recognition, the inventor still lives in poverty.
Read: How USB turned engineer into 'rock star'
Gupta says there is work to be done yet in connecting creative people with funding, and not all of it can come from the public purse.
According to Gupta, connecting grassroots technologists with big business will be key to development not just in India, but around the world. "Nothing," he says, "can justify preventing people from learning from one another."