STORY HIGHLIGHTS
Seven-time winner Roger Federer beaten in second round
Defending champion loses in four sets to Ukraine's Sergiy Stakhovsky
Stakhovsky ranked 116th in the world
Andy Murray through to third round, Jo-Wilfried Tsonga out
(CNN) -- Roger Federer, the seven-time Wimbledon champion, suffered one of the most staggering defeats in the history of the tournament after being beaten by Ukraine's 116th ranked Sergiy Stakhovsky.
The 27-year-old fought back from losing the opening set 7-6 before winning 7-6 7-5 7-5 to mark the greatest triumph of his career and end Federer's record of making 36 consecutive grand slam quarterfinals.
"Right now I can definitely tell my grandkids, I kicked the butt of Roger Federer," Stakhovsky told reporters following his sensational victory.
Stakhovsky, who reached a career high of 31 back in 2010, held his nerve in the fourth set tiebreak to see off the defending champion and 17-time grand slam winner.
Read: Wimbledon hit by injury crisis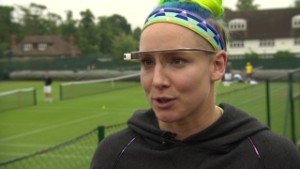 Tennis player uses Google Glass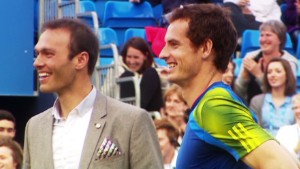 Murray inspired by friend's cancer fight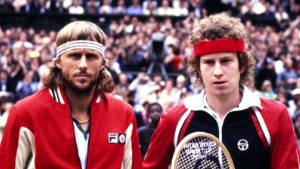 The Wimbledon greats
Federer was just one of seven former World No.1 players to lose their second round ties Wednesday -- although his demise was by far the most dramatic.
"I'm very disappointed," Federer told reporters. "Losing at Wimbledon always has been that way, will never change. So I've just got to get over this one. Some finals haven't hurt this much, that's for sure.
"It's always a disappointment losing any match around the world, and particularly here. I've had some great moments here, but also some tougher ones."
Federer's defeat leaves Novak Djokovic as the only man in the draw to have won the tournament and also leaves the draw wide open for Britain's Andy Murray, who progressed to the third round with ease.
"I struggled maybe on the big points this time around again, like I have for some time this season," Federer said of his clash with Stakhovsky.
"It was tricky. But credit to him for closing it out under enormous pressure. He was better in the more important points today than I was.
"I thought I had my opportunities, had the foot in the door. When I had the chance, I couldn't do it. It's very frustrating, very disappointing.
"I'm going to accept it and move forward from here. I have no choice."
Read: Sharapova stunned at Wimbledon
Federer will now drop out of the top four for the first time since he won Wimbledon in 2003 and could fall as low as No.6 should Tomas Berdych win this year's title.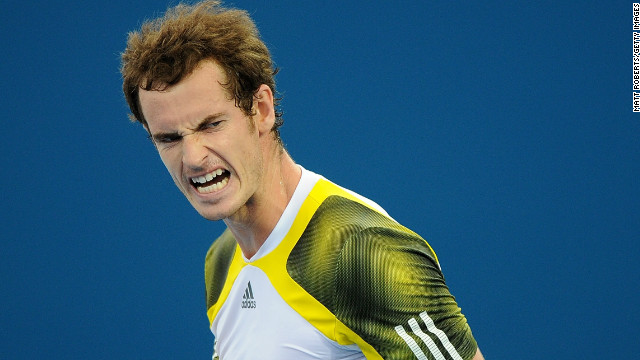 Andy Murray dedicated his win at January's Brisbane International to his longtime friend Ross Hutchins, who was diagnosed with cancer in the weeks leading up to the tournament.
Hutchins was treated for Hodgkin's lymphoma at the Royal Marsden Hospital in London.
Hutchins took to the court during the Rally Against Cancer charity match at June's AEGON Championships at Queen's Club.
Hutchins and Murray both appeared at the Rally Against Cancer, where the Scot donated his $115,000 tournament winner's prize to charity.
The pair played Davis Cup tennis for Great Britain in the doubles after progressing through the junior circuit together.
Hutchins is a doubles specialist but Murray has risen to No. 2 in the singles rankings. After losing out at Wimbledon to Roger Federer, he gained revenge by winning gold at the 2012 London Olympics.
Murray then became the first British man to win a grand slam title since Fred Perry in 1936 after winning last September's U.S. Open following a titanic tussle with Novak Djokovic.
Murray's maiden grand slam triumph came after he squandered a two-set lead before edging out Djokovic in a tense decider.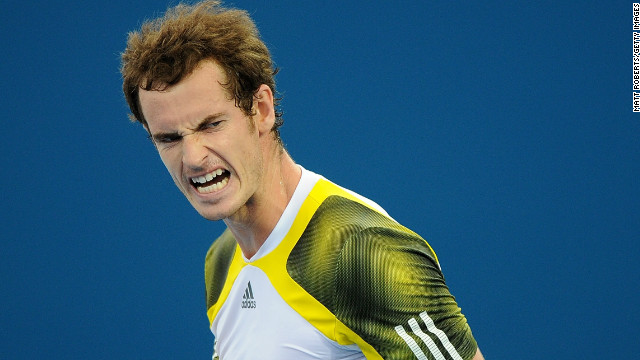 The man who knows Murray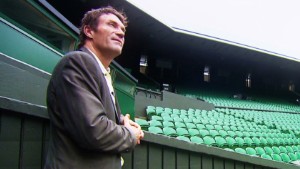 Wimbledon's wild card returns home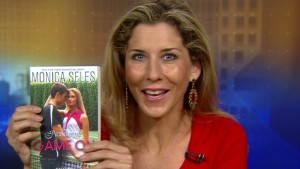 Monica Seles is now a novelist
But for Stakhovksy, the contrast in emotions could hardly be any greater.
Watched by his wife Anfisa Bulgakova, he produced the performance of his life on the court which Federer has virtually owned over the past decade.
"I'm still in disbelief that that happened," Stakhovsky told the BBC.
"I was playing the best tennis I have ever played, I am incredibly happy. When you play Roger Federer it's like you're playing two players. You play him the player and him the ego. I couldn't play any better today. It was a fantastic day for me."
Federer's exit is his earliest at Wimbledon since losing in the opening round to Mario Ancic in 2002 and his earliest at a grand slam since being beaten by Luis Horna at the French Open in 2003.
It is also the earliest defeat suffered by a defending champion since 2002 winner Lleyton Hewitt was beaten by Ivo Karlovic in the first round the following year.
Federer's loss means Murray will fancy his chances of making the final for the second year in succession.
The World No.2, who defeated Yen-Hsun Lu 6-3 6-3 7-5, will now play Spain's Tommy Robredo in the third round.
But despite Rafael Nadal, Federer and Jo-Wilfried Tsonga all falling by the wayside, Murray is refusing to look too far ahead.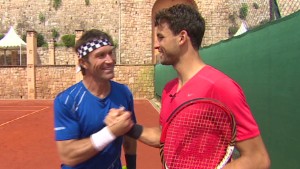 On the court with 'Baby Federer'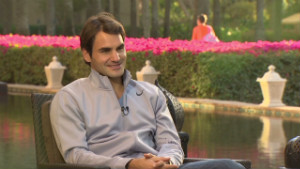 Federer: Do more drug testing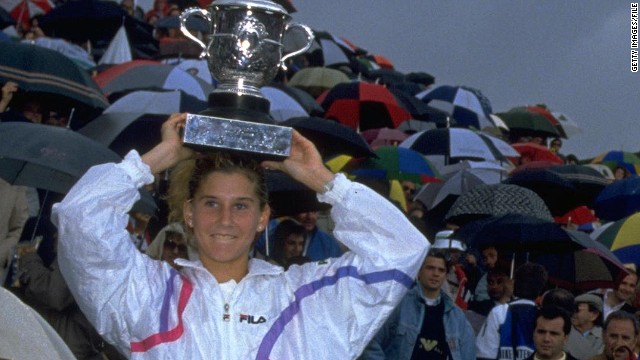 Monica Seles' career began in breathtaking fashion. In 1990, aged just 16 years and six months, the Yugoslavia-born starlet beat Steffi Graf to become the youngest French Open singles champion. After winning the year-end championships, Seles finished the season ranked No. 2 in the world.
Seles followed up her victory in Paris with success at the first grand slam of 1991, beating Jana Novotna to win the Australian Open final in January before replacing Graf at the top of the world rankings in March. Seles then defended her Roland Garros crown before beating Martina Navratilova to clinch the U.S. Open.
Seles defended all three of her grand slam titles in 1992, and lost in the final at Wimbledon. She then won the Australian Open for the third time in a row, but the defining moment of her career arrived at the 1993 Hamburg Masters, when a man later identified as an obsessive fan of Graf ran onto the court and stabbed her in the back. Her injuries healed within weeks, but Seles was out of the sport for over two years.
Seles finally returned to the WTA Tour in August 1995, coming back with a bang as she beat Amanda Coetzer in the final of the Canadian Open.
In 1996 Seles enjoyed a fourth Australian Open win, defeating Anke Huber in the final. But it would prove to be her final grand slam title as she struggled to regain the form she displayed before the attack, as she suffered weight problems.
A foot injury forced Seles out of what would prove to be the final Tour match of her career at the 2003 Italian Open.
New Zealand played host to two exhibition matches between Seles and Martina Navratilova in 2005. Despite losing both matches, Seles announced her intention to return to competitive action in 2006. The comeback, however, never happened.
Seles was back at Roland Garros in 2012, when she presented the winner's trophy to Maria Sharapova after the Russian defeated Sara Errani of Italy.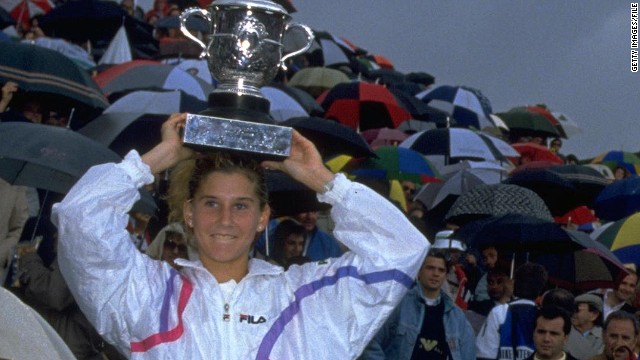 Monica Seles' highs and lows
"There's top players still left in the tournament, and there's a lot of young guys as well coming through, guys like (Ernests) Gulbis, (Jerzy) Janowicz.," he told reporters.
"Those sort of players are starting to break through and play more consistently.
"I'll just concentrate on my next match. I'm playing a tough player, a very experienced guy. I'll worry about that match."
Robredo, who overcame Nicolas Mahut in four sets, says he will treat himself to cake and ice cream before turning his attention to the home favorite.
"I have to congratulate myself because today I did a great job," he told reporters.
"So I'm going to play Andy in two days. Now I prefer to enjoy it, to relax, to go have a great dinner because I deserve it, with a chocolate cake with ice cream. Then tomorrow is going to be a long day to think about Andy."
Elsewhere, former champion Hewitt was ousted in by Dustin Brown 6-4 6-4 6-7 6-2, while there were also wins for Spain's Nicolas Almagro, Austria's Jurgen Melzer and Argentina's Juan Monaco.
Frenchman Tsonga was forced to pull out of his tie with Latvia's Ernests Gulbis after complaining of injury, while Radek Stepanek and Marin Cilic were also big name casualties.