Process begins to allow federal benefits for same-sex spouses
June 30, 2013 -- Updated 1654 GMT (0054 HKT)
STORY HIGHLIGHTS
A government memo tells agencies that same-sex spouses can get benefits
The move follows Wednesday's Supreme Court ruling
The court struck down part of the Defense of Marriage Act
DOMA denied federal benefits to legally married same-sex couples
Washington (CNN) -- The federal government took an important step on Friday to allow same-sex married couples to begin receiving the same federal benefits that heterosexual couples get. The move affects federal workers and their families.
The Office of Personnel Management sent a memorandum to various federal agencies informing them that same-sex spouses are now eligible for health insurance, life insurance and retirement coverage. The children of such couples also will be able to participate in many of the programs.
The move follows Wednesday's Supreme Court ruling striking down part of the Defense of Marriage Act, which denied federal benefits to legally married same-sex couples.
According to the OPM memo, federal employees have 60 days -- until August 26 -- to decide whether to make immediate changes in their benefits. They can also make changes during the next open-enrollment period.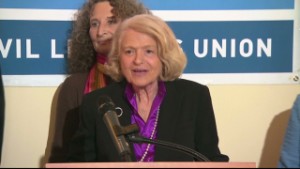 Windsor: We won everything we asked for
Attorney General Eric Holder called the move "a historic step toward equality for all American families."
"These initial changes in federal benefits will make a meaningful, positive difference in the lives of many," said Holder.
California begins same-sex marriage ceremonies

Today's five most popular stories
Part of complete coverage on
Same-sex marriage debate
October 21, 2014 -- Updated 2235 GMT (0635 HKT)

Same-sex marriage is spreading quickly in the U.S., even reaching several "red" states. Activists have also launched a new push in the Deep South.
October 7, 2014 -- Updated 1725 GMT (0125 HKT)

Never has the Supreme Court said so much when saying so little.

Find out which states match your values when it comes to lesbian, gay, bisexual and transgender rights.
December 20, 2014 -- Updated 1450 GMT (2250 HKT)

Here's a look at what you need to know about same-sex marriage in the U.S. and worldwide.
October 7, 2014 -- Updated 0222 GMT (1022 HKT)

Here's a look at same-sex marriage in the United States, by the numbers.
November 16, 2014 -- Updated 1615 GMT (0015 HKT)

Evangelical leaders are taking a step back from their decades-long fight against gay marriage, softening their tone and recalibrating their goals.
June 30, 2014 -- Updated 2348 GMT (0748 HKT)

In the same-sex marriage debate, Elton John believes he knows where Jesus would've stood.
June 26, 2014 -- Updated 1159 GMT (1959 HKT)

A year ago, the U.S. Supreme Court struck down a key section of the Defense of Marriage Act or DOMA.
June 28, 2014 -- Updated 1226 GMT (2026 HKT)

Anthony Sullivan was a young Australian with Robert Redford looks. Richard Adams emigrated from the Philippines as a child and became an American citizen.
June 25, 2014 -- Updated 1931 GMT (0331 HKT)

The Presbyterian Church (U.S.A.) voted to allow pastors to marry same-sex couples in states where it is legal.