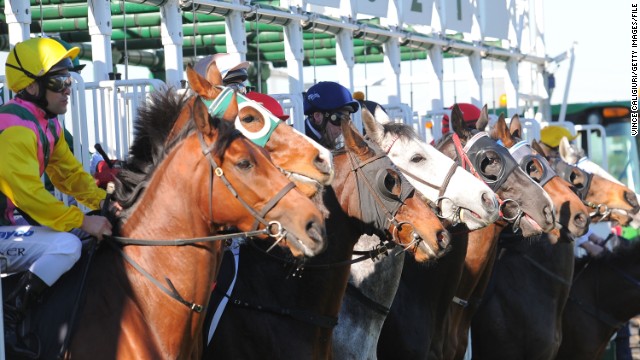 Horse racing is one of the few sports in the world where men and women compete against each other. But it's not just the jockeys facing off. When it comes to thoroughbreds, which is the fairer sex?
Queen Elizabeth was delighted when her horse, Estimate, won at Royal Ascot recently. The champion filly was one of the few female horses to win at the five-day competition. In Britain, 67% of winning thoroughbreds are male.
Unless of course, you're competing against Australian wonder mare Black Caviar. The female thoroughbred (immortalized in a statue, pictured) retired last year after 25 consecutive wins.
"At the top level it does take a special filly to beat the boys," said British Horse Racing Authority spokesman, Paul Rogers. "Having said that, there's been some fantastic female horses recently, such as Black Caviar and Danedream," he added, referring to the German horse which won the Prix de L'Arc Triomphe in 2011 (pictured).
The high number of male race horses may also be down to their profitability as breeding studs. Undefeated colt Frankel (pictured), who retired last year after a 14-win career, is expected to earn $150,000 per offspring.
Ladies, gentlemen, take your mark
Lady luck
Pin-up girl
Sisters doing it
Super stud
STORY HIGHLIGHTS
Horse racing rare sport where males and females compete against each other
Not just jockeys -- but horses. How does gender affect their chances?
More winning male horses than females, seen as taller, stronger, faster
Aussie champion Black Caviar, best female thoroughbred in history
Editor's note: Winning Post is CNN's monthly horse racing show. Click here for program times and latest features.
(CNN) -- Can you think of one sport where men and women compete against each other as equals?
Stumped? Try horse racing, where female jockeys regularly jump in the hot seat alongside their male counterparts.
But it's not just the riders facing-off as they thunder down the track. The horses carrying them towards the finish line are locked in their own battle of the sexes -- and it seems the animal kingdom isn't as different to humans as you might imagine.
While male and female thoroughbreds are fairly evenly matched in physical ability, the girls must overcome commercial and even psychological constraints to get ahead in the sporting world. Sound familiar?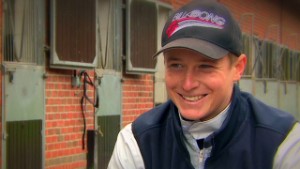 Kiwi jockey continues meteoric rise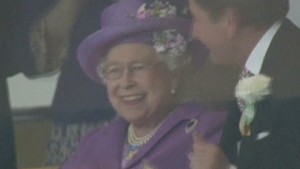 Queen joyous at Royal Ascot win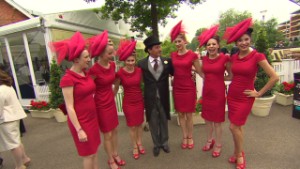 Fashion and glamor at Royal Ascot
"At the top level, it does take a special filly to beat the boys," Paul Rogers, spokesman at the British Horse Racing Authority, told CNN.
A man's world?
It may seem like quite a stretch comparing women in the workplace to fillies in the field, but just like that so called boardroom glass ceiling, female horses are the minority in the racing world.
Read: Suffragette who gave her life in horse race
Male horses -- known as stallions, geldings or colts depending on whether their manhood is still intact -- far outnumber females -- called fillies -- on the track.
In British flat racing, 63% of horses are male, while 37% are female. It's a similar story for the overwhelming number of male winners -- 67% compared to just 33% for the girls.
Even in America's most prestigious horse race -- the Kentucky Derby -- only three fillies have won in the competition's 138-year-history.
Hormonal horses
So why do boy horses rule the roost?
"It tends to be that male horses are a bit bigger and taller than females -- a bit like men and women," said Rogers.
"A lot of it also has to do with hormones. Temperament-wise, female horses are probably a bit more placid. And when they come into season -- have their periods -- they can be unpredictable."
Horse names

Colt: A male horse under four years old

Gelding: A castrated male horse

Stallion: A male horse which has not been castrated

Filly: A female horse under four years old

Mare: An adult female horse


That said, stallions -- male horses which haven't been castrated -- can also be flighty, if somewhat more aggressive on the track, added Rogers.
Even playing field?
Yet compare their ability ratings -- zero for a dud to 140 for an unbeaten thoroughbred in the UK -- and both genders score around the same. Males have a median rating of 69, while females score 64.
"While size plays a role -- taller horses tend to have a longer stride -- I wouldn't necessarily say male horses have more stamina," said Rogers.
"In terms of distance, they're probably equally adept. It's more a question of parentage -- if mum and dad are sprinters, then their son or daughter will be the same."
The slight discrepancy in ratings, means male horses will often carry a few extra pounds in weights, to even out the playing field.
Read: A weight issue -- jockey dieting
Bred for success
The high number of male race horses may also be down to their profitability off the track.
"From a racing industry perspective, if a male horse is successful on the racetrack, they will also be worth a lot more money as a breeding stud -- anything up to around $150,000 per offspring," said Tim Whitaker, head of postgraduate study in equine science at Britain's Duchy College.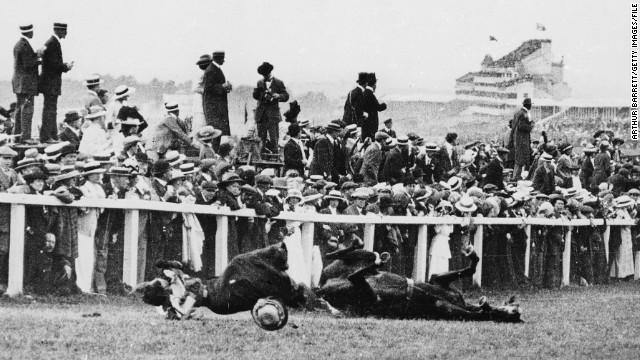 In a shocking instant, Suffragette Emily Davison is knocked to the ground by the King's horse during the 1913 Epsom Derby. Yet take a closer look and you'll see the majority of spectators are instead watching the race.
This Saturday marks 100 years since Davison ran onto the track before an audience of more than 200,000 people. "The Epsom Derby in 1913 was undoubtedly the biggest sporting event in the country -- if not one of the biggest in the world. A huge conglomeration of people would assemble -- lords would mingle with criminals quite contentedly," said horse racing historian Michael Tanner.
Four days after she dashed onto the track, Davison died in hospital. Her funeral procession through the streets of London had all the appearances of a state funeral. "Few people are given to that sort of sacrifice, in private or public life, and they are usually reviled or ignored while they live. But it is they who change the course of history - who make history itself," said British journalist Melissa Benn.
The Suffragettes -- who campaigned for womens' right to vote -- had a distinctive style, pictured here wearing white flowing dresses and black arm bands at Davison's funeral procession. They wore purple, white and green sashes -- purple symbolized dignity, white represented purity, and green stood for hope.
The activists used militant protest methods, such as chaining themselves to railings and smashing windows. Historians are divided on their success, with Tanner arguing: "Unfortunately for the legacy of Emily Davison, World War One broke out a year later, in 1914, and the Suffragettes believed it would have appeared unpatriotic to continue the struggle while the country was at war."
Five years after Davison's death, in 1918, women aged over 30 won the vote in Britain. Ten years later the age was reduced to 21 -- equal with men. "But we still have a long way to go. Four fifths of Parliament are men -- it is a very masculine place," said Benn.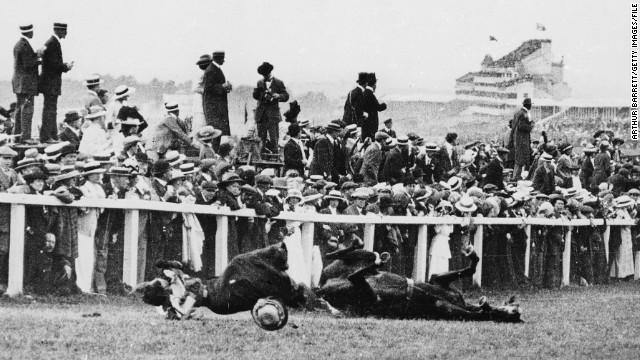 The Suffragette who would not be silenced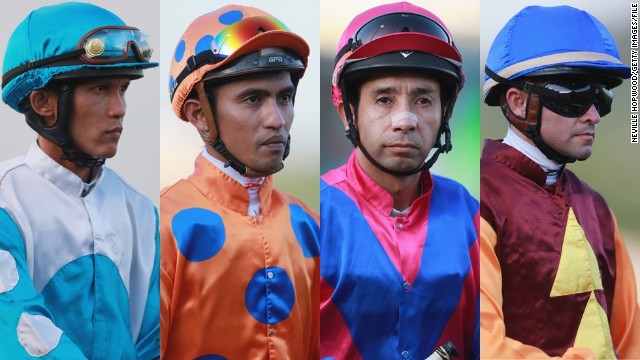 Colorful, shiny, and flamboyant. Welcome to the world of jockey silks. They might look like circus costumes, but these uniforms have a rich tradition and important function.
Dating back to the 18th century, jockey silks -- named after their original material -- are crucial to identifying horses galloping around a race track.
Each design is unique, with owners choosing from just 18 different colors, 25 shapes and 12 sleeves. Unless of course you inherit your silk from a family member. The British royal family's silks (pictured) have been handed down through generations.
While jackets were originally made from silk, today they are more likely to be made from a lycra and polyester mix, in specialized factories such as Allertons (pictured) in Britain.
"Beforehand, they were very much like a dress shirt," said Michael Rawson, Allertons managing director. "We've changed a few of the features such as adding elasticated cuffs and poppers down the front as opposed to buttons, which were always coming off."
"An owner could have three or four different horses running in the same race, but they would have to have different designs. The body and the sleeves may well be the same, but the caps would be different," said Rawson.
Jockey silks are more than simply uniforms, they can often sway punters placing a bet. "Those people who place a bet once or twice a year would certainly admit to choosing horses based on the colors and patterns," said Great British Racing spokesman Nick Attenborough.
Some horse's colors however, are so famous that they can never be used by another thoroughbred again. Australian champion Black Caviar -- who recently retired after an unbeaten 25-win career -- is now the only horse allowed its distinctive salmon pink and black-spotted silks.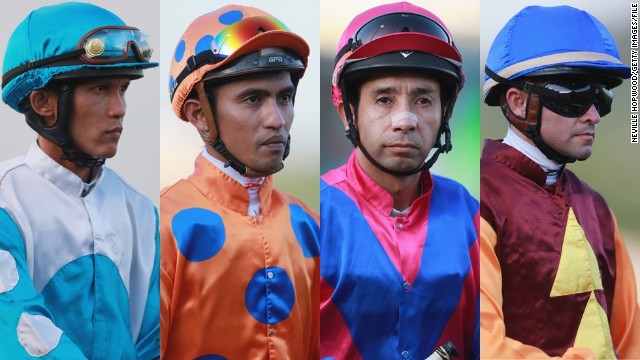 Dressed to impress
"With a mare however, she will only be able to produce one foal a year. But if you get it right -- and it is rare -- you could have a breeding stallion which earns millions."
Perhaps the best example of a super stud's earning power is British colt Frankel, which retired last year with an unbeaten 14-win record.
Today, he commands a fee of $190,000 for each offspring and is expected to generate a staggering $150 million in his stud career.
Read: Frankel's babies on every wish list
Leading ladies
That said, one of the most remarkable champions the racing world has ever seen also retired last year -- a female thoroughbred called Black Caviar.
The Australian mare notched up 25 consecutive wins, becoming not just a national sports star but a celebrity who even graced the cover of Vogue magazine.
"Her allegiance level is phenomenal," Colin Madden, one of Black Caviar's eight owners, said. "She's a powerful horse who just fronts up every time and people really like that consistency."
The girls may have some way to go in catching the boys. But it seems that even in the equine world, the race is far from over.