Cuban columnist says bribes get U.S. visas, American diplomats say not true
July 1, 2013 -- Updated 0110 GMT (0910 HKT)
STORY HIGHLIGHTS
A Cuban newspaper columnist says U.S. visas can be had for money
But the columnist offers no details of alleged payments
U.S. diplomats challenge the claim
They say the application process has sped up, that they don't promote illegal travel
Havana, Cuba (CNN) -- A columnist in Cuba's main government-run newspaper Friday accused employees of the United States diplomatic mission in Havana of accepting bribes for visas, charges that American diplomats challenged.
The columnist, Nestor Garcia Iturbide, wrote in the state-run Granma that U.S. consular officials were in the "business of denying visas" to promote dangerous and illegal travel as well as a side business selling visas.
According to Garcia Iturbide, "to receive the visas some people pay off officials" during secret meetings arranged outside the U.S. Interest Section in Havana, but he offered no details of the alleged payments.
U.S. officials countered they have sped up the application process and don't promote illegal travel.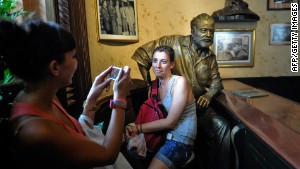 More Americans are visiting Cuba
"The United States supports safe, legal, and orderly migration, and encourages intending immigrants to consider the legal options that may be available to them instead of risking a dangerous and illegal trip via raft or other route," U.S. diplomats said in statement issued Friday.
The statement said that U.S. officials take allegations of corruption seriously and urged anyone with information about alleged visa payoffs to report it to U.S. authorities in Havana.
Under migration accords with Cuba, the United States gives at least 20,000 Cubans a year visas to immigrate to the U.S. legally. But the U.S.'s so-called "wet foot, dry foot" policy means Cubans who reach U.S. soil are not sent back to Cuba, which Cuban authorities say leads to an increase in illegal journeys.
Thousands of Cubans also apply for tourist visas to the United States but have to prove that they have long-standing ties on the island that would prevent them from remaining in the United States.
In February, Cuba removed a long-standing requirement that forced Cubans to have an exit visa before they could travel abroad.

Part of complete coverage on
December 12, 2013 -- Updated 1531 GMT (2331 HKT)

The sign language interpreter widely ridiculed for his performance at the Nelson Mandela memorial stands by his work.
December 12, 2013 -- Updated 1456 GMT (2256 HKT)

Behind the scenes in Cambodian karaoke bars -- a common front for child prostitution.
December 12, 2013 -- Updated 0446 GMT (1246 HKT)

A global risk firm surveys the most politically explosive countries.
December 12, 2013 -- Updated 1258 GMT (2058 HKT)

It's the battle of the tech titans. No, not Apple versus Samsung. Sony has gone head-to-head with Microsoft.
December 12, 2013 -- Updated 1509 GMT (2309 HKT)

On Tuesday, I was free. On Wednesday, I became a criminal. India's high court just made being gay illegal, writes Tushar Malik.
December 12, 2013 -- Updated 1046 GMT (1846 HKT)

A Japanese actor says playing villians in Chinese films has helped the China-Japan divide. CNN's Ivan Watson reports.
December 12, 2013 -- Updated 1214 GMT (2014 HKT)

New skyscraper-sized gas plant is the biggest thing on the waves.
December 11, 2013 -- Updated 1524 GMT (2324 HKT)

Pope Francis is Time's person of the year. His papacy has drawn adulation from people around the world for his man-of-the-people ways.

He was imprisoned for life but that did not quiet him. Nelson Mandela became South Africa's first black president, and an icon and inspiration.
December 12, 2013 -- Updated 1205 GMT (2005 HKT)

Turning 50 is a major milestone in a person's life -- and a country's history.
December 12, 2013 -- Updated 1436 GMT (2236 HKT)

Browse through images you don't always see in news reports, taken by CNN teams all around the world.

Today's five most popular stories