Cuban columnist says bribes get U.S. visas, American diplomats say not true
July 1, 2013 -- Updated 0110 GMT (0910 HKT)
STORY HIGHLIGHTS
A Cuban newspaper columnist says U.S. visas can be had for money
But the columnist offers no details of alleged payments
U.S. diplomats challenge the claim
They say the application process has sped up, that they don't promote illegal travel
Havana, Cuba (CNN) -- A columnist in Cuba's main government-run newspaper Friday accused employees of the United States diplomatic mission in Havana of accepting bribes for visas, charges that American diplomats challenged.
The columnist, Nestor Garcia Iturbide, wrote in the state-run Granma that U.S. consular officials were in the "business of denying visas" to promote dangerous and illegal travel as well as a side business selling visas.
According to Garcia Iturbide, "to receive the visas some people pay off officials" during secret meetings arranged outside the U.S. Interest Section in Havana, but he offered no details of the alleged payments.
U.S. officials countered they have sped up the application process and don't promote illegal travel.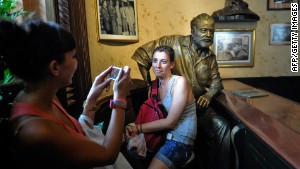 More Americans are visiting Cuba
"The United States supports safe, legal, and orderly migration, and encourages intending immigrants to consider the legal options that may be available to them instead of risking a dangerous and illegal trip via raft or other route," U.S. diplomats said in statement issued Friday.
The statement said that U.S. officials take allegations of corruption seriously and urged anyone with information about alleged visa payoffs to report it to U.S. authorities in Havana.
Under migration accords with Cuba, the United States gives at least 20,000 Cubans a year visas to immigrate to the U.S. legally. But the U.S.'s so-called "wet foot, dry foot" policy means Cubans who reach U.S. soil are not sent back to Cuba, which Cuban authorities say leads to an increase in illegal journeys.
Thousands of Cubans also apply for tourist visas to the United States but have to prove that they have long-standing ties on the island that would prevent them from remaining in the United States.
In February, Cuba removed a long-standing requirement that forced Cubans to have an exit visa before they could travel abroad.

Part of complete coverage on
December 19, 2013 -- Updated 1704 GMT (0104 HKT)

Google's acquisition of a military robot maker prompts Douglas Rushkoff to ask how the deal fits the company's value of "don't be evil."

After their leader Kim Jong Un had his own uncle executed, how do ordinary North Koreans feel?
December 20, 2013 -- Updated 1226 GMT (2026 HKT)

Despite wanting to be a great power, India often fails to behave like one, writes Jeremy Carl.
December 21, 2013 -- Updated 0035 GMT (0835 HKT)

What scope do western governments have to influence change for the better?
December 19, 2013 -- Updated 1319 GMT (2119 HKT)

Extremist attacks of the kind that claimed the life of UK soldier Lee Rigby do not come out of thin air, analysts say.
December 20, 2013 -- Updated 1814 GMT (0214 HKT)

From tycoon bankruptcies to billion-dollar takeovers, 2013 has been a roller coaster year.
December 19, 2013 -- Updated 1026 GMT (1826 HKT)

Which has been the craziest year in travel history? It just could be 2013.
December 19, 2013 -- Updated 1216 GMT (2016 HKT)

Kickstarter is one of the world's largest crowdfunding websites -- over 53,000 projects have been born.
December 20, 2013 -- Updated 1642 GMT (0042 HKT)

Browse through images you don't always see in news reports, taken by CNN teams all around the world.
December 20, 2013 -- Updated 1525 GMT (2325 HKT)

Each day, CNN brings you an image capturing a moment to remember. Look back at the photographs that chronicled 2013.
December 21, 2013 -- Updated 0910 GMT (1710 HKT)

Never mind the baubles -- one of these Christmas trees is made of macaroons.
December 19, 2013 -- Updated 1203 GMT (2003 HKT)

What do you need to map a billion stars? A billion-pixel camera certainly helps.

Today's five most popular stories