Airline recruits women to save fuel
June 29, 2013 -- Updated 1320 GMT (2120 HKT)
STORY HIGHLIGHTS
Women require less fuel than men, says GoAir
New policy will help save $500,000 per year
(CNN) -- An Indian airline has hit on possibly the worthiest excuse yet for hiring slim women as cabin crew -- it saves fuel and therefore money.
While some airlines admit to hiring women for their sex appeal, budget carrier GoAir has told The Times of India it will be hiring predominantly female flight attendants in future because they are 15-20 kilos lighter on average than men.
The airline estimates each extra kilo on board costs Rs3 ($0.05) per flying hour, and the new policy will save it up to $500,000 annually.
A spokesman for the airline denied to CNN that it had implemented a gender-biased recruitment policy. But he confirmed that the airline's male-female cabin crew ratio of 40:60 was among the most male-heavy in the industry in India.
He also confirmed that GoAir would be seeking to adjust this ratio to be in line with the industry norm of 30 men to 70 women.
Other weight-reduction initiatives will also be employed.
"The size of in-flight magazines has been reduced," the airline's CEO Giorgio De Roni said. "The potable water tanks are no longer being filled to capacity as only 35% to 40% of that water is actually used."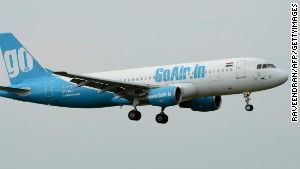 Go Air has implemented a women-only cabin crew policy to save money.
GoAir's 130 male cabin staff (out of 330 total) will be unaffected -- the policy affects future hires only. The airline expects to hire around 2,000 flight attendants and pilots over the next seven years.
Weight and its reduction is a key focus for airlines as fuel costs, comprising a third to half an airline's operating costs, continue to rise.
Samoa Air last year became the first airline to charge fees according to weight, and a Norwegian economist has claimed this is the fairest and most sensible way to calculate prices.
More: Airline 'fat tax': Should heavy passengers pay more?
Sensible economizing, good marketing or discrimination? Tell us what you think about GoAir's new recruitment policy.

Today's five most popular stories
Part of complete coverage on
October 24, 2014 -- Updated 1432 GMT (2232 HKT)

It's crowded and outdated, but Berlin's hexagon-shaped Tegel air hub has won a place in the city's heart.
October 20, 2014 -- Updated 1607 GMT (0007 HKT)

Good news for air travelers passing through Manila: the city's international airport isn't quite as bad as it used to be.
October 20, 2014 -- Updated 1407 GMT (2207 HKT)

The Mitsubishi Regional Jet, aka the MRJ, is Japan's first new commercial jet in over 50 years
October 9, 2014 -- Updated 1620 GMT (0020 HKT)

Air racing is just as fast as NASCAR, IndyCars and Formula One. But the added vertical dimension seriously amps the action up.
October 13, 2014 -- Updated 1301 GMT (2101 HKT)

Thomson Airways' face-to-face seating plans could help parents or deprive them of movie-watching marathons.
October 7, 2014 -- Updated 1311 GMT (2111 HKT)

When it comes to air travel, courtesy and common sense are often the first two things to fly out the departure gates.
October 2, 2014 -- Updated 0839 GMT (1639 HKT)

Around a dozen of the iconic B-17 bombers are still able to fly. But how comfortable is a flight in the 70-year-old plane?
October 31, 2014 -- Updated 1738 GMT (0138 HKT)

This aging cargo work whale makes more than 60 flights each week, carrying parts for all of the Airbus programs.
September 17, 2014 -- Updated 1555 GMT (2355 HKT)

From a three-room apartment to a Michelin-starred meal, many airlines are offering services you won't even get in some top hotels.
September 16, 2014 -- Updated 1446 GMT (2246 HKT)

Airbus patent proposes using special headsets to control in-flight sights, sounds and smells.
October 3, 2014 -- Updated 1443 GMT (2243 HKT)

Bear on the tail and heart on the underside -- it's been a big week for makeovers in the world of aviation.