Airline recruits women to save fuel
June 29, 2013 -- Updated 1320 GMT (2120 HKT)
STORY HIGHLIGHTS
Women require less fuel than men, says GoAir
New policy will help save $500,000 per year
(CNN) -- An Indian airline has hit on possibly the worthiest excuse yet for hiring slim women as cabin crew -- it saves fuel and therefore money.
While some airlines admit to hiring women for their sex appeal, budget carrier GoAir has told The Times of India it will be hiring predominantly female flight attendants in future because they are 15-20 kilos lighter on average than men.
The airline estimates each extra kilo on board costs Rs3 ($0.05) per flying hour, and the new policy will save it up to $500,000 annually.
A spokesman for the airline denied to CNN that it had implemented a gender-biased recruitment policy. But he confirmed that the airline's male-female cabin crew ratio of 40:60 was among the most male-heavy in the industry in India.
He also confirmed that GoAir would be seeking to adjust this ratio to be in line with the industry norm of 30 men to 70 women.
Other weight-reduction initiatives will also be employed.
"The size of in-flight magazines has been reduced," the airline's CEO Giorgio De Roni said. "The potable water tanks are no longer being filled to capacity as only 35% to 40% of that water is actually used."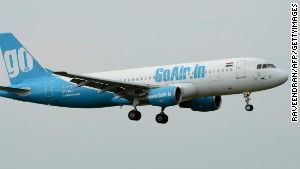 Go Air has implemented a women-only cabin crew policy to save money.
GoAir's 130 male cabin staff (out of 330 total) will be unaffected -- the policy affects future hires only. The airline expects to hire around 2,000 flight attendants and pilots over the next seven years.
Weight and its reduction is a key focus for airlines as fuel costs, comprising a third to half an airline's operating costs, continue to rise.
Samoa Air last year became the first airline to charge fees according to weight, and a Norwegian economist has claimed this is the fairest and most sensible way to calculate prices.
More: Airline 'fat tax': Should heavy passengers pay more?
Sensible economizing, good marketing or discrimination? Tell us what you think about GoAir's new recruitment policy.

Part of complete coverage on
February 12, 2014 -- Updated 2304 GMT (0704 HKT)

Viral hit uses bikini-clad Sports Illustrated models to convey on-board safety messages.
February 13, 2014 -- Updated 0457 GMT (1257 HKT)

Trillions worth of new airplanes will be bought in Asia over the next 20 years according to one estimate -- Boeing and Airbus both want to be front of mind.
February 10, 2014 -- Updated 0203 GMT (1003 HKT)

On a long flight, there is something tortuously satisfying about making frequent check-ins to the route map.
January 22, 2014 -- Updated 2315 GMT (0715 HKT)

If you ever find yourself in the French city of Toulouse, you might just see one of the oddest-looking aircraft in the world.
January 9, 2014 -- Updated 1915 GMT (0315 HKT)

Flight-phobics, relax -- a list of the world's safest airlines has just been released.
January 22, 2014 -- Updated 0322 GMT (1122 HKT)

Give a designer and aviation geek some time and a pencil, and you might just get something great.
December 19, 2013 -- Updated 1002 GMT (1802 HKT)

The holiday travel crush is upon us.
October 18, 2013 -- Updated 0857 GMT (1657 HKT)

Hairy airstrips ranging from the wildly remote to the shockingly short.

For 24 hours, we made the world's busiest airport our destination and found a world unto its own. Join us on our journey. What you see will surprise you.
November 26, 2013 -- Updated 1341 GMT (2141 HKT)

Futuristic $76 billion project, including terminal filled with trees, "would spell end for Heathrow."
November 11, 2013 -- Updated 0751 GMT (1551 HKT)

First chance to fly the latest Dreamliner will come courtesy Air New Zealand in October 2014.
September 5, 2013 -- Updated 0724 GMT (1524 HKT)

Furniture, hotels and private homes. What visionaries are making with dead airplanes.

Today's five most popular stories