Top Somali militant, wanted by U.S., killed in infighting
July 1, 2013 -- Updated 1032 GMT (1832 HKT)
STORY HIGHLIGHTS
Ibrahim Al Afghani was a top member of the Al-Shabaab militant group
The United States had a $5 million bounty on his head
Fighting between two Al-Shabaab factions began about a month ago
The group denies a split and blames the reports on local media
(CNN) -- A senior Somali militant who had a $5 million U.S. bounty on his head has been killed in infighting among members of the al Qaeda-aligned group Al-Shabaab, a spokesman for the group said Saturday.
Ibrahim Al Afghani, a senior member of Al-Shabaab, was killed along with another top member, Moalim Burhan, in a shootout between two factions of the group June 20, spokesman Abu Musab said.
Al Afghani was wanted for terrorism by the U.S. State Department, which offered a reward of up to $5 million for information leading to his location.
A U.S. administration official said the United States believes the report of his death is true.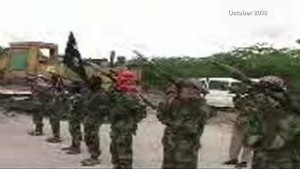 2012: The battle against al-Shabaab
It is the first time Al-Shabaab has confirmed the killing of two of its most senior members.
The internal fighting in Al-Shabaab is between two groups, one loyal to founding member Ahmed Godane and another, smaller faction that supports foreign jihadists in Somalia. It began about a month ago when a member of the smaller group was targeted in a tea shop, allegedly by members from the other side.
Al Afghani and Burhan were both members of the smaller faction.
The main Al-Shabaab group denies there is infighting and blames reports of a split on local media.
Musab said the two men were killed when Al-Shabaab fighters tried to arrest them for supporting foreign jihadists and the pair fought back. He said Al Afghani and Burhan were not killed intentionally.
Residents of the town where the men were killed described heavy fighting between opposing sides of Al-Shabaab. They told the private Shabelle Media Network that they fear war between the two factions could break out at any time.
In addition to the killing of the two, a prominent Somali militant leader was arrested by pro-government forces and turned over to the government in Mogadishu.
Hassan Dahir Aweys was detained this month.
In 2012: U.S. puts bounties on 7 key members of Somali terror group
CNN Pentagon Correspondent Barbara Starr contributed to this report.

Part of complete coverage on
December 9, 2013 -- Updated 1558 GMT (2358 HKT)

The Web is set to change our lives over the next decade. This will also question the use of personal data and balancing new powers with ethics.
December 9, 2013 -- Updated 0111 GMT (0911 HKT)

The image of the Shinkansen bullet train streaking past Mount Fuji is a powerful part of the iconography of the resurgent post-war Japan.
December 9, 2013 -- Updated 2023 GMT (0423 HKT)

Imagine the delight at unwrapping your Christmas present in 2043 and discovering you've been gifted a trip around the Moon.
December 9, 2013 -- Updated 0727 GMT (1527 HKT)

A new political party claiming to champion ordinary Indian voters makes a startling electoral debut.

Few words in Hungarian, including place names, are easily recognizable to foreigners.
December 10, 2013 -- Updated 0933 GMT (1733 HKT)

Browse through images you don't always see in news reports, taken by CNN teams all around the world.
December 9, 2013 -- Updated 1234 GMT (2034 HKT)

Walking into one of Yayoi Kusama's infinity rooms is like walking into a completely different universe.
December 9, 2013 -- Updated 1529 GMT (2329 HKT)

Meet Tony Allen -- famous for helping create Afrobeat by fusing different beats and patterns.
December 8, 2013 -- Updated 2116 GMT (0516 HKT)

Fans converged on the site where Paul Walker died to pay tribute to the actor. CNN's Paul Vercammen reports.

He was imprisoned for life but that did not quiet him. Nelson Mandela became South Africa's first black president, and an icon and inspiration.
December 9, 2013 -- Updated 1002 GMT (1802 HKT)

Watching digital artist Kyle Lambert's stunning photo-realistic iPad paintings emerge from a blank screen is an awe-inspiring experience.

Today's five most popular stories