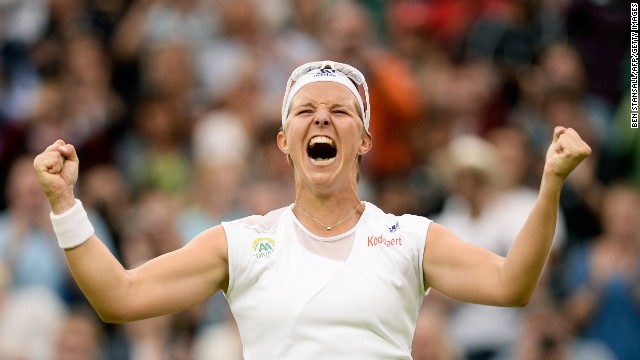 Belgium's Kirsten Flipkens reached her first ever grand slam semifinal following a tense three set victory over 2011 champion Petra Kvitova. This time last year, Flipkens was ranked 262nd in the world -- now she'll meet Marion Bartoli for a place in the final.
France's Bartoli booked her place in the last four with a 6-4 7-5 win over U.S. star Sloane Stephens in a contest delayed by rain. Bartoli, who was runner up in 2007, will now hope to go one better with 20th seed Flipkens next up.
Sabine Lisicki blows a kiss to the crowd after sealing her place in the semifinal at Wimbledon. Lisicki, who also reached the last four in 2011, defeated Estonia's Kaia Kanepi 6-3 6-3.
Poland's Agnieszka Radwanska needed eight match points to see off China's Li Na 7-6 4-6 6-2 in an epic contest which lasted two hours and 4 minutes. Radwanska, who finished runner-up last year, appeared to struggle with a thigh problem during the match.
Fabulous Flipkens
Battling Bartoli
Sealed with a kiss
Pole position
STORY HIGHLIGHTS
Belgium's Kirsten Flipkens defeated 2011 winner Petra Kvitova
Marion Bartoli beat Sloane Stephens to set up Flipkens clash
Agnieszka Radwanska will play Sabine Lisicki in other semifinal
Radwanska defeated Li Na while Lisicki saw off Kaia Kanepi
(CNN) -- Kirsten Flipkens is just one game away from a Wimbledon final -- a year ago, she was just happy to be alive.
It is a fairytale story at a tournament which has brought up more surprises than anybody ever thought possible -- but Flipkens' tale is something special.
In April 2012, following a long haul flight to Thailand, the tennis star was forced to visit an emergency doctor after complaining of searing pains in her legs.
It was there that doctors discovered she had four blood clots in her legs -- had she ignored the pains, then she was told that her life would have almost certainly been in danger.
She had been poised to travel to Japan for a Fed Cup game, a journey which doctors told her would have left her body 'blue' and left her on the edge.
"I'm lucky to be alive," she said in January. Now, she's ready to make the most of her second chance.
The 2003 junior champion is one of four women remaining with the name of a new winner guaranteed to be etched onto the famous trophy.
For Flipkens, a hard-fought victory over 2011 champion Petra Kvitova secured a first ever grand slam semifinal -- and the prospect of a place in Wimbledon history.
"It's amazing," she told the BBC.
"It's more than a dream coming true, semifinals of a Grand Slam, ridiculous.
"Last year I didn't get into qualifying of Wimbledon.
"I was so calm on court, I went for my shots. Petra was playing really well in that first set. I just had to go for it from the second set on."
It is a marked contrast in emotion to that which Flipkens experienced after being forced to take a break from the game in a bid to overcome the blood clots in her legs.
Read: Serena stunned at Wimbledon
Her ranking slumped from 182 to 262 -- a drop which led to the Belgian Tennis Federation withdrawing its funding.
But under the guidance of former World No.1 and four time grand slam winner Kim Clijsters, Flipkens fought back.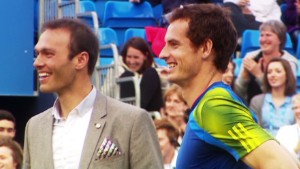 Murray inspired by friend's cancer fight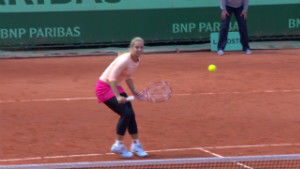 Germany's new tennis wonders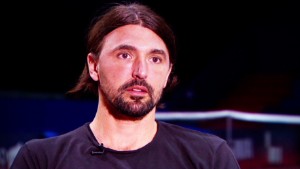 Wimbledon's wild card returns home
She won her first title in Quebec City in September and rose to 43rd in the world after reaching the fourth round at the Australian Open in January.
She reached the top 20 in March and believes the influence of Clijsters has played a major role in her revival.
Flipkens added: "Kim was one of people last year still believing in me.
"I have to thank her. The people believing in my I could count on one hand."
But Flipkens will face a tough task to reach the final Thursday when she goes up against 15th seed Bartoli, who battled to a 6-4 7-5 win over U.S. star Sloane Stephens.
Bartoli, who finished runner-up in 2007, edged a low quality affair where there eight breaks of serve in the opening nine games of the second set.
Bartoli also courted controversy when she urged the umpire to abandon play when light rain began to fall with the score at 5-4 and 40-40 in her favor in the opening set.
The crowd voiced its frustration, jeering the French lady before the players returned to action two and a half hours later.
Bartoli quickly wrapped up the set and then moved into a 2-0 lead before Stephens broke back.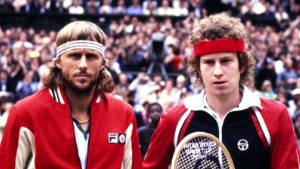 The Wimbledon greats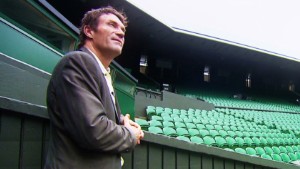 Pat Cash's Wimbledon tour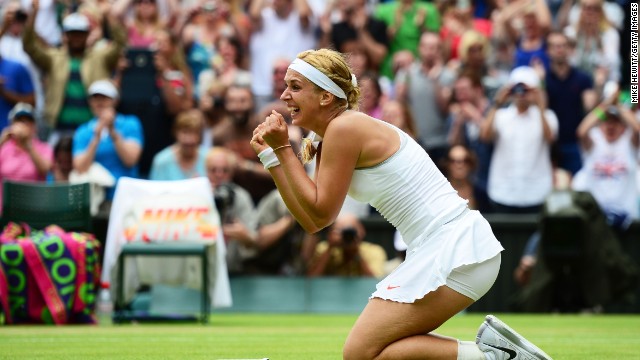 Germany's Sabine Lisicki celebrates after defeating World No.1 Serena Williams on Centre Court Monday. Lisicki prevailed 6-2 1-6 6-4 following an enthralling tussle.
Williams made a nightmare start to the contest -- losing the opening set 6-2 against the 23rd seed Lisicki. Her opponent reached the semifinal at Wimbledon in 2011.
Williams, who had previously gone 34 matches without defeat, struggled to match her opponent in the opening set as Lisicki made a superb start.
Williams hit back in the second set, taking it 6-2 as she showed the kind of form which has helped her win five Wimbledon titles. The 16-time grand slam champion then took a 4-2 lead in the third and final set.
Trailing 2-4 in the final set, Lisicki showed remarkable composure to keep her nerve and reel off four straight games to clinch a famous victory.
Lisicki was overcome with emotion after hitting the winning shot and sank to her knees on court before being congratulated by Williams.
Lisicki will play Estonia's Kaia Kanepi, ranked 46th in the world in the quarterfinal. It will be the first meeting between the two women.
Williams congratulated her opponent following the contest and told reporters:"I didn't play the big points good enough. I had a little hesitation. That explains it."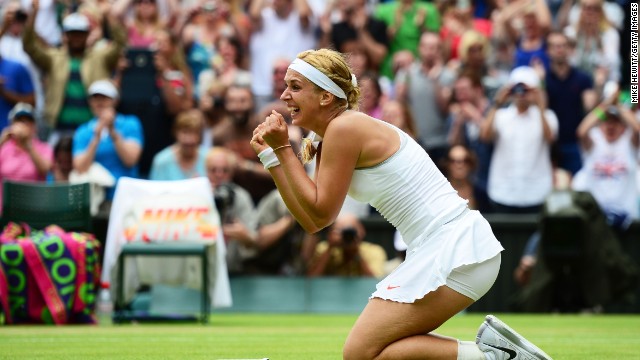 Serena stunned at Wimbledon
But the 20-year-old American consistently struggled with her serve and was broken again in the 12th game.
Earlier, Sabine Lisicki followed up her shock win over title favorite Serena Williams to become the first woman to march into the the last four.
There was no need for a repeat of the German's giant-slaying slog on grass as Lisicki rattled out a straightforward 6-3 6-3 victory over Estonia's Kaia Kanepi.
The 23-year-old -- coincidentally also the 23rd seed for the grass-court tournament --was in tears after beating Williams but said she had to pull herself together for her quarterfinal.
"It was an amazing match yesterday, but I had to make sure that I had calmed down and was ready for today," explained Lisicki. "I have had experience of other years to help me."
Lisicki also spoke about having to "learn how to walk again" after a serious ankle injury in 2010 left her with no muscle strength in her left calf.
"To come back on the court to compete and then to go even further than I did before the injury gives you a lot of strength," she added.
"It's a different feeling when I'm out there now. To have your hobby as a job is something that not a lot of people can say they have. I love the game so much."
Lisicki has never gone past the fourth round at any grand slam outside of Wimbledon but she has an impressive record at The All England Club, having reached the quarter-finals three times and the last four in 2011.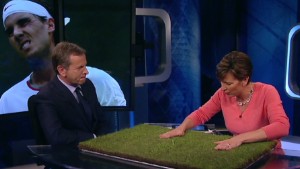 Why is Wimbledon so slippery?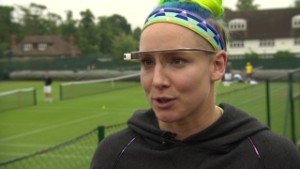 Tennis player uses Google Glass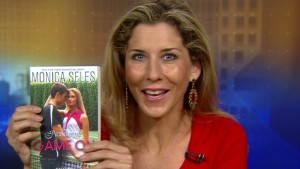 Monica Seles is now a novelist
The German faces Agnieszka Radwanska in the semifinals after the Polish world number four came through a grueling match against China's Li Na.
Their sizzling match-up on Centre Court was delayed twice by rain before the tournament organizers decided to close the court's multi-million dollar roof.
When the roof had slotted into place and the action finally resumed, Radwanska wasted no time building on her 2-0 lead over Li in the deciding third set.
But the Pole, who played with a heavily-strapped right thigh and then took an injury timeout to receive treatment on her other thigh, had to see off a final rally by the Chinese sixth seed.
The 2012 Wimbledon runner-up needed eight match points, in a game that lasted just seconds shy of the 10-minute mark, to defeat Li 7-6 (7-5) 4-6 6-2 and set up her meeting with Lisicki.
"She was playing unbelievable tennis," said Radwanska. "I'm just very happy to go through even though I was struggling in the third set.
"Too much tennis, that was I was struggling with that. I'm just going to keep going and try my best."
Looking forward to her semifinal against Lisicki, Radwanska said: "We have known each other since our junior days -- it'll be a great challenge playing each other on the grass."