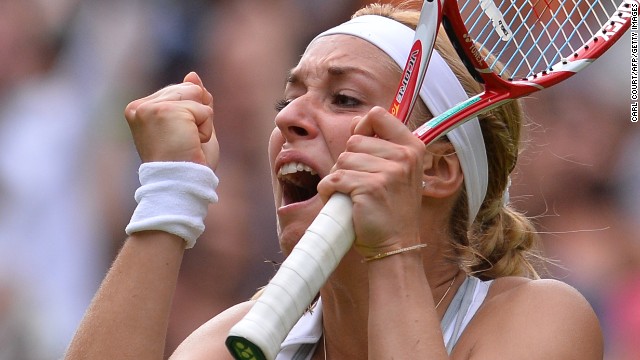 Sabine Lisicki was overcome with emotion after hitting the winning shot in her fourth round match against defending champion Serena Williams.
France's Marion Bartoli booked her place in the last four with a 6-4 6-3 win over U.S. star Sloane Stephens in a contest delayed by rain.
Lisicki falls to the Centre Court turf after completing an epic three-set win over Agnieszka Radwanska to reach her first grand slam final.
Bartoli's two-handed shots off both wings have proved highly effective on the fast grass courts of Wimbledon as she has reached her second final at SW19.
Serena conqueror
Bartoli brilliance
Final moment
Unorthodox style
STORY HIGHLIGHTS
Sabine Lisicki and Marion Bartoli contest women's final at Wimbledon
Both searching for first grand slam title
Bartoli beaten by Venus Williams in the 2007 final
Lisicki put out defending champion Serena Williams in fourth round
(CNN) -- They've taken contrasting routes to the Wimbledon final, have very different styles of play and polar opposite personalities, but Sabine Lisicki and Marion Bartoli will have one thing in common on Saturday afternoon on the famous Centre Court.
Both will be searching for a maiden grand slam title -- the ultimate validation of their undoubted talents.
Lisicki, who put out defending champion Serena Williams, the biggest upset in a tournament of massive upsets, also dispatched former grand slam champions Francesca Schiavone and Samantha Stosur en route to her first final at this level.
Read: Serena stunned by Germany's Lisicki
15th seed Bartoli came through almost unnoticed before thrashing Belgium's Kirsten Flipkens, herself a relative unknown, in the semifinal.
Lisicki has a booming all-court game, which has earned her the tag "Doris" -- a reference to its similarity of the style of German legend Boris Becker.
The three-time Wimbledon champion is also an admirer: "Sabine Lisicki rocks," Becker tweeted as she beat fourth seed Agnieszka Radwanska in another three set nail biter in the semifinals.
Bartoli's game is definitely not for the purist, with her own unique service action and double handed thumps on both wings.
Read: Best of the best mark WTA's 40th
It's not pretty but effective as seven WTA career titles testify. In the 2007 Wimbledon semifinal she played Justine Henin, possessor of a classic backhand and No.1 seed at the time.
She lost the first set lamely and trailed the Belgian in the second. Commentators were already lamenting the one-sided nature of the match before Bartoli confounded her critics to pull off a stunning upset.
She lost to Venus Williams in the final, but the experience may prove a big advantage.
Lisicki will look to ride the wave of support which has greeted her march to the title match.
The 23-year-old has earned the affection of the crowds with her outgoing and cheerful personality.
She has played with a permanent smile on her face even when apparently slipping to defeat against Williams and Radwanska.
Read: Lisicki repeats Centre Court magic
Wrapping up match point against the seemingly invincible Williams, she collapsed to the turf in joyful sobs.
Her place in the affections of the fans was sealed. "I love Wimbledon," she beamed after beating Radwanska and the feeling is mutual.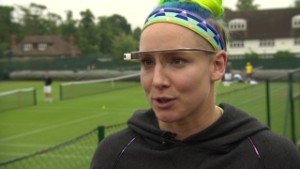 Tennis player uses Google Glass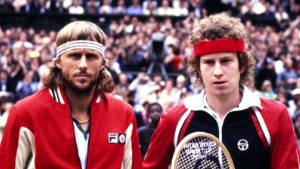 The Wimbledon greats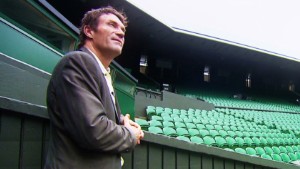 Pat Cash's Wimbledon tour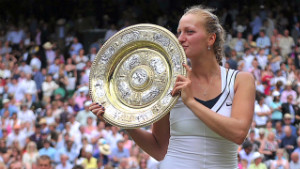 Kvitova: From underdog to world number 8
Bartoli is an engaging eccentric, who reportedly brooded for months after taking the brave decision to dispense with the services of her father Walter as her coach.
Former World No.1 Amelie Mauresmo has taken the job and is credited with damping down the inner turmoil which can undermine Bartoli's best efforts.
So relaxed was the 28-year-old that she admitted to taking a half hour cat nap just before dispatching Flipkens.
When asked about it, Bartoli replied "I'm French," as if it offered an explanation for her unusual slumbers.
Read: Second seed Sharapova stunned
It remains to be seen if the prospect of facing the lower ranked 23rd seed Lisicki in the biggest match of their careers will ruffle her newly found sang-froid.
Lisicki has won three of their four matches, including a three-set quarterfinal match at Wimbledon in 2011 as the German first made her mark on her favorite grass.
But Bartoli's single win over her came at Wimbledon back in 2008.
It's certainly a final which absolutely nobody predicted at the start of the fortnight with bookmakers offering odds of 1500 to 1 on its prospect.
There were clearly few takers with the safe bets on another Serena Williams -- Maria Sharapova showdown before the shocks started on the first Wednesday.
Lisicki will be looking to become the first German to win a grand slam since Steffi Graf won her 22nd and final major at the 1999 French Open. Graf sent her a good luck text before she beat Radwanska.
Perhaps it's fate, but the last French success at this level came to Bartoli's new mentor Mauresmo back in 2006 when she won two slams.
Both finalists have had to overcome setbacks to reach the ultimate stage.
Lisicki suffered a career threatening ankle injury in 2009, while Bartoli's recent slump in form and loss of confidence this year had seen her fail to go past the quarterfinal stage in any tournament before Wimbledon.
It's safe to say that victory come Saturday tea time will change the life of one these young women forever as they claim their place in the tennis record books.