STORY HIGHLIGHTS
Sebastian Vettel wins German Grand Prix for first time
Kimi Raikkonen finishes second ahead of Lotus team-mate Romain Grosjean
Red Bull's Vettel now 34 points clear in title race
(CNN) -- Sebastian Vettel thrilled his home fans by winning the German Grand Prix for the very first time in his career.
The triple world champion finished ahead of Lotus pair Kimi Raikkonen and Romain Grosjean to claim his fourth win of the season and 30th overall at the Nurburgring.
Victory places the Red Bull driver 36 points clear of Ferrari's Fernando Alonso, who finished fourth, ahead of polesitter Lewis Hamilton and McLaren's Jenson Button.
"It's unbelievable," Vettel, who lost Kers during part of the race, told reporters.
"I am very, very happy. Kimi was pushing very close in the end but I was pushing in every lap, except from the ones with the safety car.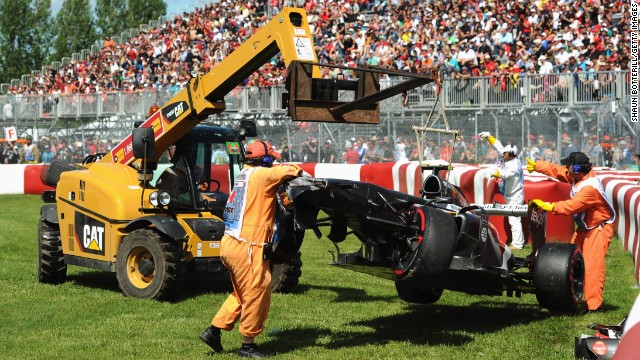 The important role of motorsport's marshals has been highlighted by the death of Canadian Mark Robinson as Esteban Gutierrez's Sauber was removed from the track after the 2013 Canadian Grand Prix.
There will be close to 1200 volunteers on duty at the British Grand Prix. At the 2012 race they were on hand to help deal with the wet weather at Silverstone.
Some of the marshals communicate messages from race control to the Formula One drivers. Here a red flag, shown at the Monaco Grand Prix, means the track session has been stopped.
The marshals are on hand to remove debris from track -- and push cars away to safety. Here they help Pastor Maldonado after his Williams comes to a halt in Monaco.
The marshals are also first on the scene when the drivers crash. They are trained in how to support a driver's neck before the medical team arrive. They they were on hand at Felipe Massa's heavy crash at Hungary in 2009.
F1's global marshals are as integral to the sport as the drivers. Here some of the Indian Grand Prix marshals meet Red Bull racer Mark Webber in 2012.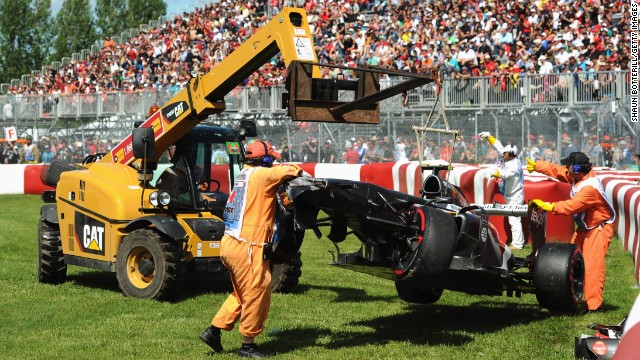 Motorsport's silent heroes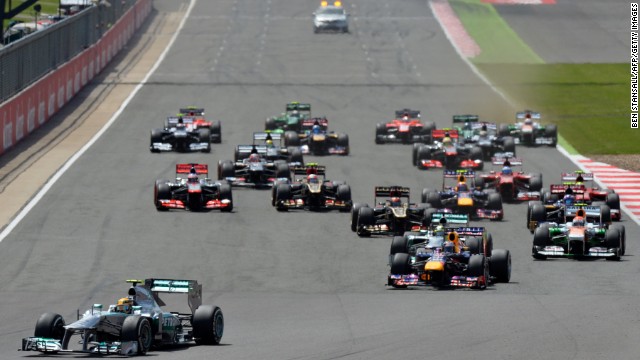 Lewis Hamilton was on pole and the Briton made the perfect start as he streaked away from Sebastian Vettel.
Mark Webber suffered some damage to his front wing soon after the start of the race and the Australian slipped to 15th on lap one. But the Australian made a superb recovery to finish second.
Hamilton lead in the early stages of the race, but then disaster struck.....
Hamilton's hopes of a home win at Silverstone ended after just eight laps when his Mercedes suffered a puncture.
Not for the first time this season, tires played a key part in how the race panned out.
Championship leader Sebastian Vettel had looked set for victory but had to retire with gearbox problems.
Hamilton recovered to finish fouth, but was unhappy about the tire problems drivers experienced at Silverstone.
Nico Rosberg raced to his first British Grand Prix victory and second of the season as tire problems dominate at Silverstone.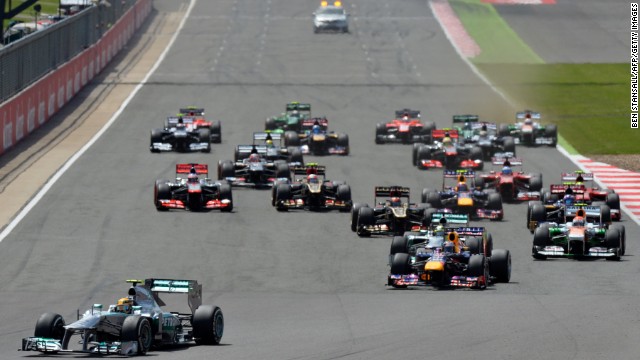 British Grand Prix gallery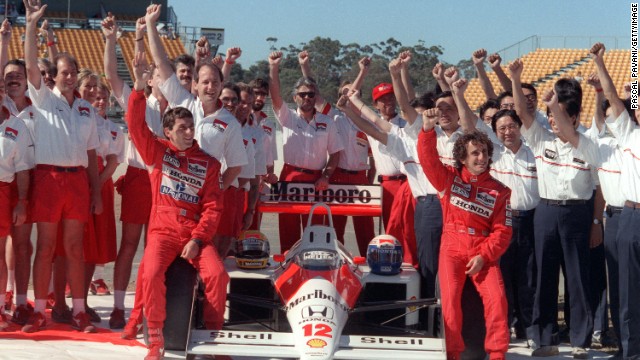 McLaren and Honda formed a dominant relationship in 1988 as the car won 15 out of 16 races and Ayrton Senna (front left) won the first of his three world titles
The previous season, Honda powered Brazilian Nelson Piquet to his third and final world title at the end of its relationship with the Williams team.
The Japanese car manufacturer decided to go it alone in 2006, announcing the Honda Racing team would join the F1 grid. It last ran an independent team in 1968.
There was an early highlight for Honda as Jenson Button won a wet 2006 Hungarian Grand Prix -- but it was to be Honda's only victory during its three-year return to the grid.
Honda underlined its interest in greener issues with its "Earth Car." The livery was made up of pledges from its F1 fans to make environmental changes to their lifestyle. The car, which ran in 2007, was also unusual as it did not feature advertising on race days.
After a four-year absence from F1, Honda announced it will renew its relationship with McLaren by supplying engines to the British team in 2015.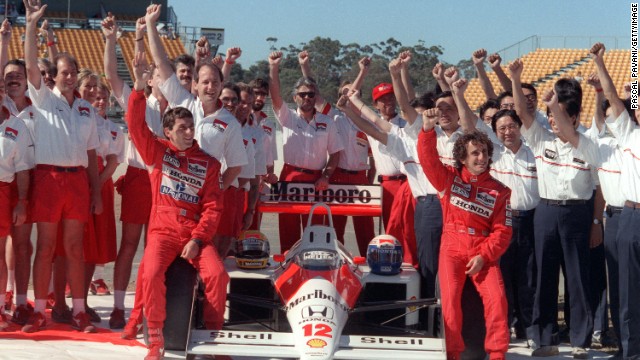 Honda's F1 history
"I enjoyed today and I could feel Kimi coming and it was quite close with Romain too, but we recovered and I am very happy the race ended after 60 laps and not 61 or 62 laps."
The safety car was enforced following a moment of comedy after 24 laps when Jules Bianchi's parked Marussia began to roll backwards across the track.
With Bianchi having jumped out of his vehicle following an engine problem and small fire, the car ran backwards before hitting an advertising hoarding on the other side of the track.
Earlier, Vettel's teammate Mark Webber was involved in a moment of controversy during a pit stop when his wheel flew off and hit a cameraman.
Read: Drivers threaten boycott
Allen was treated by medics immediately with the FIA issuing a statement following the accident.
It read: "He was treated at the circuit medical center and then transported by helicopter to Koblenz Hospital. The Briton has been kept there, under observation. Further information from the hospital will be provided as soon as it becomes available."
Christian Horner, the team principle of Red Bull also confirmed to reporters that Allen had not "suffered serious injury".
"It's a timely reminder that working in the pit lane is dangerous," he said.
"Everyone reacted incredibly quickly and the most important thing is to hear that he seems to be fundamentally OK."
Tire trouble
After the six blowouts at Silverstone last weekend and the threat of a boycott by the Grand Prix Drivers Association should similar happen again, Formula One's official tire supplier Pirelli modified its rear tires with a Kevlar strip to help prevent punctures.
It appeared to do the trick, although there was still stinging criticism from Hamilton, who finished fifth.
"I have nothing positive to say about these tires," the Mercedes driver told reporters.
"I don't understand why we struggle so much on them. But the team is working hard and we need to keep pushing.
"We didn't have any blowouts this weekend, but I don't particularly like the tires. But everyone else is getting on with them, so we have to work harder."
Meanwhile, Raikkonen has now recorded points in his past 26 races and revealed he suffered communication problems as the afternoon wore on.
"My radio only worked in one part of the circuit and unfortunately today there was quite a lot to discuss," he told reporters.
"It wasn't ideal. We did well but we didn't have the speed. Maybe the race could have been a little longer. The result wasn't ideal for us but we are getting back to where we should be."