In Arizona, a solemn 100-mile procession for fallen firefighters
July 8, 2013 -- Updated 1535 GMT (2335 HKT)
STORY HIGHLIGHTS
NEW: Bodies of Granite Mountain Hotshots return home Sunday after 100-mile procession
People nationwide travel to Arizona for procession honoring elite wildfire-fighting crew
"These men are heroes. They've earned the respect of everyone in this line," onlooker says
(CNN) -- The bodies of 19 Arizona firefighters killed in a wildfire went home Sunday in a somber procession of more than 100 miles across the state.
White hearses flying American flags carried the Prescott Fire Department's Granite Mountain Hotshots from the State Capitol in Phoenix to their hometown of Prescott, passing through the community where they died battling the Yarnell Hill Fire on June 30.
People from across the state and around the country gathered along the route of the public procession, withstanding triple-digit temperatures to pay respects to the elite wildfire-fighting crew.
"These men are heroes. They've earned the respect of everyone in this line," an onlooker told CNN affiliate KTVK as he awaited the procession in Phoenix.
Just one member of the elite 20-man wildfire-fighting crew survived the Yarnell Hill Fire, which started June 28 and spread to more than 6,000 acres in two days. The incident, part of a fire that destroyed more than 100 homes, was the deadliest day for firefighters since the 9/11 attacks.
Lookout warned team before fire killed 19
As of Sunday, at least 90% of the fire had been contained, officials said. Residents who were forced to evacuate Yarnell and Peeples Valley will be permitted to return to their homes at 9 a.m. Monday morning, a spokesman for the Yavapai County Emergency Management office said.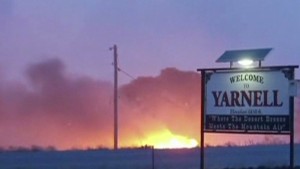 Expert: Shelters useless in Yarnell fire
Hotshot crews are called to get close to the blaze, dig barriers and clear out the brush and other material that otherwise would fuel it. Erratic winds were blamed on the sudden shift in the fire's direction that trapped the group. The deaths are under investigation, but officials have said it appears the 19 were forced to lie down under blankets meant to protect against flames and heat as a last resort against an inferno that overwhelmed them.
The procession of hearses and police motorcycles passed through Yarnell on its way to Prescott, where they will be honored in a memorial service Tuesday that Vice President Joe Biden is expected to attend.
The firefighters left behind wives and children. One firefighter left behind his pregnant fiance.
"I feel for the people they left behind," an observer of the procession in Phoenix told KTVK. "There's a story behind each family. The more I hear, the more sad it makes me."
Opinion: When heroes face down fire -- and fate

Part of complete coverage on
Arizona wildfire

Nineteen firefighters died while fighting the Yarnell Hill fire in Arizona on Sunday, June 30. Get to know who these fallen firefighters were in our interactive.
July 8, 2013 -- Updated 1535 GMT (2335 HKT)

The bodies of 19 Arizona firefighters killed in a wildfire went home in a somber procession of more than 100 miles across the state.
July 3, 2013 -- Updated 1326 GMT (2126 HKT)

Brendan McDonough, a lookout for his elite 20-man Arizona wildfire-fighting crew, saw Sunday's blaze change directions and warned his team by radio from his hilltop perch.
July 2, 2013 -- Updated 1419 GMT (2219 HKT)
The mother of one of the firefighters that died in a fire in Prescott, Arizona, remembers her son.
July 2, 2013 -- Updated 1408 GMT (2208 HKT)

Joe Woyjeck last talked to his son Kevin, the outdoors enthusiast who took up his father's firefighting profession, on the phone just hours before Kevin died.
July 3, 2013 -- Updated 1329 GMT (2129 HKT)

Fire falling and bouncing and pouring like lava down mountainsides. Fire taking your breath and replacing it with fire. Or at least that's what if feels like during a blow-up.
July 3, 2013 -- Updated 0256 GMT (1056 HKT)

Piers Morgan talks with the family of firefighter Robert Caldwell, who lost his life battling the Arizona wildfire.
July 2, 2013 -- Updated 2146 GMT (0546 HKT)

One of the men killed fighting a massive wildfire in Arizona left behind a fiancee who is pregnant.
July 11, 2013 -- Updated 1616 GMT (0016 HKT)

Memorials and vigils remember the men lost in the Yarnell fire.
July 2, 2013 -- Updated 1044 GMT (1844 HKT)

They were part of an elite squad confronting wildfires on the front line, setting up barriers to stop the spreading destruction. But in their unpredictable world, it doesn't take much to turn a situation deadly.
July 5, 2013 -- Updated 1448 GMT (2248 HKT)

Click through our gallery to see photos of the raging fires in Arizona.
Today's five most popular stories