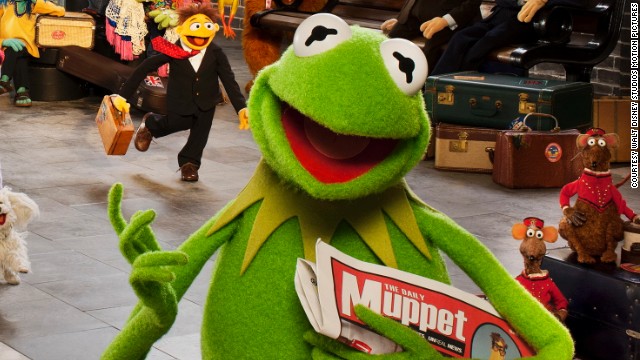 Originally fashioned from a green ladies coat that Jim Henson found in a bin (plus a pair of ping pong balls for eyes),
Kermit the Frog
has gone on to be one of the world's few internationally recognized puppets -- or, rather, Muppets. He can already count seven hit films, a recording contract, a bestselling autobiography and countless TV appearances among his achievements --and he's set to appear on the big screen again next year in "Muppets Most Wanted."
Yoda manages to give off a convincing impression of wisdom and deliver some of the "Star Wars" saga's most crucial lines. George Lucas drafted in legendary Jim Henson-collaborator Frank Oz to bring the elderly Jedi to life, a choice which ensured Yoda had a sense of humor to match his worldly knowledge.
Despite being a three foot green alien puppet, Jedi Master
E.T. But Spielberg's instincts were proven correct again, as the film went on to become the highest-grossing film ever released (at that time).
When Steven Spielberg chose to create a heart-warming alien story for children, the easy option would have been to cast a cute and cuddly puppet. Instead audiences got waddling, faintly frightening
Gizmo -- but the puppeteers did not. The tiny rubber puppet was prone to malfunctioning and so frustrated the crew that they added a scene in which the creature gets strapped to a dartboard and pelted with darts.
Audiences loved "Gremlins" adorable mogwai
Pinocchio to the world -- famously in the Walt Disney classic, and later to a new generation (this time CGI) in an oddball turn in Shrek. Live-action adaptations of the classic novel by Tim Burton and Guillermo Del Toro are rumored to be in the pipeline
Cinema's most famous puppet -- no strings attached. Animation, rather than puppetry, brought "real boy"
Chucky, the "Good Guy" doll possessed by the spirit of a serial killer in the movie "Child's Play." The mixture of childlike puppets and murderous violence provoked controversy -- with protesters claiming Chucky made children violent -- but the film's popularity was not damaged. It has since spawned five sequels.
Puppets can be terrifying too. Case in point:
Ludo, who sees her through the quest to recover her baby brother. The cumbersome puppet was operated by puppeteers underneath the monster suit, who could watch events unfolding on a TV screen inside Ludo's stomach.
When teenage babysitter Sarah is transported to Labyrinth's strange maze-world (populated by Jim Henson's puppet creations), she is helped by kind-hearted hairy beast
The Red Balloon."
Not all of cinema's finest puppetry makes use of such complex animatronics. Albert LamorisseIt managed to turn a helium balloon (with a mind of its own) into the joint-protagonist of his classic short film "
Alien" to burst out of John Hurt's chest. The shock of the creature's arrival disguises the fact that what we're looking at is actually a relatively simple puppet -- and a whole load of blood from a butcher's shop.
It's just a few seconds of cameo, but makes a big impression and turns the film on its head. Not even the cast members (who were left in the dark about what was about to take place) were expecting the titular "
Kim Jong Il -- who steals the show.
Even after the advent of photorealistic CGI, puppetry isn't dead -- in part thanks to South Park creators Trey Parker and Matt Stone, whose clumsy marionettes in "Team America: World Police" satirized Hollywood's slick action blockbusters. But it's the film's villain -- then Korean leader
Kermit the Frog
Yoda
E.T.
Gizmo
Pinocchio
Chucky
Ludo
The Red Balloon
Alien
Kim Jong Il