Crazy? Brave? Drunk? What drives Pamplona's bull runners?
July 9, 2013 -- Updated 1150 GMT (1950 HKT)
STORY HIGHLIGHTS
Running of the Bulls in Pamplona has attracted more tourists in recent years
Event generates enormous publicity for Pamplona
Four people injured on first day of this year's bull run
(CNN) -- Some call it courage, others madness.
Still others attribute it just to excessive alcohol.
Whatever their motivation, thousands of daredevils from across the globe were on the streets of Pamplona, Spain, on Sunday testing their nerve by sprinting through the city streets in front of six huge, charging bulls.
Risking injury at the horns of a frantic, three-quarter-ton creature may not sound like everyone's idea of a pleasant vacation.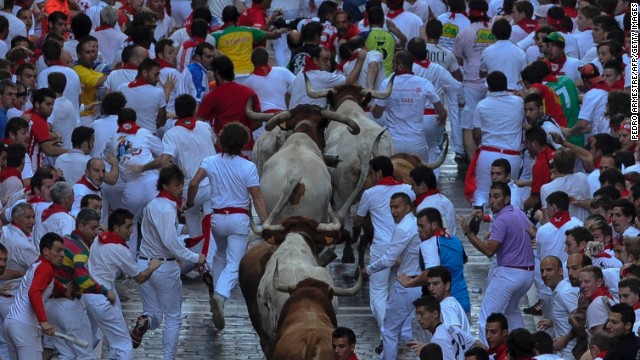 At 8 a.m. sharp, rockets are fired to signal the start of the Bull Run. Six fighting bulls are released from their pen. Humans and bulls then begin a mad race through the cobbled streets of Pamplona, ending up in the central bull ring.
The entire run covers 850 meters and is usually finished in just more than 3 minutes. This year's first run took 4 minutes and 6 seconds, a relatively long time compared with previous years. The cause of the delay? A bull left outside the ring as people blocked its path.
Once inside the bull ring, the animals face matadors in afternoon bullfights. The bulls will almost certainly meet their deaths in the ring.
The Running of the Bulls -- part of the annual San Fermín Festival -- has become a popular symbol of Spanish culture, attracting thousands of tourists a year.
Most injuries result from being trampled by the crowd or the bulls, rather than being gored. Last year, of the 38 participants hospitalized at the end of the run, four had been gored. Hundreds of people were treated at the scene for mild injuries.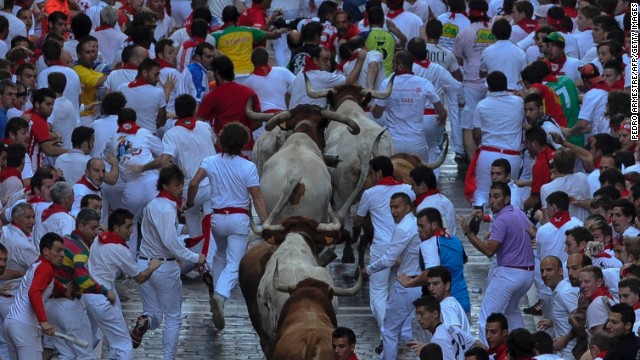 La Pamplona Gallery
Yet the legendary, centuries-old Running of the Bulls in Pamplona -- part of the annual San Fermín Festival -- has attracted more and more tourists to this small, northern Spanish city in recent years.
What's the attraction?
There's no longer a practical need to herd the bulls through the city streets to the bull ring in the center of town.
The frenetic race is maintained because it's fantastic publicity for Pamplona, as well as one of the world's most memorable tests of bravery and agility.
Amazing and scary
So, what's your chance of injury?
Not as high as the fearful-looking contest might suggest.
On the first day of this year's bull run, among the thousands of runners, only four were treated for injuries.
But maybe they're counting themselves lucky, showing off their bruises as a mark of courage.
After all, it's a sign they almost certainly weren't hiding in a doorway as the bulls thundered past.

Today's five most popular stories
Part of complete coverage on
September 26, 2014 -- Updated 1317 GMT (2117 HKT)

An Italian spa complex adds new depths to the hotel swimming pool concept with a 42-meter plunge chamber.
September 25, 2014 -- Updated 0036 GMT (0836 HKT)

Whether spiraling up mountains or sky-scraping attractions, these stairs give new meaning to the phrase "watch your step".
September 22, 2014 -- Updated 1429 GMT (2229 HKT)

Even during the harshest periods of the communist era, being Shanghainese had a special cachet in China.
September 24, 2014 -- Updated 1252 GMT (2052 HKT)

Up the Inside Passage on a heritage tugboat, sport fishermen chase British Columbia's monster salmon.
September 24, 2014 -- Updated 0741 GMT (1541 HKT)

New York to London in three hours? The European aviation giant is joining the race to make it happen.
October 2, 2014 -- Updated 1012 GMT (1812 HKT)

Which cities provide the most memorable party times? A self-proclaimed "nightlife connoisseur" names his top 10.
September 22, 2014 -- Updated 0344 GMT (1144 HKT)

Whether you're looking for a post-meeting pint or a wild night out, creativity is on the menu at these hot Hong Kong venues.
September 23, 2014 -- Updated 1028 GMT (1828 HKT)

Artists and migrants are moving out as a once-crumbling neighborhood goes upscale.
September 20, 2014 -- Updated 0502 GMT (1302 HKT)

They irrigate our farms, are an important means of transport and a source of eco-friendly power.