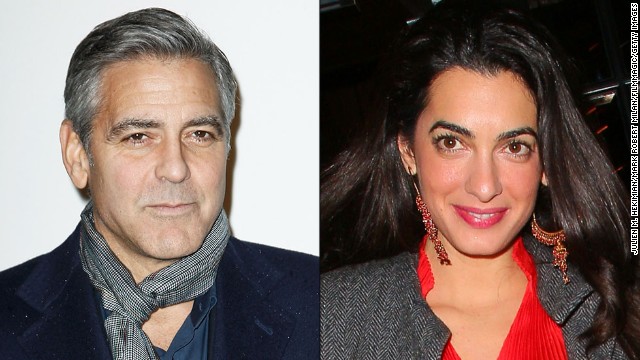 It looks like George Clooney's found the one. The actor has said he plans to marry British human rights attorney Amal Alamuddin in Italy this fall. Before Alamuddin, the debonair actor had an illustrious dating history -- just take a look:
Stacy Keibler:
Clooney dated reality TV and WWE star Stacy Keibler from 2011 to 2013. He was hesitant to discuss his romance with Keibler, as he told the
Hollywood Reporter in 2012
, "there is so little in my life that is private." News spread in July that the two had broken up for an undisclosed reason. Keibler went on to marry entrepreneur Jared Pobre in Mexico in March.
Elisabetta Canalis:
Clooney dated Italian actress and TV personality Elisabetta Canalis from 2009 to 2011 (we're sensing a pattern here). Their relationship was closely watched, and
some thought Clooney had popped the question
in 2010 when Canalis was photographed with a bauble on her finger. But it was actually a napkin ring she'd placed there as a joke.
Sarah Larson
: Clooney and Sarah Larson started dating in 2007, but the romance was comparatively short-lived. Although their affair
survived a motorcycle accident
and a walk down the red carpet at the 2008 Academy Awards -- Larson being the first lady love of Clooney's to do so -- their relationship ended that May.
Krista Allen: Clooney fell for "Baywatch" actress Krista Allen in 2002. They met on the set of Clooney's directorial debut, "Confessions of a Dangerous Mind," and reportedly dated on and off until around 2008.
Lisa Snowdon: Clooney dated British model and media personality Lisa Snowdon on and off for about five years after reportedly meeting her on the set of a commercial in 2000.
Celine Balitran: The actor's affinity for international amour has a long history. He met Parisian law student and waitress Celine Balitran in 1996 while filming "The Peacemaker" in the City of Light. The two were an item until 1999.
Karen Duffy:
Former MTV VJ Karen Duffy hooked Clooney in 1995, and while their romance didn't last, the friendship did. Duffy was spotted on a boat ride with
Clooney and then-girlfriend Canalis in 2010.
Kelly Preston: Before Kelly Preston wed John Travolta, she was attached to Clooney. The actress lived with the actor during their courtship, which began in 1987. Clooney gave Preston a pet pig as a gesture of love, which he ended up keeping after they broke up in 1989.
Talia Balsam: The only woman who can claim to be an ex-wife and not just an ex-girlfriend is Talia Balsam, whom Clooney wed in 1989 after his relationship with Preston ended. The couple's history dated to 1984, but it wasn't enough to sustain the marriage. They divorced after three years of matrimony.
George Clooney's love life
George Clooney's love life
George Clooney's love life
George Clooney's love life
George Clooney's love life
George Clooney's love life
George Clooney's love life
George Clooney's love life
George Clooney's love life
George Clooney's love life