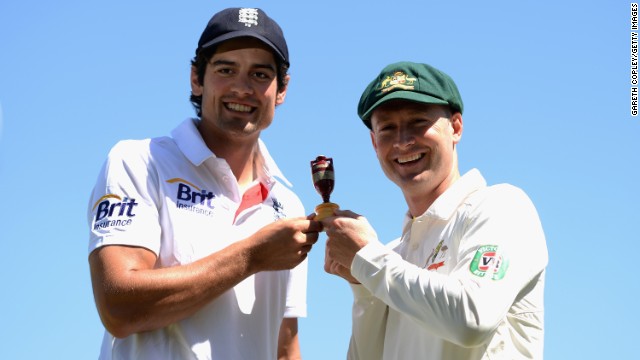 Alastair Cook and Michael Clarke are the respective captains of England and Australia. The two countries have competed against each other since the first series Ashes in 1882 with the Urn the big prize.
England is favorite to win this series after winning the past two editions. England won the five-match series 3-1 in Australia in 2011 -- its first win down under in 24 years.
England's Kevin Pietersen is one of the most recognizable figures in world cricket. The batsman came to prominence during the 2005 series victory over Australia.
The 1981 series was named 'Botham's Ashes' after England's Ian Botham produced a heroic display to inspire a 3-1 series win. On the cusp of going 2-0 down, Botham hit 149 before Bob Willis claimed 8-43 to seal victory at Headingley, Leeds.
Australia's Don Bradman, acknowledged as the finest batsman to have ever played the game, made his debut against England in 1928. He went on to score 5,028 runs in Ashes series during an illustrious career.
Australia dominated the 1990s and early 2000's, winning nine out of 10 series. Its last victory came in 2007 when it defeated England 5-0. Between 1989 and 2003, Australia won eight straight series with the likes of Adam Gilchrist, Glenn McGrath and Ricky Ponting all involved.
Australian fast bowler McGrath and spin bowler Shane Warner combined to provide their team with one of the most fearsome attacks in world cricket. McGrath claimed 563 wickets in 124 matches, while Warne took 708 wickets in his career, the second highest of all time.
England cricket fans travel across the globe to support their team and have been nicknamed 'The Barmy Army'. They are particularly adept at giving the Australian players a piece of their mind.
Australia's fans are known as 'The Fanatics' and will be hoping for something to shout about after losing the past two series.
Andrew Flintoff, nicknamed Freddie, was the hero for England in 2005 as he helped wrestle the Ashes back for the first time in 18 years. Flintoff scored 402 runs and took 24 wickets in an epic series.
Arch enemies
England expects
Pietersen primed
Botham brilliance
The Don
Awesome Aussies
Double act
Barmy Army
Fanatics
Fearsome Fred
STORY HIGHLIGHTS
England and Australia will compete for The Ashes in a five-match series
England is favorite to triumph after winning the past two editions
Australia dominated during the 1990s and early 2000s
Contest and rivalry has been running since 1882
(CNN) -- The Ashes is not a sporting event -- it is an obsession.
Since 1882, England and Australia's cricketers have fought, wrestled and spilled blood in one of the world's fiercest rivalries.
Whether it be on the rugby field or on the cricket pitch, these two countries only care about one thing -- winning.
On Wednesday, when England and Australia go head to head in cricket's biggest contest, the Ashes, two countries will hold their collective breath and prepare for a brutal battle.
It seems perverse that a game, which pauses for tea, and has the possibility of not having a winner after a five day contest, can stir such fierce emotion.
The Ashes: England v Australia

10-14 July: 1st Test, Trent Bridge, Nottingham

18-22: 2nd Test, Lord's, London

1-5 August: 3rd Test, Old Trafford, Manchester

9-13: 4th Test, Chester-le-Street, Durham

21-25: 5th Test, The Oval, London
But for these two countries, thousands of miles apart, the yearning for victory could not be greater.
Rivalry
It's a rivalry which encompasses everything good, and sometimes bad, about sport.
It's about pride. It's about passion. It's about blood, guts, victory at all costs.
But it's also about respect, a love of the game and the realization that these two nations are forever intertwined through one of sports greatest and most dynamic rivalries.
Then there's the history.
There's Captain James Cook discovering Australia in 1770 and the settling of British prisoners in Australia 18 years later.
Add to that the brotherhood and bond between the two countries in time of war and the union of the Commonwealth.
And why not throw a shared monarch into the mix too?
United by history, divided by sport. It's one rivalry which threatens to remain eternal.
And did those feet in ancient time Walk upon England's mountain green? And was the holy Lamb of God On England's pleasant pastures seen?
William Blake
So when when the players of England and Australia walk out at Trent Bridge, with the words of William Blake's Jerusalem ringing in their ears, they will know that the battle has begun.
The CNN Ashes guide
To understand the birth of this great rivalry requires a glance at the past.
After enduring a dismal defeat by Australia on home soil at The Oval in August 1882, English cricket was left in a state of shock and embarrassment.
A newspaper, the Sporting Times, carried a satirical obituary of English cricket, which stated that: "The body will be cremated and the ashes taken back to Australia."
When England traveled to Australia for the return series, it gained revenge with captain Ivo Bligh awarded a small terracotta urn to symbolize the winning of the Ashes.
That small urn is arguably the most precious prize in world cricket with Australia holding it on 31 occasions to England's 30.
Controversy
There has been no shortage of drama during Ashes encounters -- but some are better remembered than others, although not always for the right reasons.
The most controversial Ashes series remains that of 1932-33, which was known as "Bodyline" after England captain Douglas Jardine ordered his bowlers to bowl straight at the bodies of their opponents.
It was a tactic which caused huge uproar, with Australian batsman Bert Oldfield suffering a fractured skull as England's bowlers showed no mercy.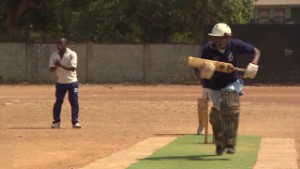 Part 3: Cricket makes a comeback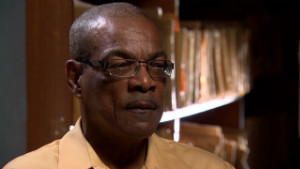 World Sport Presents: Branded a Rebel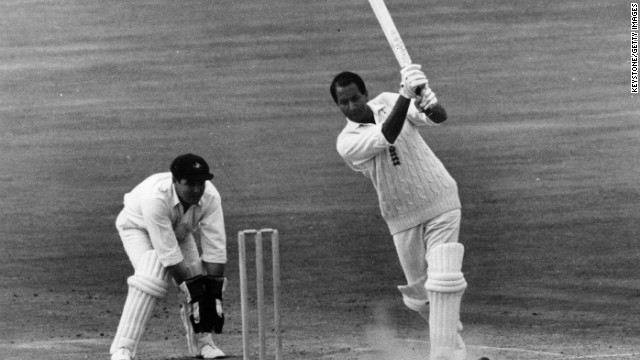 Basil D'Oliveira, affectionately known as "Dolly," played 44 Tests for England, scoring 2,484 runs at an average of 40 and taking 47 wickets with his right-arm medium-pace bowling.
D'Oliveira had two boys, Damian and Sean. Damian enjoyed a successful career at Worcestershire and is still on the coaching staff to this day.
D'Oliveira, standing with wife Naomi and son Damian, was awarded the OBE by Queen Elizabeth II on October 29, 1969 at Buckingham Palace. He was also honored by the Royal Family in 2005 where he was awarded a CBE.
Pictured alongside fellow England player Alan Knott, D'Oliveira became an integral part of the international setup after making his debut against the West Indies in 1966. He scored his first century against India the following year, but it was his historic innings of 158 against Australia in August 1968 which sent shock waves through the cricket world.
D'Oliveira was then expected to be named in the squad to tour South Africa the next day -- but he wasn't. His omission by the Marylebone Cricket Club, which chose the England team, was met with anger with the public -- who believed that the ruling body had bowed to South Africa's racist regime.
South Africa's then prime minister John Vorster, a staunch advocate of apartheid, canceled England's tour to the country following confirmation that D'Oliveira had been named in the squad. He said: "We are not prepared to accept a team thrust upon us by people whose interests are not the game, but to gain certain political objectives which they do not even attempt to hide."
In opposition to the apartheid politics of South Africa, this group of cricketers formed the "Stop the Seventy Tour," a committee set up to stop that year's tour of the South African cricket team to England. On the far right sits Peter Hain, leader of the Young Liberals and a future British MP.
Former captain Mike Gatting led a rebel England tour to South Africa in 1990, where he was met with huge criticism and opposition by black South Africans. The 16 England players involved were being paid by the apartheid government rather than corporate sponsors, which had also been the case on previous rebel tours.
According to Peter Oborne, who wrote "Basil D'Oliveira. Cricket and Conspiracy: The Untold Story," D'Oliveira was invited to lunch by Nelson Mandela following a coaching trip to South Africa. "At the end Mandela rose from his chair and hugged D'Oliveira. 'Thanks for coming, Basil,' he said. 'You must go home now. You've done your bit.' "
South Africa did not play international cricket from 1970 to 1991 after being hit with sanctions in a bid to defeat apartheid. It returned with two one-day games in India before competing at the 1992 World Cup in Australia. That year it returned to Test match cricket, playing the West Indies.
South Africa captain Graeme Smith celebrates with the Basil D'Oliveira trophy after taking the 2012 Test match series following victory over England.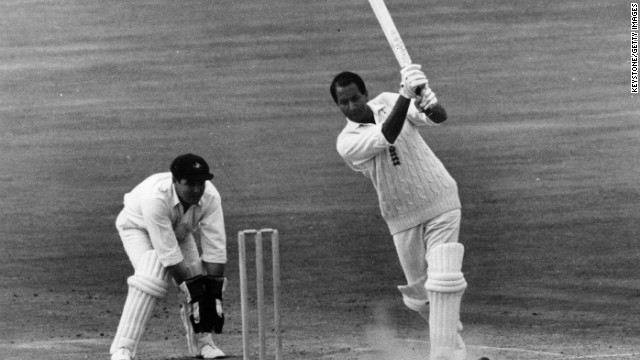 How Basil batted against apartheid
A 4-1 defeat was difficult to take for Australia and enshrined an extra edge to an already intense rivalry.
Stars
Some of the most famous names in cricket have played in Ashes Test matches -- but there are some which are synonymous with this particular battle.
One of those is Ian Botham, widely regarded as England's biggest Ashes hero having had a Test series named after him.
"Botham's Ashes" which took place in 1981, produced one of the most spectacular moments ever witnessed in an Ashes series.
After resigning as captain just days earlier following an opening Test defeat, England were on the cusp of going 2-0 down in the series.
A dismal start to the second Test at Headingley left Australia tantalizingly close to victory -- but Botham's heroics defied all the odds.
An unbeaten 149 from 148 deliveries gave England hope, forcing Australia to score 130 to win the match.
But the tourists only managed 111 -- handing the victory to England, which eventually went on to win the series.
Australia dominated between 1989 and 2003 -- winning eight consecutive series.
The undisputed team of the decade in the 1990s and early 2000s, Australia boasted several world class players such as Shane Warne, Glenn McGrath, Ricky Ponting and brothers Steve and Mark Waugh.
Then there was wicketkeeper Adam Gilchrist, who scored the second fastest century in Test match cricket during Australia's 5-0 whitewash of England in 2006-7.
But Australia's and indeed the world's greatest ever batsman, is widely acknowledged to have been Donald Bradman.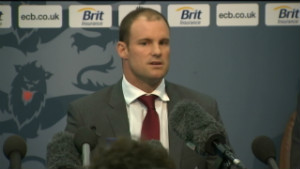 Andrew Strauss retires from cricket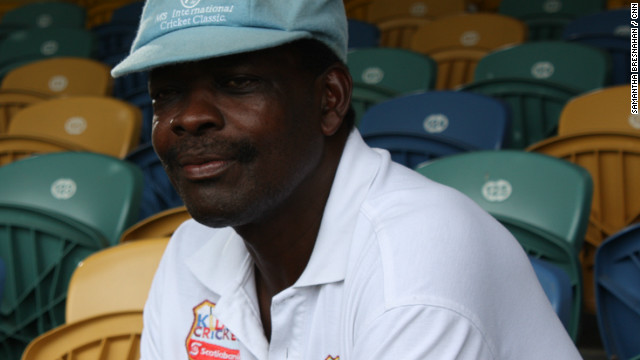 Collis King, hero of the West Indies' 1979 World Cup victory, reflects on his participation in the 1982-84 "rebel tours" in apartheid-era South Africa. His participation ended his international cricket career.
King, one of 18 "rebels," chose to go to South Africa as he felt he was being overlooked by selectors. "Well, cricket is my job," he said. "You're not picking me, I'll go play cricket someplace where people will see proper cricket. And that's why I went."
Franklyn Stephenson was only 23 when his international career was ended following his participation in the "rebel tours." He is widely regarded as the best player to never officially represent the West Indies.
A West Indies tour blazer from the 1983 tour. "I knew the tour was more important than being just cricket," said Stephenson. "I believe that cricket can make a difference and I'm going to be a part of that team."
Newspaper writer Al Gilkes was the only journalist from the Caribbean to cover the rebel tourists."I felt sorry for them," he said. "I knew that they would never outlive what they were returning to."
Barbados, one of the islands making up the group known as the West Indies, is one of the most cricket-mad Caribbean countries.
The CNN World Sport documentary team visited a cricket clinic for kids in the island's capital Bridgetown.
Young hopefuls at the clinic dream of replicating legendary batsmen like Brian Lara and Viv Richards.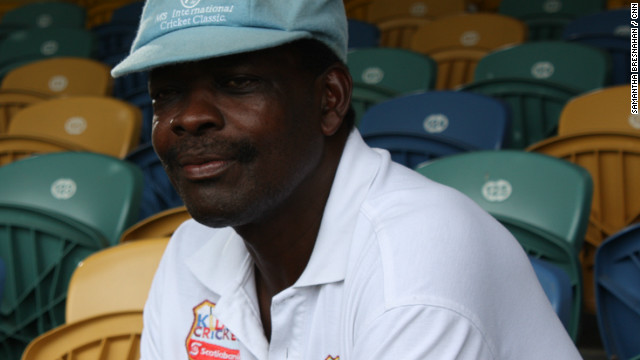 World Sport Presents: Branded a Rebel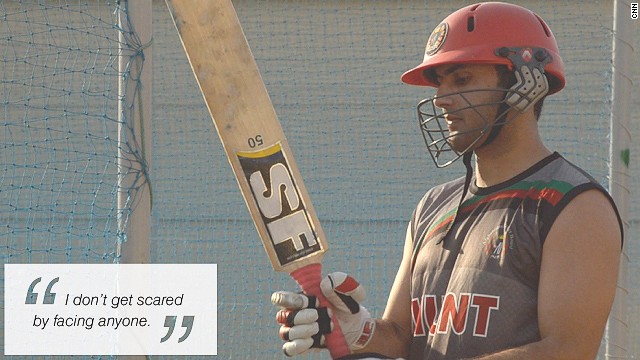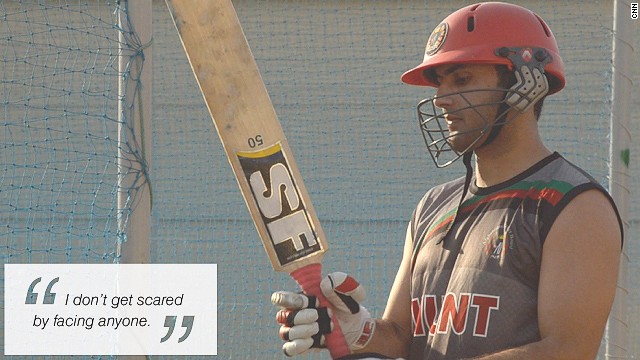 Afghan cricket's big dreams
'The Don' scored 5,028 runs in Ashes contests during his career from 1928-1948 and finished with an average of 99.94.
Australia have also dominated with the ball with Warne the leading wicket taker in Ashes cricket with 195, while McGrath claimed an impressive 157.
Recent history
While, England might be favorites to win this series, it's important to realize it wasn't always this way.
When the 2005 series came to England, Australia was hoping to win its ninth consecutive Ashes series.
A routine victory in the opening Test appeared to confirm its status as favorite before a narrow two-run defeat at Edgbaston drew England level.
A crucial England victory at Trent Bridge in the fourth Test, coming in between two drawn games, gave the host nation its first series win since 1989.
It was the series which introduced Kevin Pietersen to the world stage and led to Andrew Flintoff establishing himself as favorite with cricket fans across the world.
Flintoff's 24 wickets and 402 runs were integral to England's success
But his next venture did not go so smoothly as he captained England during its tortuous 5-0 whitewash defeat in Australia in 2006/7.
"You know what Australians are like. They are tough characters who love to win and you would be disappointed if they didn't come out with a lot of fight."
Stuart Broad
That result left a huge scar on English cricket as Australia humiliated its rival in ruthless fashion.
But England bounced back in 2009, winning the home series, before achieving its first victory on Australian soil in 24 years following a 3-1 win in 2010-11.
The players
For the players of both teams, playing in the Ashes is the pinnacle. It means everything.
There is no greater honor for an English or Australian cricketer -- the stakes are at their highest and victory ensures sporting immortality.
But where there are great gains to be made, there are also great losses which can be suffered.
And while Australia may not be at its strongest, England is not taking anything for granted.
"It's a bit of a dream come true starting an Ashes series at home in front of all your family and friends at Trent Bridge," said England bowler Stuart Broad, who plays for Nottinghamshire.
"But it's all about winning, because if you lose, you look back at that match with horrible memories. But if you win, you have very fond memories, so it's an advantage for us as a team.
"You know what Australians are like. They are tough characters who love to win and you would be disappointed if they didn't come out with a lot of fight.
"I know especially back in Australia, this is the pinnacle of an Australian cricketer, to play Test cricket in England."
Michael Clarke
"You'd be disappointed if there wasn't fire in their bellies in an Ashes series anyway."
Australia might start the series as underdogs but its captain, Michael Clarke, is confident his players can provide a shock result.
"I know especially back in Australia, this is the pinnacle of an Australian cricketer, to play Test cricket in England, be part of an Ashes series and I'm sure there will be judgments made on our performances, and as captain of the team you should be accountable," said Clarke.
"I've said for a while now that we come here as underdogs but that hasn't affected our preparation and it won't affect our performance either.
"We know it's going to be tough but I know our boys are up to the challenge.
The fans
England's cricket team enjoys unparallelled support in international cricket with is fans universally known as "The Barmy Army".
Created in 1994 by three friends, the "Army" now boasts over 5,000 members and arranges tours across the world to watch England compete.
Singing, often accompanied by Billy Cooper, a classically trained trumpet player, adds some color, while the chanting can often provide some light entertainment -- unless you're an Australian.
The Barmy Army has a reputation for going after Australia's players with bowler Mitchell Johnson the unfortunate victim during the 2010-11 series.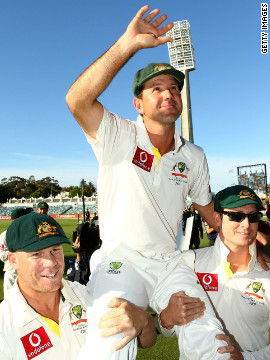 Ricky Ponting is carried from the field by David Warner, left, and Michael Clarke, his successor as Australia captain, after his 168th and final Test match.
Ponting holds daughter Matisse (R), as his wife Riannna carries daughter Emmy (L), following Australia's defeat in the third and final Test of the series against South Africa at the WACA ground in Perth.
The 37-year-old was given a guard of honor by his opponents when he went out to bat on day four. South Africa captain Graeme Smith later described Ponting as "the player I respect the most" following a record-breaking career.
Ponting, one of only three players to have scored more than 13,000 Test runs, managed a trademark early boundary as Australia chased a huge target of 623 to win.
However, he fell for just eight runs and the home side went on to lose by 309 for a 1-0 series defeat as South Africa retained the top Test ranking.
He was given a standing ovation by the 7,000-strong crowd, having matched Steve Waugh's record of Test appearances for Australia.
A fan shows his appreciation for Ponting, who won a record 48 Tests as captain and was involved in 108 victories overall.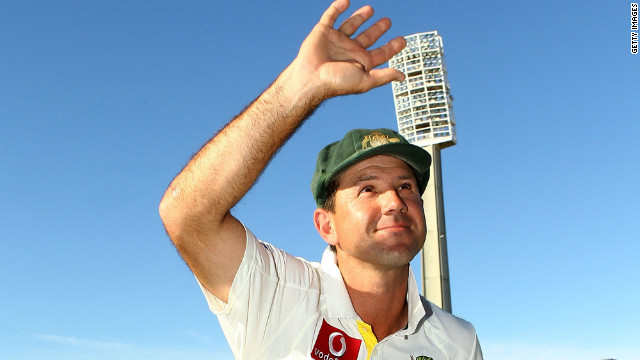 Ricky Ponting ends cricket career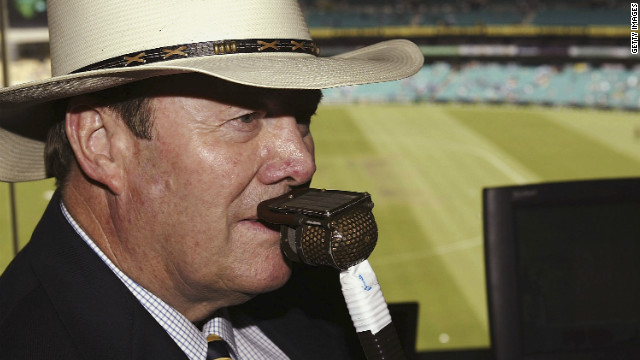 Tony Greig was best known in later years as a cricket commentator for Australia's Nine Network and other broadcasters around the world.
Seen here at the 2011 World Cup, he was well-known for his prematch pitch reports -- he stuck his car key into the playing surface to ascertain moisture levels.
Last year he was honored for his work in Australian television at the Logie Awards, but he was diagnosed with lung cancer in October 2012 before passing away on December 29.
Born in South Africa, he went on to captain England due to his Scottish father. In 1976 he was made to pay for comments that he would make the West Indies "grovel" as the tourists unleashed a fearsome pace attack.
Having been beaten 3-0, he redeemed himself by leading England to a first series win in India in 15 years. However, his international career was soon to end.
Greig took the English cricket authorities to court in 1977 after they threatened to ban players he helped sign up for the rebel World Series Cricket competition.
He won that battle but struggled in the Kerry Packer-funded tournament's first year, in which he was one of the captains along with West Indies' Clive Lloyd and Australia's Ian Chappell. However, it eventually proved a great success and transformed the way cricket was played and presented.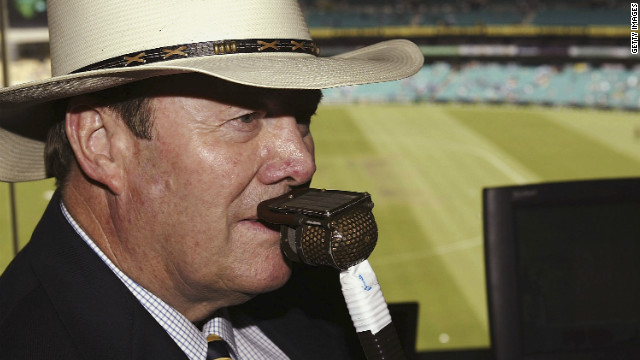 Cricket revolutionary Greig passes away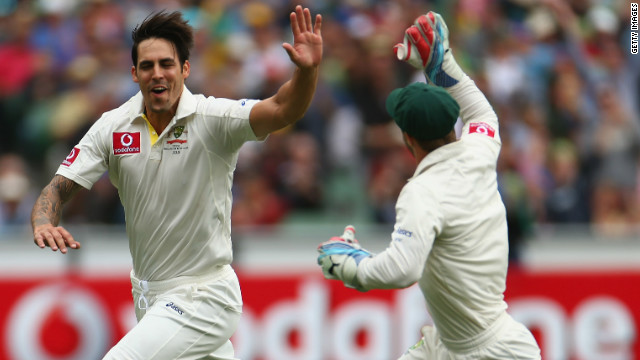 Mitchell Johnson, left, celebrates with wicketkeeper Matthew Wade after dismissing Tillakaratne Dilshan in the opening over of Sri Lanka's second innings in Melbourne.
Johnson had earlier run out Dimuth Karunaratne in the same over as the tourists made the worst possible start before losing by an innings and 201 runs.
The Australian bowlers once again tested the visiting batsmen, who struggled to cope with short-pitched deliveries.
Man of the match Johnson was in fiery form, and one of his rising deliveries hit Kumar Sangakkara on the glove -- Sri Lanka's leading batsman was later diagnosed with a broken finger, ending his tour.
Johnson was earlier denied his second Test century, being stranded on 92 when Australia's first innings came to a close on 460.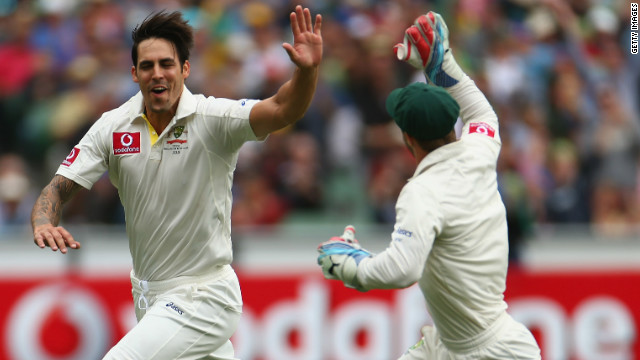 Johnson inspires Australian victory
Australia's fans, known as 'The Fanatics' will be hoping to have something to shout about following two consecutive defeats.
The two sets of supporters groups play a cricket match against each other during every series with England coming up on top this time around.
Where to watch
The five Test matches are taking place throughout England with the opening contest at Trent Bridge, Nottingham.
Following that, the series will move to the Home of Cricket, Lord's, in London, before moving up to Manchester, Durham and back to London.
The English Cricket Board (ECB) has agreed a deal for cricket fans living in mainland Europe and Latin America to watch the series on YouTube.
Star Men
While one captain Cook changed the tide of history in 1770, another is hoping he can make his own mark by putting Australia to the sword.
England captain Alastair Cook enjoyed an outstanding 2010-11 series in Australia, scoring 766 runs. He has more than 7,500 runs to his name and is hoping to win the Ashes for the first time since replacing Andrew Strauss as captain.
The host nation will also be relying on fast bowler James Anderson, who has emerged as one of the most talented players in world cricket. Anderson, who is particularly adept at swinging the ball in either direction, has taken 307 Test wickets in his career -- a number which ranks him joint-third in the all-time list of England bowlers.
For Australia, much depends on the experience of captain Michael Clarke, who has only recently recovered from injury. In his 24 Test matches as captain, he has excelled with the bat at an average of 66.
End game?
England is the favorite to win its third consecutive Ashes series -- a feat which not long ago would have sounded almost impossible given Australia's dominance in the 1990s.
Now, with Australia no longer the force it used to be, England expects. The pressure to deliver is on, the nation awaits the opportunity to taunt the old enemy once more.
But whichever team comes out on top, the world will surely be treated to another epic encounter -- just weeks before both teams do it all over again, this time in Australia.
This is one obsession which won't be ending anytime soon.
Australian cricket coach axed ahead of Ashes