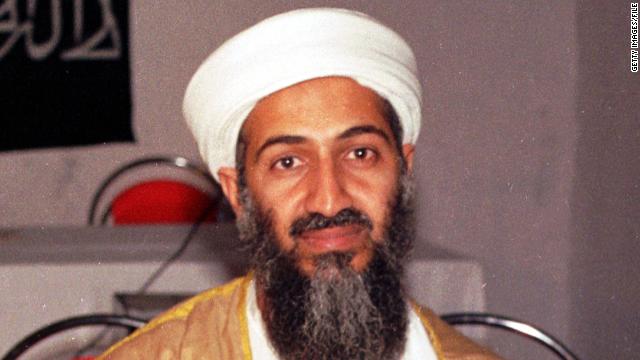 Osama bin Laden was killed by a team of U.S. Navy SEALs in May 2011, at a compound near Abbottabad, Pakistan. Click through to see images of the compound where he spent the last days of his life.
The compound where Osama bin Laden was killed is guarded by Pakistani police on May 4, 2011.
A closer view of one of the buildings in the compound is seen on May 7, 2011.
A general view of the compound in Abbottabad, Pakistan, is seen on May 5, 2011.
A demolition crew works to dismantle the compound on February 26, 2012.
A Pakistani woman fills a container with water at the site of the demolished compound on April 25, 2012.
Shakeel Ahmad Yusufzai, a Pakistani contractor who worked to dismantle the compound, walks through the rubble left behind from the demolition on May 1, 2012.
Contractor Yusufzai looks at a bathtub left over from the demolition on May 1, 2012.
Children play cricket near the site of the demolished compound.
Bin Laden's compound
Bin Laden's compound
Bin Laden's compound
Bin Laden's compound
Bin Laden's compound
Bin Laden's compound
Bin Laden's compound
Bin Laden's compound
Bin Laden's compound
STORY HIGHLIGHTS
NEW: A senior government official confirms the report's authenticity
Report: At the hospital, bin Laden's wife faked being deaf and mute so people wouldn't ask questions
He wore a cowboy hat to obscure his features from satellite cameras, the report says
The most wanted terrorist once shaved his beard to avoid recognition
Islamabad, Pakistan (CNN) -- Osama bin Laden typically wore a cowboy hat while tending his garden.
Its broad brim obscured his features from the view of pesky eyes or satellite cameras that might blow his cover while he was hiding out in Pakistan, according to a report first published widely in Pakistani media.
The 337-page leaked report details the domestic life of one of the world's most wanted men in his final days of life.
Bergen: bin Laden's life on the run
It also bashes Pakistani authorities for failing to keep the al Qaeda leader out of the country, and for failing to prevent the U.S. raid by Navy SEALs that killed him in May 2011.
The report bears the names of a former top diplomat, a supreme court justice and former officers of the military and police.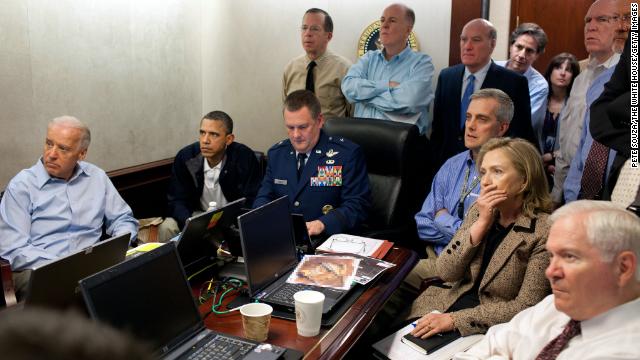 Vice President Joe Biden, left, President Barack Obama, and Secretary of State Hillary Clinton, second from right, watch the mission to capture Osama bin Laden from the Situation Room in the White House on May 1, 2011. Click through to see reactions from around the world following the death of the al Qaeda leader.
President Obama edits his remarks in the Oval Office prior to making a televised statement announcing bin Laden's death.
Servicemen cheer from a lamp post as thousands of people gather at Ground Zero in New York City.
Crowds celebrate with NYPD officers in New York's Times Square early on May 2, 2011, after the death of Osama bin Laden.
Revelers gather at the fence on the north side of the White House.
Afghans watch television coverage in Kabul announcing the killing of bin Laden.
U.S. Marines watch the announcement of bin Laden's death at Camp Dwyer in Helmand Province, Afghanistan.
Times Square is filled shortly after the announcement of bin Laden's death.
Students gather to celebrate at the fence on the north side of the White House.
A passer-by looks at newspaper headlines in front of the Newseum in Washington.
Danielle LeMack, left, Carie LeMack and Christie Coombs, who lost relatives on 9/11, pause during a ceremony to honor the victims on May 2, 2011, at the Garden of Remembrance in Boston.
A visitor photographs the fence overlooking the crash site of Flight 93 in Shanksville, Pennsylvania, on May 2, 2011.
Pakistani media and residents gather outside the bin Laden hideout on May 3, 2011.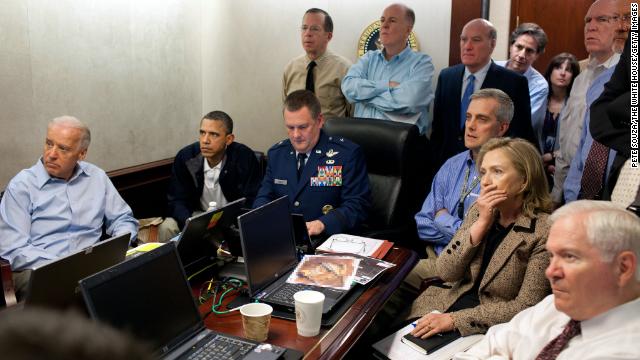 Photos: The death of Osama bin Laden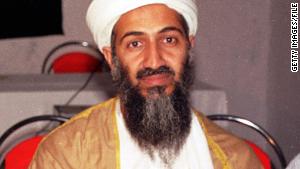 Report: Police didn't recognize bin Laden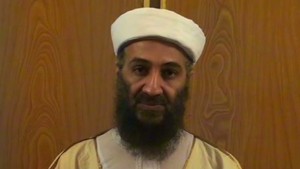 Pakistani report on bin Laden leaked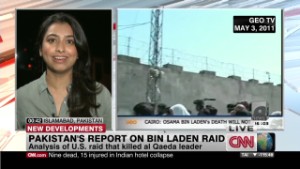 Bin Laden's movements detailed in report
A senior government official who was closely associated with the commission that produced the report confirmed its authenticity to CNN. Citing a news piece by Al Jazeera, the first to report the story, the official said the documents being discussed in the news are part of a report that was submitted to the prime minister's office.
Bin Laden's death: How the story unfolded
Veggie growing contest
The famous terrorist's life was speckled with quirky measures designed to keep him under the radar, the report said.
Al Qaeda's No. 1 spent lots of time doting on his some dozen children and grandchildren in the six years he spent in his walled compound in the city of Abbottabad, said terror expert Peter Bergen, commenting on the report.
They could not pass time watching TV or surfing online, because bin Laden had no Internet connection and no satellite television hook-up. He also didn't have a phone line, all measures to avoid detection.
For the same reason, the children were not allowed to play with other kids in the neighborhood. They spent the bulk of their lives within the compound's walls.
When bin Laden was not personally giving them religious instruction, he took them out into the yard.
He would award them prizes if they grew particularly good vegetables in the garden.
Opinion: From bin Laden to Boston
Faking deafness
Bin Laden fled to Pakistan a month after the September 11, 2001, terrorist attacks on the United States, moving from the south to the north and then hopping from town to town before landing in Abbottabad in 2005.
While he was on the run, one of his wives gave birth four times and had to be taken to local hospitals, but it was obvious that she was not from the region. She spoke Arabic instead of Urdu, Pakistan's official language.
Bin Laden's family feared this might raise suspicions. So, they told doctors she was deaf and mute.
While on the run in the restive tribal region of the Swat Valley, bin Laden shaved off his recognizable beard, according to the report. Men helping him told others not to ask any questions about the tall stranger, who spoke Arabic.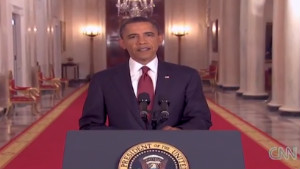 2011: Obama announces bin Laden's death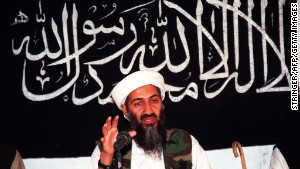 How man came face-to-face with bin Laden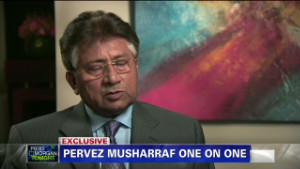 Pervez Musharraf on Osama bin Laden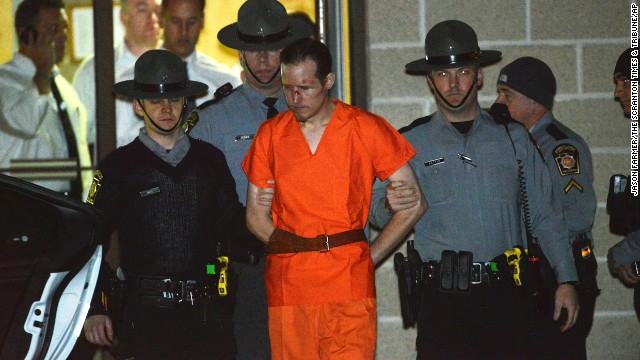 State troopers escort Eric Matthew Frein from the state police barracks in Blooming Grove, Pennsylvania, on Friday, October 31. Frein, who is accused of killing a Pennsylvania state trooper and wounding another, was found at an abandoned airport near Tannersville, Pennsylvania, authorities said. He had been on the run for nearly two months.
Edward Snowden, the man who leaked top-secret details about U.S. surveillance programs, has been charged with three felony counts, including violations of the U.S. Espionage Act. After living in a Moscow airport since June, he began his temporary asylum in Russia in August 2013. He had been hiding out in Hong Kong until WikiLeaks helped him move to Moscow. Snowden has said he is afraid he would not get a fair trial if he came back to the United States.
Convicted mob boss James "Whitey" Bulger spent more than a decade on the FBI's Most Wanted list before being arrested in June 2011 in Santa Monica, California. The jury in his federal racketeering trial found him guilty on 31 of 32 counts -- including involvement in 11 murders -- in August 2013.
Eric Toth, a former private school teacher and camp counselor, was on the FBI's "Ten Most Wanted" fugitives list when he was captured in Nicaragua in April 2013. The investigation into the suspected child predator began in June 2008 after pornographic images were found on a school camera that had allegedly been in his possession.
Boston Marathon bombing suspect Dzhokhar Tsarnaev was arrested in April 2013 after an overnight shootout with police that resulted in the death of his brother, Tamerlan Tsarnaev. A federal grand jury returned a 30-count indictment against Dzhokhar Tsarnaev, alleging he used a weapon of mass destruction.
Former Los Angeles police officer Christopher Dorner led police on a chase lasting days before he was tracked to a hideout in the San Bernardino Mountains. He took his own life in February 2013.
Ted Bundy raped and murdered dozens of women across the country in the 1970s. He escaped from prison twice before being captured during a traffic violation in 1978. He was executed in Florida in 1989.
The FBI is still searching for Abdul Rahman Yasin, a suspect in the February 26, 1993, World Trade Center bombing that killed six and injured more than 1,000 people in New York. Six other suspects were convicted in the attack.
Eric Robert Rudolph -- who was convicted of a string of bombings, including the 1996 Olympic Games in Atlanta -- eluded capture until 2003. He was arrested in Murphy, North Carolina, and is serving four consecutive life sentences plus 120 years.
Once a fixture on the FBI's Most Wanted list, al Qaeda leader Osama bin Laden was killed by U.S. Navy SEALs in an Abbottabad, Pakistan, compound on May 2, 2011.
Lovebird bandits Bonnie Parker and Clyde Barrow are believed to have committed 13 murders and several robberies and burglaries before they were ambushed and killed by police in 1934.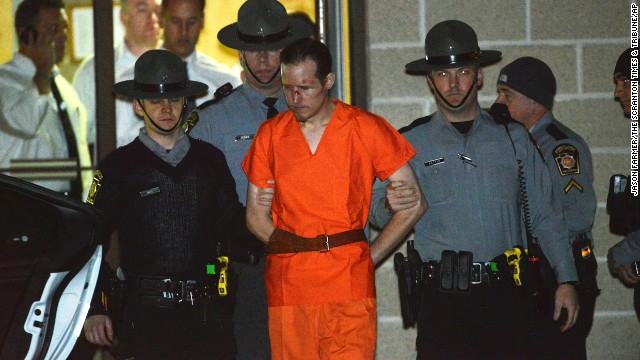 Photos: Famous manhunts
While in Swat, police once pulled bin Laden's driver over, but he quickly settled the matter before the officer had a chance to get a closer look at the clean-shaven man riding with him.
After arriving in Abbottabad, a woman living in the same building with bin Laden recognized him from his image shown on cable TV. Her husband, who was helping bin Laden, went into a panic, the report said.
He told her to mind her own business and forbade her and all other women in the house from watching TV anymore.
Opinion: Who really killed bin Laden?
The assassination raid
The measures kept bin Laden from being recognized for years in a city also home to one of Pakistan's largest military complexes.
The CIA eventually suspected he was there and recruited a Pakistani doctor to run a vaccination program in Abbottabad in an attempt to find bin Laden by locating his children through their DNA.
Eventually the United States did find the al Qaeda leader and assassinated him during a special forces raid on his compound. He was later buried at sea, the U.S. military said.
Although the SEALs were within Pakistan's borders for three hours, its military did not detect them.
"The radar systems were not looking for that kind of intrusion from the Afghan side of the border," terror expert Peter Bergen said. He feels sure that will change now.
The report also dedicated 22 pages to fighting terrorism and keeping people like bin Laden from taking refuge in the country again.
The report's authors blast Pakistani authorities at every level of government, intelligence and the military for not stopping the U.S. mission, calling it "a story of complacency, ignorance, negligence, incompetence, irresponsibility, and possibly worse at various levels inside and outside the government."
Pakistan's government considers the assassination operation a violation of its sovereignty, basically an act of war.
No public release of bin Laden death photos
CNN's Melissa Grey contributed to this report.