Dapper dinosaurs strut their stuff on Vogue UK website
July 10, 2013 -- Updated 2313 GMT (0713 HKT)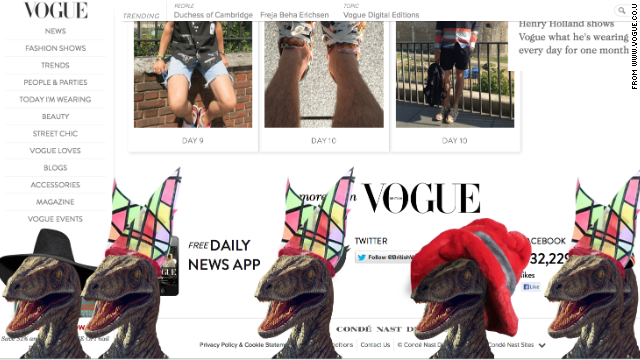 All it takes is a few keyboard strokes to produce this festive parade of dinosaurs on Vogue UK and other British editions of Conde Nast publications. Check out which other publications braved the dinosaur attack.
website
page are dressed for the occasion in suit and tie.
Dinosaurs on GQ UK's
The Nyan cat joins a white-coated dinosaur on the
Dinosaurs invade Conde Nast UK websites
Dinosaurs invade Conde Nast UK websites
Dinosaurs invade Conde Nast UK websites
Dinosaurs invade Conde Nast UK websites
STORY HIGHLIGHTS
Keyboard code unleashes parade of stylish dinosaurs on Conde Nast UK websites
Dinosaurs are Konami codes, an 'old cheat-sequence' often used as memes
Conde Nast says dinosaurs are "intended," not result of a computer hack
(CNN) -- Reptiles are the biggest thing on Vogue UK's website right now, but not as boots or bags.
With a few keyboard strokes, visitors to the site can watch a parade of dinosaurs in quirky hats flashing across the page.
Trust me and try it: Go to the site and type this: up, up, down, down, left, right, left right, b then a as many times as you want.
Dinosaurs invaded the websites of several UK editions of Conde' Nast publications this week. GQ, Easy Living and Wired each have dinosaurs dressed for the occasion, so to speak: on GQ, a dapper dino dressed in a suit, Nyan cats flying across WiredUK.
Who gets the prehistoric style points on this one? Fashion blogs that caught wind of the avatars Monday speculated that they were the result of a hack. A Conde Nast Britain spokesman declined to comment on the prehistoric invaders except to say they "were intended."
Don't miss out on the conversation we're having at CNN Living.
Follow us on Twitter
and
Facebook
for the latest stories and tell us what's influencing your life.
Computer security expert Graham Cluley said the stunt was created using Konami code, an "old cheat-sequence code" that could be used on vintage Nintendo games, but are now considered a meme.
But let's get back to the hats. Massachusetts-based milliner Sally Steinmann reports that the headwear on the Vogue dinos are "everyday casual style" often used in the fall or winter.
They range from a "plush, faux fur cloche in red and gray," to a feathered fedora, and even brimmed-military style caps also make an appearance.
Steinmann said she would have loved to see dinosaurs decked in millinery creations more a la Vogue, like Stephen Jones or Philip Treacy, or hats worthy of the Royal Ascot.
"Perhaps the dinos are simply showing their good taste," she said.

Today's five most popular stories
Part of complete coverage on

CNN Living reflects your life. From advice for modern parents to the freshest news in food: It's all here.
August 7, 2014 -- Updated 1606 GMT (0006 HKT)

Travis and Joyce Miller started producing hickory syrup as an experiment. Demand for the unique flavor has turned into a full-time business.
August 5, 2014 -- Updated 1505 GMT (2305 HKT)

These happy couples kept the campfire flames burning, and turned summer flings into lifetime commitments.
August 7, 2014 -- Updated 1733 GMT (0133 HKT)

Shanesha Taylor says a moment of "desperation" led her to leave her children in a car during a job interview.
July 18, 2014 -- Updated 1555 GMT (2355 HKT)

Bikinis might dominate the beaches, but style editors and trend forecasters say the one-piece is the "fashion-forward" choice this season.
July 30, 2014 -- Updated 1442 GMT (2242 HKT)

Are you ready for this? These guidelines tell you when to wash everything, from sheets and cars to bras and hair.
August 7, 2014 -- Updated 1121 GMT (1921 HKT)

"I am a canvas of my experiences, my story is etched in lines and shading," says tattoo artist Kat Von D. Is this a good thing?