Dapper dinosaurs strut their stuff on Vogue UK website
July 10, 2013 -- Updated 2313 GMT (0713 HKT)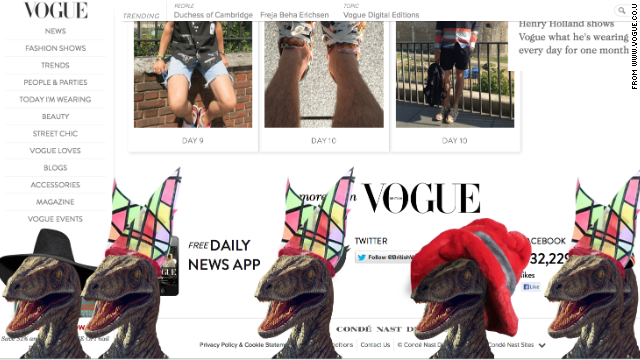 All it takes is a few keyboard strokes to produce this festive parade of dinosaurs on Vogue UK and other British editions of Conde Nast publications. Check out which other publications braved the dinosaur attack.
website
page are dressed for the occasion in suit and tie.
Dinosaurs on GQ UK's
The Nyan cat joins a white-coated dinosaur on the
Dinosaurs invade Conde Nast UK websites
Dinosaurs invade Conde Nast UK websites
Dinosaurs invade Conde Nast UK websites
Dinosaurs invade Conde Nast UK websites
STORY HIGHLIGHTS
Keyboard code unleashes parade of stylish dinosaurs on Conde Nast UK websites
Dinosaurs are Konami codes, an 'old cheat-sequence' often used as memes
Conde Nast says dinosaurs are "intended," not result of a computer hack
(CNN) -- Reptiles are the biggest thing on Vogue UK's website right now, but not as boots or bags.
With a few keyboard strokes, visitors to the site can watch a parade of dinosaurs in quirky hats flashing across the page.
Trust me and try it: Go to the site and type this: up, up, down, down, left, right, left right, b then a as many times as you want.
Dinosaurs invaded the websites of several UK editions of Conde' Nast publications this week. GQ, Easy Living and Wired each have dinosaurs dressed for the occasion, so to speak: on GQ, a dapper dino dressed in a suit, Nyan cats flying across WiredUK.
Who gets the prehistoric style points on this one? Fashion blogs that caught wind of the avatars Monday speculated that they were the result of a hack. A Conde Nast Britain spokesman declined to comment on the prehistoric invaders except to say they "were intended."
Don't miss out on the conversation we're having at CNN Living.
Follow us on Twitter
and
Facebook
for the latest stories and tell us what's influencing your life.
Computer security expert Graham Cluley said the stunt was created using Konami code, an "old cheat-sequence code" that could be used on vintage Nintendo games, but are now considered a meme.
But let's get back to the hats. Massachusetts-based milliner Sally Steinmann reports that the headwear on the Vogue dinos are "everyday casual style" often used in the fall or winter.
They range from a "plush, faux fur cloche in red and gray," to a feathered fedora, and even brimmed-military style caps also make an appearance.
Steinmann said she would have loved to see dinosaurs decked in millinery creations more a la Vogue, like Stephen Jones or Philip Treacy, or hats worthy of the Royal Ascot.
"Perhaps the dinos are simply showing their good taste," she said.

Part of complete coverage on

CNN Living reflects your life. From advice for modern parents to the freshest news in food: It's all here.
May 27, 2014 -- Updated 1845 GMT (0245 HKT)

A teen planned to build a tiny house with her parents for a school project, but after her father's sudden death, more powerful lessons emerged.
May 17, 2014 -- Updated 1250 GMT (2050 HKT)

How far have we come since the Brown v. Board of Education desegregation case was decided in 1954?
May 8, 2014 -- Updated 1615 GMT (0015 HKT)

Our mothers and the women we look up to offer our first lessons in beauty and personal maintenance. What do they tell us about loving our gray hair?
June 5, 2014 -- Updated 1258 GMT (2058 HKT)

Nearly half of U.S. women of childbearing age don't have children, yet this demographic remains misunderstood.

Can hospitality be learned? A couple of industry pros hope to start a conversation.
May 23, 2014 -- Updated 1349 GMT (2149 HKT)

When a partner is terminally ill, do you still go through with the wedding? Meet people who said 'I do' with a future in doubt.
April 2, 2014 -- Updated 2140 GMT (0540 HKT)

You have a new home or your first apartment and dozens of crazy ideas to make it look the way you want. But what's your decorating style?

Today's five most popular stories