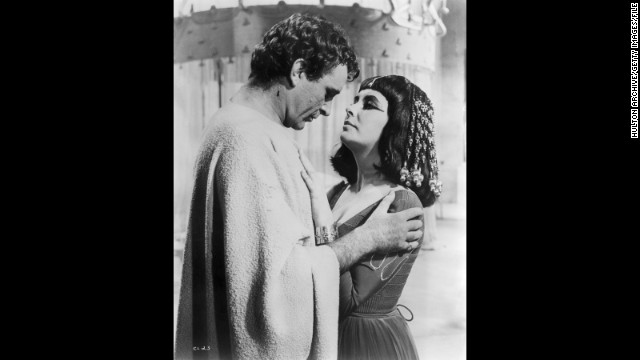 "Cleopatra" (1963)
: Sometimes it's stratospheric budgets. Sometimes it's gossipy sniping. Sometimes it's politics. Sometimes it's, well, because the film is actually bad. But there's always room for revision, right? Here are some films that have been reconsidered -- or perhaps they should be. Take "Cleopatra." The 1963 movie became legendary for its cost overruns, its cast changes and -- above all -- the affair between stars Elizabeth Taylor and Richard Burton. Widely known as the bomb that almost killed 20th Century Fox, the film was nominated for nine Oscars and -- after a 1966 TV sale -- ended up in the black.
"The Rules of the Game" (1939): The audience rioted at the 1939 Paris premiere of this Jean Renoir film, which dared to poke fun at the upper classes. The film was banned on the eve of World War II, and Renoir soon left the country. The film was revived, and recognized as a classic, by the French New Wave. Nora Gregor played one of the French aristocrats.
"Heaven's Gate" (1980): The Michael Cimino film pretty much killed United Artists, underwent brutal edits and was hated by critics. But more recent screenings and a Criterion DVD release have received favor from critics such as Slate's Dana Stevens, who hailed the movie for its cinematic beauty. Kris Kristofferson and Isabelle Huppert starred.
"Ishtar" (1987): The title of this Elaine May film, starring Warren Beatty, left, and Dustin Hoffman as a singing team, has become shorthand for "turkey." But Hitfix's Drew McWeeny stands up for the Hope/Crosby-style comedy: Despite some shagginess, it has hilarious songs and "really plays," he says. Isabelle Adjani co-starred with Beatty and Hoffman.
"At Long Last Love" (1975): Peter Bogdanovich's musical was intended as a throwback to 1930s Fred Astaire-Ginger Rogers comedies, complete with Art Deco set design, formally attired swells and the rich refrains of Cole Porter. But a huge budget, gossip about Bogdanovich and leading lady Cybill Shepherd and Bogdanovich's admittedly poor edit doomed the film. It's just been released on Blu-ray and earned praise. The film starred Duilio Del Prete, from left, Burt Reynolds, Shepherd and Madeline Kahn.
"Bring Me the Head of Alfredo Garcia" (1974): Sam Peckinpah's action flick was singled out in "The Fifty Worst Films of All Time." As opinion of Peckinpah, known for such films as "The Wild Bunch," has risen, so have critics' views of this film. "Some kind of bizarre masterpiece," wrote Roger Ebert. Isela Vega and Kris Kristofferson, right, were among the stars.
"Bonnie and Clyde" (1967): The turnaround on this Arthur Penn film, starring Warren Beatty and Faye Dunaway as the bank robbers, was abrupt and history-changing. Newsweek panned it, reconsidered and then ran a rave. The film was initially dumped in drive-ins, then released in first-run theaters. Its success -- financial and critical -- helped usher in the New Hollywood that dominated the 1970s.
"Blood Feast" (1963): Herschell Gordon Lewis' horror film is credited with inventing the "splatter" genre, and his follow-ups -- including "Two Thousand Maniacs!" and "The Wizard of Gore" -- paved the way for "Saw" and "Hostel." Though not to everyone's tastes, Lewis' films and their influence can't be ignored.
"The Thing" (1982):
John Carpenter's version of the 1951 Howard Hawks shocker was also criticized for its gore, but some viewers have since hailed it as one of the scariest films of all time.
Just ask John Sayles
. Kurt Russell was the star.
"Hudson Hawk" (1991):
Another film done in by a bloated budget, poor marketing and backroom gossip (star Bruce Willis, center, was the subject of several rumors). The film by "Heathers" director Michael Lehmann was one of the biggest bombs of the 1990s.
But more recent takes
say it makes a pretty decent screwball comedy.
"Waterworld" (1995): Kevin Costner got a lot of flak for this film, in its day the most costly of all time. Nicknamed "Kevin's Gate," the film got more attention for its budget than its action -- which, finally, wasn't bad. It even did decently at the box office. But try telling that to people now. Jeanne Tripplehorn, center, and Tina Majorino co-starred with Costner.
"Freddy Got Fingered" (2001): Tom Green's comedy was called "a vomitorium" by Roger Ebert -- and that was among his nicer criticisms. But the film has earned a cult following over the years, with strong DVD sales, and even Ebert later admitted he admired its ambition.
"Gigli" (2003): Oh, for the days of "Bennifer" -- that is, Ben Affleck and Jennifer Lopez, who were a couple during the making of this film. The gossip, a big budget and a disorganized plot (not to mention an unpronounceable title) crashed this comedy, but several critics pointed out it had its moments.
The films of Uwe Boll: The German-born director's oeuvre includes "Alone in the Dark" with Christian Slater, "BloodRayne" and "BloodRayne 2: Deliverance," all of which have been slammed by critics and mostly ignored by audiences. Yet "the Ed Wood of the 21st century" must be doing something right, given the publicity he's attracted. Right? Somebody watch his films and let us know.
For your reconsideration
For your reconsideration
For your reconsideration
For your reconsideration
For your reconsideration
For your reconsideration
For your reconsideration
For your reconsideration
For your reconsideration
For your reconsideration
For your reconsideration
For your reconsideration
For your reconsideration
For your reconsideration
STORY HIGHLIGHTS
Big-budget films can pick up particular scent of failure
Budget, gossip, politics all become fodder for criticism
But movies aren't always as bad as they're portrayed
Editor's note: How did bad films become so beloved? Read this and trace their history.
(CNN) -- It was once considered "the worst musical extravaganza in Hollywood history."
Peter Bogdanovich's 1975 film "At Long Last Love" was ripped by critics and flopped at the box office. The movie, starring Cybill Shepherd and Burt Reynolds in a throwback to 1930s romantic comedies, was criticized as much for its cost -- $6 million, a fortune at the time and reputedly four times its original budget -- and the gossip surrounding Bogdanovich and Shepherd as it was for its cinematic drawbacks. (Even Bogdanovich admits that the film needed more fine-tuning, like a Broadway musical undergoing out-of-town previews.)
Bogdanovich on hits, flops and surprises
No matter: The "bomb" label hung over the work like a bad smell.
Over the ensuing decades, it earned a sarcastic write-up in the Medved brothers' compendium of bad film, "The Golden Turkey Awards," received a withering 1 1/2-star review in Leonard Maltin's movie guide and seemed doomed to a life on late-late shows and third-tier cable channels.
But, somewhere along the way, the film was resuscitated -- and reconsidered.
The Fox Movie Channel ran it, Netflix streamed it, Bogdanovich hosted a theatrical screening and just last month it came out on Blu-ray. The new release, which benefited from edits at the hands of a studio archivist and Bogdanovich himself, has earned praise from some quarters and grudging recognition from others.
It turns out that "At Long Last Love," once reviled as "At Long Last Lousy," is quite charming -- no "Singin' in the Rain," perhaps, but certainly not "one of those grand catastrophes that make audiences either hoot in derisive surprise or look away in embarrassment," as Time magazine said in its 1975 review.
In these days of bloated tentpoles and equally hyperbolic coverage, it's worth keeping in mind that "bomb" doesn't always mean "dud."
"If you judge a movie whether or not it's good or bad based on box office -- and a lot of people do, unfortunately -- it's a very weird correlation," says Drew McWeeny, who writes about and reviews movies for Hitfix.com. "Unless I have a stake in the movie, why would I care what it made? I think there are a lot of movies that have taken their lumps because they weren't hits."
'They're waiting for you'
These days, there's a lot of pleasure taken in bad movies.
There are film festivals devoted to them. The Golden Raspberry Awards honor the worst each year from Hollywood. And, certainly, there are countless blogs that parse, debate and reassess films that, in the pre-Internet and pre-video age, would have been assigned to the celluloid scrap heap if not for the intercession of devoted film fans.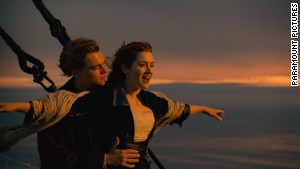 "Titanic" was almost done in by its budget, but it was a gamble that paid off.
But there remains a special place in Hollywood Hell for the big-budget, big-star mess. They breed whispers of money shoveled into bottomless pits. Of bickering among stars, directors, producers, staff and studio chiefs. Of hothouse romances, breathtaking ego trips and questionable creative choices.
By the time the film is finally released, the critics and public are ready to gnaw like a shark in chum-filled water. Occasionally the conventional wisdom is turned on its head -- as with "Jaws" and "Titanic," two waterlogged films that became box-office and critical successes -- but more often, everybody piles on until the film seems well and truly dead.
But for films that don't succeed, do too much money and too much publicity automatically equal terrible film? After the tide goes back out, it's not at all certain that many so-called "bombs" deserve their much-mocked fates.
"Cleopatra," the 1963 extravaganza, became infamous for the torrid love affair between stars Elizabeth Taylor and Richard Burton, as well as the monumental problems in mounting the film, which took three years to make. (Among other things, it was slowed by Taylor's emergency tracheotomy and terrible weather.)
The final result was actually well-reviewed, nominated for nine Oscars and winning four. It was the highest-grossing film of the year. But today, it's still a synonym for "debacle," thanks to the gossip and its rumored $45 million budget (more than $300 million in today's money).
Similarly, "Heaven's Gate," the 1980 Michael Cimino drama, spawned tales of directorial excess and drug usage. The theatrical release, which initially ran 219 minutes, was greeted by poor reviews and terrible box office. The film cost more than $44 million and grossed less than one-tenth of that.
Bodganovich was a victim of such chatter during "At Long Last Love."
The film was intended to be a happy crowd-pleaser, a lighthearted nod to Ernst Lubitsch comedies and Fred Astaire-Ginger Rogers musicals. But there were whispers: a focus on budgetary issues, gossip about Bogdanovich's then-scandalous love affair with Shepherd and the sense that the director -- a film scholar himself -- had grown arrogant.
In the midst of a friendly call to Bogdanovich, reviewer Judith Crist asked how the movie was coming. Pretty good, Bogdanovich replied.
"It better be good," Crist said. "They're waiting for you with the knives out."
The film never had a chance, the director recalls.
"The picture had to be almost as good as 'Singin' in the Rain' in order for us to get good reviews," he says.
'Home video changed the landscape'
Video has helped restore some luster to movies once quickly and brutally dismissed.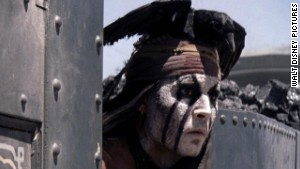 Early returns on "The Lone Ranger" aren't good. What will audiences think in 10 years?
There was a time, a generation ago, when "bombs" would have been forgotten, doomed to occasional television airings or revival theater showings. (You kids can look up "revival theater.")
Now you can rent movies, record movies, watch movies at your leisure and do so over and over again.
"I do think home video changed the landscape," says Dan Herbert, a film professor at the University of Michigan. "It's easy now to return to movies, and that wasn't always the case. Home video built up this more eclectic breadth of taste and options."
All this watching lends itself to our current pop culture moment, when nothing is really gone and every opinion is up for grabs.
"Taste has really been fragmented," says Herbert. "We use movies more and more to distinguish ourselves and our personalities and our identities. People who celebrate bad movies are using it to differentiate themselves from the mass and saying, 'I don't agree with the standards of evaluation.' "
So films once buried get revisited. It's happened before -- the French New Wave directors first made their mark as essayists who re-evaluated genres and filmmakers before entering the business themselves -- but now there are armies of bloggers who can watch a film on video and announce that it got a bum rap the first time around.
"There's much more of a participatory sense to film conversation now, in terms of a critic puts something out and people immediately start to respond," says Hitfix's McWeeny. He makes a distinction between a critic and a guy with a random opinion -- a good critic provides context and knowledge -- but it all becomes part of the stew.
So, want to defend "Ishtar"? (McWeeny believes it's underrated.) Think "John Carter" doesn't deserve its rep? (You have company.) Want to make the case for Adam Sandler, auteur? (Hey, the French pulled it off with Jerry Lewis.)
The fact is that the movie-loving world has plenty of room, including plenty of room for second opinions. Even if the first wave of opinions -- the one involving initial reviews and box-office performance -- aren't all that great.
There's just something about movies that engage us, says McWeeny.
"We are fascinated by our relationship to movies, by the fact that we don't always understand why they work on us the way they work on us," he says. "I'd love to get past being embarrassed by a film you liked. There's a lot more interesting conversations to be had about film when we look at why people attach themselves to them."
Hollywood bombs reconsidered: What we missed