STORY HIGHLIGHTS
Worth $3.6 billion, Zhang Xin is the world's seventh richest self-made woman
Xin runs China's largest real estate developer
She rose from assembly line of a Beijing factory to property magnate
Her family partly owns a 40% stake in NYC's GM building
Leading Women connects you to extraordinary women of our time -- remarkable professionals who have made it to the top in all areas of business, the arts, sport, culture, science and more.
(CNN) -- Zhang Xin is an example of true grit success. She rose from the faceless assembly line of a Beijing factory to a property magnate richer than Donald Trump and Oprah.
Her company, SOHO China, literally changed the landscape of Beijing and Shanghai over the past two decades. Forbes magazine has listed her family's net worth at $3.6 billion.
And she's not stopping there. In a private transaction (not related to her company business), her family and the Safra banking family of Brazil just bought a 40% stake in the iconic GM building in New York City -- the building that houses the flagship Apple store on Fifth Avenue.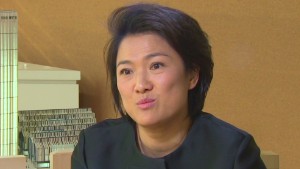 Richer than Trump or Oprah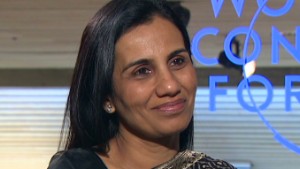 Banking boss: Nothing scares me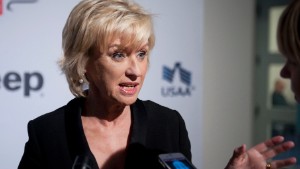 Tina Brown: 'Taking risks comes easily'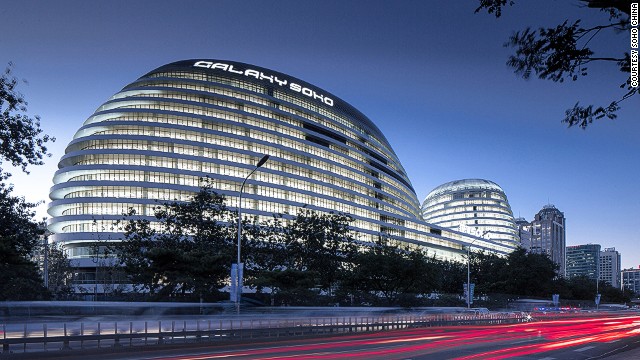 Galaxy SOHO, designed by Pritzker Prize winning architect Zaha Hadid for Zhang' SOHO China, was built in 2012 on a 50,000 square meter plot in central Beijing. It was Hadid's first building in Beijing.
With its gracefully merging dynamic form devoid of corners, Galaxy SOHO, has become a landmark building in on Beijing's East 2nd Ring Road.
SOHO China's development Commune by the Great Wall is a collection of 42 villas by 12 Asian architects with a private pathway to the Great Wall of China. This villa is called Suitcase House by Hong Kong architect Gary Chang.
Commune by the Great Wall was exhibited at the 2002 Biennale di Venezia, where it received a special prize.
SOHO Peaks, currently under construction and due to open in 2014, is a second building by the architect Zaha Hadid, midway between Beijing city and airport.
The design of SOHO Peaks, by architect Zaha Hadid, is based on Chinese fans that circle and embrace each other.
Sky SOHO, due for completion this year, is a third development designed by architect Zaha Hadid, this time in Shanghai. The design is based on calligraphy.
Sanlitun SOHO, completed in 2010, comprises of five shopping malls and nine office or apartment buildings of varying heights in Beijing.
Sanlitun SOHO has become one of the liveliest shopping streets in Beijing, with its five malls linked with a rollerskating rink and mesmerizing courtyard.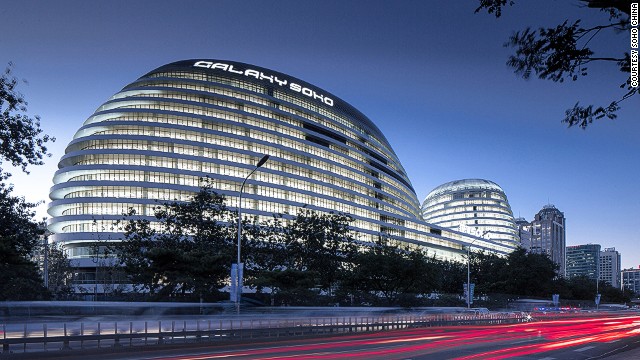 China's changing skyline
Zhang recently sat down with CNN's Pauline Chiou to talk about everything from her Beijing childhood to the volatile property market and how her 14-year old son tried to get a job at McDonald's.
Failure is part of the puzzle
CNN: Did you come across a lot of bumps in the road and a lot of failures?
Zhang Xin: Every day. I mean, I think that's just life. You will always bump into difficulties, challenges and problems. It appears to be that we seem to be doing quite well, but as it is now, we're still having challenges every day. So I think that's just nothing unique. That's just life.
Read: Tina Brown on taking risks
Pivot and dribble around politics
CNN: You moved from residential real estate to commercial and now you're focusing on commercial. Why did you do that, especially when we see new home prices still rising?
ZX: Residential development has become very political. Government policies ...are against any prices going up because this is a very social issue.
The government comes out with policies that deal one day with this side [of the issue] another day with this side [of the issue]. We said, "Let's get out of this area. Yeah, let's move on to somewhere we can really exercise our skills as a developer."
I think the policies are so distorted. Like someone who's sick, you've taken so much medicine that you've lost the sense of which one works and which one doesn't. That's a little bit like the real estate market in China.
Grab the opportunities
CNN: On the Forbes' recent list of 24 self-made female billionaires, there are five women from China, one from Hong Kong. What is it about China and the women of your generation that allows them to achieve that highest level?
I think in terms of coming from a low base, coming from nowhere, we're all equal.
Zhang Xin
ZX: Women of our generation went through the Cultural Revolution, went through hardship, went through coming from nowhere. Suddenly, we see China's been given so many amazing opportunities. So women just seized the opportunity. I think in terms of coming from a low base, coming from nowhere, we're all equal.
Read: In search of the female Indiana Jones
In China, there are a lot of problems but also there are a lot of opportunities. Precisely because there are so many problems, things are not established; therefore, there are opportunities.
Have a life outside of work
CNN: You're a mother of two boys. You're a wife. How do you do the work-life balance?
ZX: I'm very, very focused on my children. In fact, I'm very religious about having breakfast with them every morning, having dinner with them every evening, and spend all the weekends with them that I don't work. So as long as I'm not traveling, I'm always with them and I go to their soccer and tennis matches. After dinner we'd just sit together and do homework with my children because they need help. I love doing that. It also makes me realize the world is so much wider than just your business world.