Manhunt for hundreds of Indonesian prison escapees
July 12, 2013 -- Updated 1000 GMT (1800 HKT)
STORY HIGHLIGHTS
More than 200 inmates escaped from Indonesian prison following deadly riot
At least five people dead, including two guards and three prisoners
Angry prisoners burned part of prison, held guards hostage after water cut off
Police searching for potentially hundreds of inmates still on loose
(CNN) -- Indonesian police are searching for potentially hundreds of escaped inmates following a deadly prison riot in Medan, the capital of the province of North Sumatra. At least five people died, including two guards and three prisoners.
More than 200 inmates, some of whom were jailed on terrorism charges, broke free from the maximum-security facility Thursday when the "water supply was cut off because of a power outage," said Ronny Sompie, the National Police Spokesman Brigadier General.
Angry prisoners, unable to bathe or use the bathroom, burned the door to the prison offices, stole guns and took guards hostage.
"The situation is under control and the fire at the prison has been extinguished," said Sompie.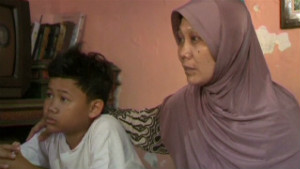 Bali bombing widow: Stop acting stupid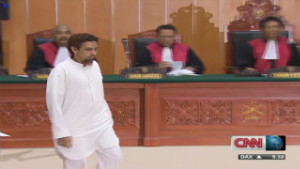 Last suspect in Bali bombings sentenced
At least 55 prisoners have been recaptured. Some 800 police and military officials are now searching the surrounding area for escapees.
"It's unclear how many more escaped prisoners are out there. We're still waiting for the data from prison officials," Sompie said.
The prison, Tanjung Gusta Correctional Institute, houses 2,600 inmates, according to a press statement from the Ministry of Law and Human Rights. The facility's maximum capacity is 1,054. Overcrowded prisons are typical in the country.
Indonesia has made major progress in fighting once-rampant terrorism in the country.
Since the first Bali bombings in 2002, authorities have arrested, convicted and jailed hundreds of terrorists. One of the terror networks behind past major attacks in Indonesia, Jemaah Islamiyah, has largely been weakened because of the arrests or deaths of its leaders.
More recently, Indonesian police killed one of the country's most-wanted terrorists, Dulmatin, in March 2010. The suspected mastermind behind the 2002 Bali bombings, in which 202 people died, had a $10 million bounty on his head, according to the U.S. State Department.
In April 2011, authorities in the capital of Jakarta foiled an Easter bomb plot targeting a Catholic church. Police found seven bombs made from about 150 kilograms (330 pounds) of explosives. Indonesia is the world's most populous Muslim-majority nation.
In October 2012, police arrested 11 people plotting a series of attacks that included the U.S. consulate in East Java as a target.
Last month, Indonesian police foiled a plot to bomb the Myanmar Embassy in Jakarta, according to local media reports. The planned attack was reportedly in retribution for violence against Muslim Rohingya by majority Buddhists in Myanmar.
Kathy Quiano contributed from Jakarta. Ramy Inocencio wrote this article in Hong Kong.

Part of complete coverage on
December 10, 2013 -- Updated 1306 GMT (2106 HKT)

Presidents and prime ministers, celebrities and royals joined tens of thousands of South Africans to pay tribute to Nelson Mandela.
December 9, 2013 -- Updated 1558 GMT (2358 HKT)

The Web is set to change our lives over the next decade. This will also question the use of personal data and balancing new powers with ethics.
December 9, 2013 -- Updated 0111 GMT (0911 HKT)

The image of the Shinkansen bullet train streaking past Mount Fuji is a powerful part of the iconography of the resurgent post-war Japan.
December 9, 2013 -- Updated 2023 GMT (0423 HKT)

Imagine the delight at unwrapping your Christmas present in 2043 and discovering you've been gifted a trip around the Moon.
December 9, 2013 -- Updated 0727 GMT (1527 HKT)

A new political party claiming to champion ordinary Indian voters makes a startling electoral debut.

Few words in Hungarian, including place names, are easily recognizable to foreigners.
December 10, 2013 -- Updated 1254 GMT (2054 HKT)

Browse through images you don't always see in news reports, taken by CNN teams all around the world.
December 9, 2013 -- Updated 1234 GMT (2034 HKT)

Walking into one of Yayoi Kusama's infinity rooms is like walking into a completely different universe.
December 9, 2013 -- Updated 1529 GMT (2329 HKT)

Meet Tony Allen -- famous for helping create Afrobeat by fusing different beats and patterns.
December 8, 2013 -- Updated 2116 GMT (0516 HKT)

Fans converged on the site where Paul Walker died to pay tribute to the actor. CNN's Paul Vercammen reports.

He was imprisoned for life but that did not quiet him. Nelson Mandela became South Africa's first black president, and an icon and inspiration.
December 9, 2013 -- Updated 1002 GMT (1802 HKT)

Watching digital artist Kyle Lambert's stunning photo-realistic iPad paintings emerge from a blank screen is an awe-inspiring experience.

Today's five most popular stories